A hoarding depicting former Uttar Pradesh chief minister Mayawati as Hindu goddess Kali standing over Prime Minister Narendra Modi and holding the chopped head of Union Human Resource Development Minister Smriti Irani has sparked a fresh controversy in the state. 
The hoardings put up by Bahujan Samaj Party (BSP) workers in Hathras portrays the Bahujan Samaj Party (BSP) supremo with her one foot on Modi's body, who is depicted as Lord Shiva, while she holds the chopped head of Irani in one hand with blood dripping from it.  A caricature of Rashtriya Swayamsevak Sangh (RSS) chief Mohan Bhagwat is also featured in the poster, near Mayawati's feet.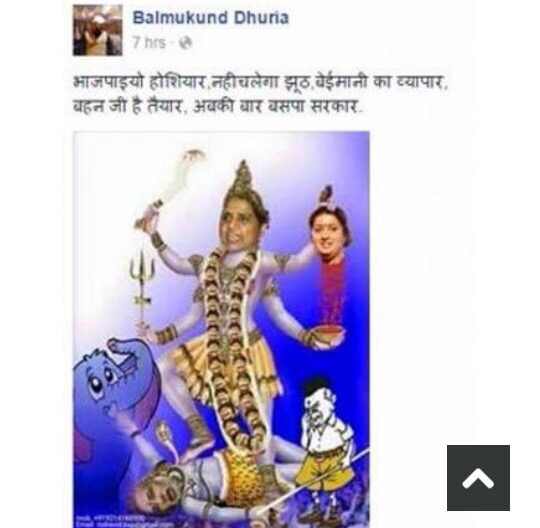 BJP's reaction
Vijay Bahadur Pathak, BJP state spokesman said that "sacrilege was being committed" and that the party has taken serious offence to the posters.
"The BSP in the past has ridiculed Hindu gods and deities so it is not very surprising. But what is very worrying is the fact that through such inflammatory acts, the BSP is trying to trigger casteist clashes," Pathak said.
He also appealed to the district administration to act against the people who are responsible for these hoardings.