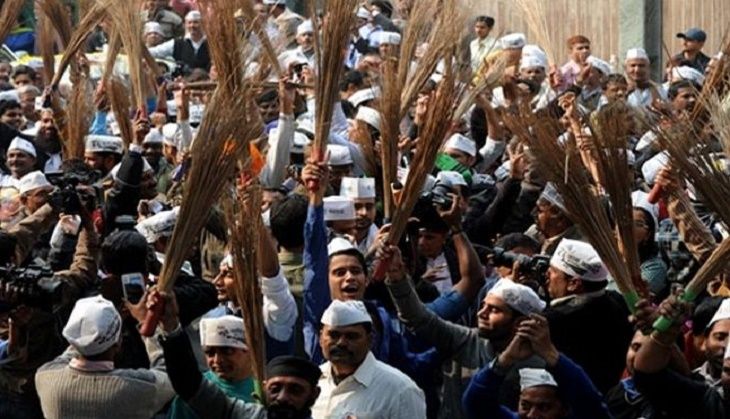 Amid rumours that the Aam Aadmi Party (AAP) will contest the 2017 UP Assembly elections in coalition with the Janta Dal (United), an AAP leader told Catch on 1 May that the party has no such plans
"Despite good relations with the JDU president and Bihar CM Nitish Kumar, we won't contest this or any election together. And to be very specific AAP has no plans to contest the UP elections," said Arvind Katiyar, senior leader and Convener of AAP in Uttar Pradesh.
Katiyar, who had contested for AAP from Akbarpur seat in 2014 Lok Sabha elections, said that the party won't contest the elections for just 5 or 10 MLAs. He said the party would only contest if they were confident about winning 70 per cent or more of the total number of seats.
Arvind Kejriwal visited Uttar Pradesh on 2 May. But Katiyar dismissed speculation that the AAP leader was visiting the state to discuss the party's campaign for the state assembly polls.
"It was being speculated that Arvind Kejriwal who is in UP today was here due to the UP Assembly elections, however, he won't halt in Lucknow and will directly reach Sultanpur to attend a family function of party colleague Sanjay Singh," said Katiyar.
Also read: Asaduddin Owaisi likely to bank on riot victims to capture Uttar Pradesh
The AAP's booth plan
"We are just focusing on the plan of 1 booth, 10 youths which means that in every constituency we will have our booth with 10 well-educated youth of that constituency," Katiyar said.
"Senior party leaders have asked us to just focus on the booth plan and have so far maintained that the AAP won't contest," he added. '
Also read: 2017 UP elections: Here's why Muslim voters may desert the Samajwadi Party
'Don't want a repeat of 2014 general elections'
An AAP leader told Catch on condition of anonymity that the party doesn't want a repeat of the 2014 Lok Sabha elections. "We were confident of winning some seats from UP in 2014, but the results showed us that we need to work a lot to make our mark. This is UP and not some Union Territory or a small state where we can easily penetrate," he said.
Speaking to Catch, Rashid Alig, AAP member and General Secretary of Aligarh Old Boys Association, said, "Our main focus is to make our presence felt at the ward level and we are already working hard for it. In Kanpur only, we have our presence in 49 wards which is a good number, but the party high command wants AAP's presence in maximum wards of all the districts in the state."
"I think when the senior leaders will observe that the AAP members are doing good at the ward level, then only they'll decide whether to contest the elections or not," he added.
Also read: Here's why the Congress has no plans to woo Muslims in 2017 UP Assembly elections