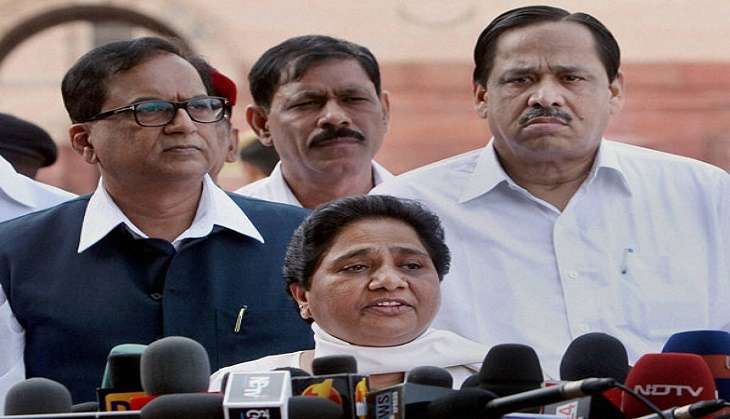 On 23 July, expelled Bharatiya Janata Party (BJP) leader Dayashankar Singh's wife Swati demanded that the Protection of Children from Sexual Offences Act (POCSO) Act be imposed against Bahujan Samaj Party (BSP) chief Mayawati and her party colleague Naseemuddin Siddiqui.
"I have lodged an FIR, but there has been no probe on this matter. I want the POCSO Act to be imposed against Mayawati and Naseemuddin Siddiqui. A law was formed in the Parliament that if anyone stares at a girl even for ten seconds, then that will be categorised as rape. Doesn't this come under the category of rape as my minor daughter has been unnecessarily dragged into the matter?" Swati said.
Also read: Arrest Dayashankar Singh for his misogynistic remark, demands Mayawati
"I want justice from law. It should treat these people like they treat a common man," she added.
Lamenting over the abuse which she and her daughter have been facing following the expulsion of her husband from the BJP over his controversial comment on Mayawati, Swati accused the BSP members of 'traumatising' her minor daughter. She has also lodged an FIR against Mayawati and Siddiqui.
Also read: Dayashankar Singh's family files an FIR against Mayawati, wife Swati alleges mental torture
The BJP said that it took Dayashankar's slur very seriously and expelled him from the party, but Mayawati was 'justifying' Siddiqui's use of derogatory language. "Siddiqui said Singh's daughter should be presented before the crowd. This is an insult to women. We condemn Mayawati's justification. She should not do politics over it and damage the state's social harmony in her greed for power. The BJP demands she offer an unconditional apology and take action against Siddiqui," BJP national secretary Shrikant Sharma said.
Siddiqui, however, refused to express any regret, saying he or his party workers didn't say anything 'obscene' or 'objectionable' during their protest against the expelled BJP leader on Thursday. Siddiqui, instead, claimed that the FIR, lodged by Dayashankar's family members, was a BJP 'ploy to save the expelled leader, who is absconding after being booked for making derogatory remarks against Mayawati.
Also read: Lucknow: BSP workers stage protest against Dayashankar Singh, demand his arrest
The BSP leader alleged that the BJP has tried to give 'a new twist' to the matter to distract public attention and regain political ground lost by it due to its expelled leader's abusive remarks.
Commenting on the charges that the BSP leaders raised slogans asking the expelled BJP leader to 'present his daughter and sister', Siddiqui said that his party workers only wanted to ask them if they agreed with the derogatory remarks made by him against Mayawati.
Also read: Dayashankar Singh is an 'illegitimate child': BSP MLA's response to 'prostitute' barb
-ANI