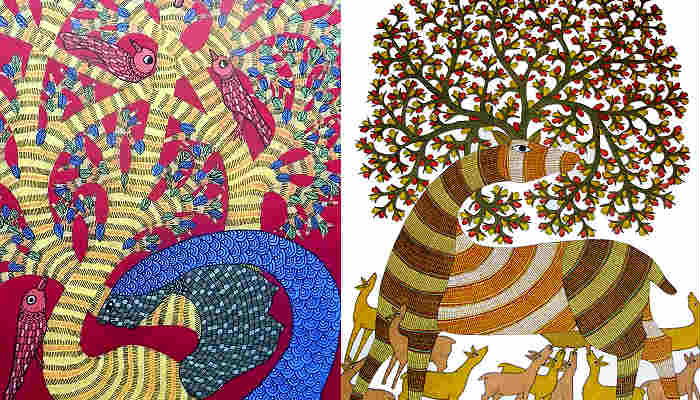 Jiya Jyoti foundation in association with Capre foundation organised 'Kala Sangam', a seminar on vanishing tribal arts in India in Faridabad on Thursday. The seminar witnessed speeches by prominent tribal artists of India who have made India proud on foreign soil.
The speakers were Mr. Anil Wangad (Warli artist, Maharashtra), Mr. Kalam Patua (Kalighat artist), Mr. Babudhan Chitrakar (Jadupatua artist) and Ms. Suchitra Das (Kalighat art student). Apart from showcasing their tribal art work, they also talked about the problems they face to carry forward the legacy that they have inherited.
Not just these prominent names, even the teachers sitting in the audience were asked to encourage their students towards the work of tribal art.
Mr. Anil Wangad, who came from France for the exhibition, said:
"The people in foriegn loves Indian tribal art but in India, art is vanishing. We are forgetting what is ours but western countries are learning those things and adopting the same."
Ms. Lily Bhavna Kauler, a tribal art activist from Australia told the audience about how non-Indians appreciate the Indian tribal art. In fact, they often copy the work, showcase it as their own and sell it in international markets.
On the occasion, Mr Manish Singh, President, All Delhi Teachers' Association, promised to extend support in creating more awareness among students with the help of the teachers in Delhi schools.
Mr. Vivek Montrose, The President of Jiya Jyoti Foundation aptly compared the vanishing tribal arts with dinosaurs by saying that we would not have been aware unless taught about them (dinosaurs). Similarly, these tribal arts need to be taught and awareness has to be generated with the youth of the country.