"In every meal, dahi is a must with bhuna zeera and kala namak. It stinks up the place a bit but I love it!" says veteran actor Ratna Pathak Shah, who was last seen portraying the character of a modern mother to Sidharth Malhotra and Fawad Khan in Kapoor and Sons.
"The Gujju in me rules my tastes," guffaws the actor. Even her food fundas reflect that she is a woman with a mind of her own. Here's how she likes her food.
I begin my day with: A glass or two of water, kept overnight in a copper vessel.
I breakfast on: A brew that I make for myself with lemon grass, mint, ginger, honey and lemon and a couple of rotis made into khakhras. The Gujju in me rules my tastes!
My diet preference: I've always been vegetarian as a matter of taste. But I cook non-vegetarian food quite well. I feel one should eat what is in one's environment which is seasonal and tasty. I can't stand the food mafia, particularly the vegetarian mafia, which is operating these days
My lunch:Daal, sabzi, salad, one roti, rice and dahi. An accompaniment I must have with my meals: Dahi is a must, with bhuna zeera and kala namak.
My dinner: We eat light - a single dish meal preferably. Or soup, a salad and a grill.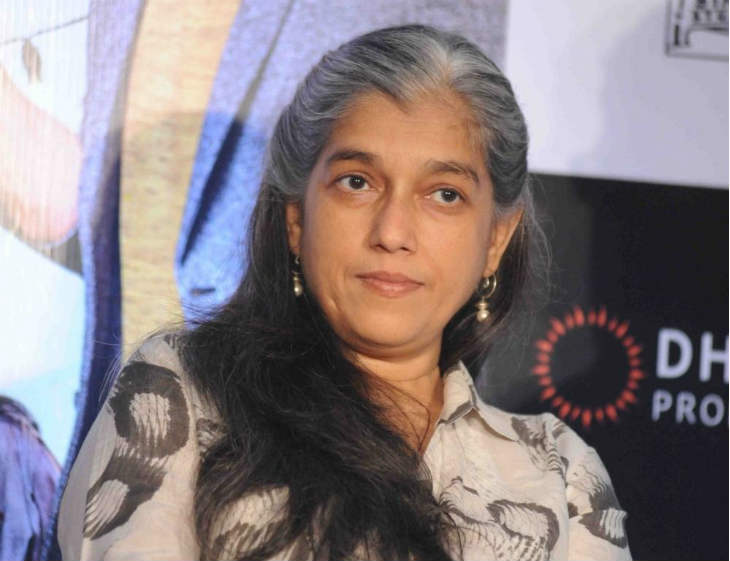 My favourite restaurants and cuisines: Madras Café in Matunga, Mumbai, for the best dosasand other goodies ever. I really like well-made food from all four South Indian states. I love Punjabi dhaba food and good South East Asian food too. Anyone who understands vegetables ... the Italians do too.
My favourite dessert: A Peach Pavlova.
I dislike eating: North Indian restaurant cooking is heavy and unimaginative; all they can think of for vegetarians is paneer. I hate restaurant paneer.
My favourite beverage: Shikanji (a lime drink), the way my chachiji in Delhi used to make. it.
A childhood memory connected to food: My maternal grandmother Shivlaxmi Gandhi grinding flour on a chakki at home while telling stories and singing tunelessly. Her making achaarsandpapads in summer - the smell of these drying in the sun was divine. The lunches in our Paharganj home - the dastarkhwan on the floor and the whole family around it. And the superb food cooked on a wood fire. Also, my dad, Baldev Pathak, cooking up a storm in the kitchen, a towel around his waist, a glass of whisky on the side and Supriya and I his willing and able assistants.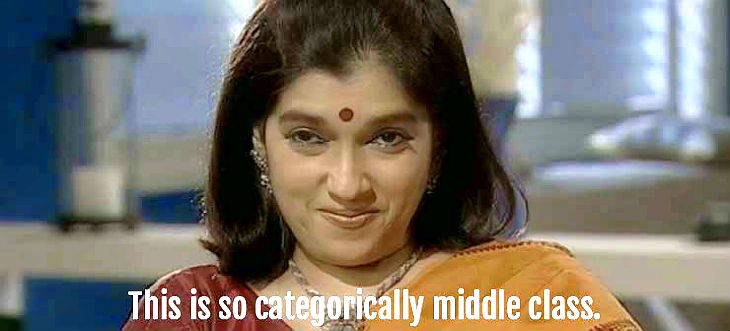 Ratna Pathak Shah in Sarabhai vs Sarabhai (YouTube screen grab)
I can cook: A mean Borani. My mother-in- law's Borani was a divine concoction of baingan, dahi and garlic. You find versions of it in many parts of India and the Middle East but she said it was a family recipe from Afghanistan.
I've eaten it in many Afghan restaurants but none of them hold a candle to her version. I bet she tweaked it to produce a gem.
I like to collect: And try out family recipes as I think you find the best food in people's homes in our country. I've been lucky to sample superb home food all over India.
My favourite cook in the world: My dad and my mother-in-law. They created magic out of the simplest ingredients and loved to feed others.
That's why they were so good.
My favourite spice: Zeera.
My favourite kitchen appliance: A good silicone spatula and a good garlic press.
My comfort food: Khichdi with batata nu rasawalu shaak (potatoes in gravy) accompanied bypapad and lasan ni chutney.
The food item I feel I look like: A karela - bitter but good for you! I don't look like a karelathankfully.
-- Sourced from Anita Raheja, Heena Agarwal -- Bollywood News Service