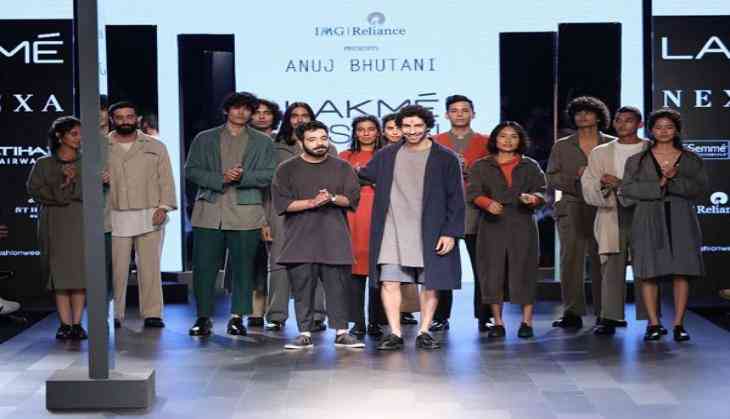 What happens to all the old clothes that are discarded by the fashion-conscious people? Are they just waste or can they be used with inventive ideas?
IMG Reliance gave the answer at Lakme Fashion Week Winter/Festive 2017 with the unique initiative "Restart Fashion". The show brought together three post-consumer waste fabric makers with three talented designers who developed amazing collections.
ANANDI ENTERPRISES WITH CHOLA - RELAXED FASHION
ANANDI ENTERPRISES
The Anandi Enterprises name is well-known in the textile recycling industry. Started 14 years ago the company has a wide range of recycled cotton fibres to create knitted and woven fabrics in the twill, plain and Herringbone weaves. The company's Registered 'Recca' brand for the recycled cotton is nationally known in the fashion industry.
CHOLA
The 'Chola' label by Sohaya Misra showcased a collection 'One Love. One People. One Planet' created with the 'Recca' fabric for the 'Restart Fashion' initiative. Staying true to her characteristic fashion essence, Sohaya worked with earthy tones for her relaxed laid back look with her statement-making layering and voluminous silhouettes. Shades of brown, deep khaki, maroon and black were ideal for the Autumn/Winter 2017 season.
Long kimono-sleeved overcoats were teamed with loose checked jumpsuits, while dual-toned draped maxis were perfect for the cooler climes. The fluid, long, skirts worn with boxy blouses and gilets gave layering an interesting dimension.
Asymmetry was the soul of the collection for shirts, draped pants, slashed jackets, wide trousers, paper-bag-waist skirts and tiered frilled long pinafores. Rear button closures, double-breasted jackets, black/white checked poncho and jumpsuits with asymmetric long waistcoat were a melange of creations that gave recycled cotton new life.
Stopping the show in a stylish but lively way was the very effervescent super hairstylist, Adhuna Bhabani who rocked down the ramp in checked asymmetric waistcoat, white relaxed shirt and grey elephant pants.
If the normal staid look of cotton is boring then, the recycled 'Recca' version will add zest to the wardrobe with Sohaya Misra's 'Chola' collection.
CONVERSE INDIA WITH DOODLAGE - PRINT AND PATCHWORK PERFECT
CONVERSE INDIA
The Converse India brand's aim is to create a zero carbon method to recycle textiles and promote the use of natural fibres. The company has worked with innovative ideas and recycled thousands of tonnes of waste into wearable textiles that could be trendsetters on the fashion charts.
DOODLAGE
The 'Doodlage' label by Kriti Tula brought a fun element to her collection with a pun on the title 'Armchair Activism'. It was a collection with a social message using Converse India's Upcycled plastic 'Lifaffa' fabrics with an addition of patchwork, prints and embroidery that were inspired by city grids and disappearing foliage. Strong slogans in prints and embroidery further pushed the social causes in a fashionable manner.
Corsets appeared regularly over slim dresses or with waistcoats, cropped jacket and pant. Belted shirts looked ideal with quilted blouson, tiered skirts, pinafore and quilted frock could be perfect autumn wear. The kimono style long shirt and the trench coat in patched fabrics was the great offering from the designer.
At all times the look was unstructured, body-hugging but comfy, which has been the label's forte from the very beginning that offered multiple options for a variety of styling elements.
GEETANJALI WOOLLENS WITH ANUJ BHUTANI - WOOLLEN WINTER WONDERS
GEETANJALI WOOLLENS
Geetanjali Woollens have manufactured up-cycled yarns, fabrics, blankets and throws for four decades and worked with international brands for products produced by recycling post-consumer textile waste. Sustainability has always been the key word for the brand at all times. Their fabrics for the show were ideal for the coming season and with the up-cycled treatment they gave an innovative fashion dimension.
ANUJ BHUTANI
Keeping to his characteristic clean, relaxed lines, Anuj Bhutani used the fabrics from Geetanjali Woollens in a comfortable, fluid, style that will appeal to both sexes. The colours were neutral but deep, in shades of beige, grey, dusty green and orange; while the collection offered separates in varying styles with discreet detailing.
Opening the show with a beige short jacket for men, Anuj brought in tunics, long kurtas, a ribbed jumpsuit, floppy button-less coat a woollen Pheran, shirt and an orange pullover for the stronger sex.
For women, it was a grey sack dress, an orange simple Tabard, belted coat with shift and knitted cardigan worn with a curved hem tunic.
Making a dashing final entry was the award-winning star of the hit film 'Neerja', Jim Sarbh who strolled jauntily down the ramp in a long tunic, Bermudas and relaxed coat.
The looks for these collections created by Sandhya Shekar were very raw and minimalist. With groomed eyebrows and nourished skin, the entire feel for these looks was very natural.
-ANI