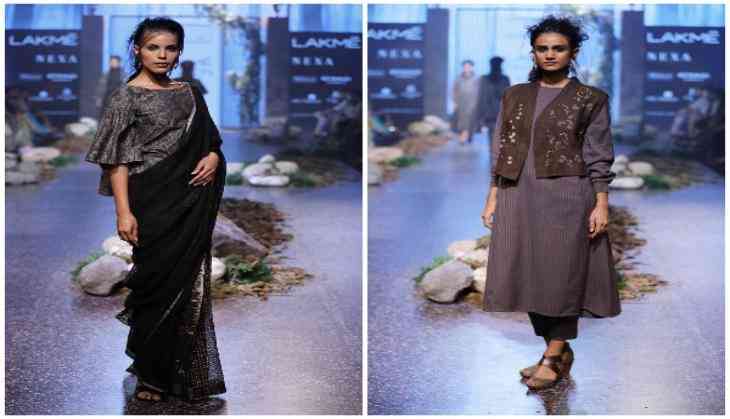 Moving a few fashionable notches away from her comfort zone of muted hues, Anavila showcased her latest collection 'Blur' at Lakme Fashion Week Winter/Festive 2017 where she redefined the use of the colour black for the first time.
The gravel patterned ramp, dried leaves and mounds of rocks were placed strategically on the ramp, while an arch of foliage on the stage created the mood for the show. It was an enlightening fashion blur that educated the audience on the finer aspects of the colour black and how it can be the bright 'light' in a woman's wardrobe.
Intriguing, fierce, totally neutral, mysterious, that commands formality - the colour black has been the staple hue for every designer globally.
But Anavila's treatment of this strong tone was more romantic and intense as she brought in a new fashion dimension and varying hues of the colour with utter fluidity, delicate softness, and eye-catching beauty along with a fragile sense of delicacy.
Anavila also focused on ease and comfort as the prime factors for the garments and saris. Creating exclusively designed hand block prints, along with khatwa, hand embroidery and batik for surface texturing, the designer ensured that there was an in-depth and new found excitement in the ensembles.
Once again staying true to her love for loom linen and its numerous blends, Anavila experimented with silk, wool and Khadi to present an unconventional winter textile offering.
While the colour card stayed true to black and grey; Anavila gently threw in a deep navy and wine for some relief.
Showcasing a predominant line of inventively woven saris, Anavila moved away for the traditional body hugging cholis and replaced them with a variety of blouses, trench coats, jackets with bias cuts frills, pleats and intriguing collars. Pants were often the choice of style with the sari instead of the conventional petticoat.
For the western dresser there was an assortment of tunics, gilets, pleated pants, pin tucked dresses, boleros, pant suits, belted coats, sheer midis, a batwing midi and even a jumpsuit.
A hint of shimmer was seen on the saris and ensembles to give a formal appeal to the collection. Stripes and two-tone saris brought a new found excitement to the entries.
The highlight of the look created by Lakme Makeup Expert, Donald Simrock, was the dramatic eyes. Emphasis on the eye was created by the smoked lashes effect and the use of black and grey shades on the inside waterline. The look was completed by using the soaked- berries colour on the lips with a sheer effect.
Bringing Day Two to a great end when fashion was not just only a stylish 'Blur' by Anavila, the style connoisseurs cannot go wrong with their choice.
-ANI