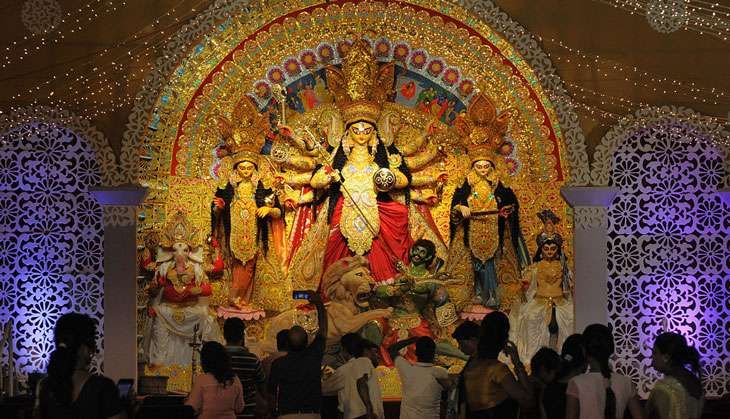 Wondering why Bongs across the world are so enthusiastic this weekend? Durga Pujo is here, you guys! Bengalis go crazy this time of the year. Dressing to the nines, hoping from one pandal to another with friends and spotting suitable crushes, to gorging on scrumptious Bengali food, EVERYTHING about pujo is oh-so-exciting.
While others celebrate Navratra by fasting, our 'universal-ma' allows Bengalis to gobble on that Kosha Mangsho, Mughlai Parotha and Mishti Doi like there's no tomorrow. And we could not thank her enough.
Bengali or not, step into that food paradise (pandal) and relish these mouthwatering foods. YOU WILL NOT REGRET IT.
Caution: If you're away from home, these dishes might just give you the pujo feels right away.
Mutton Biryani
Can anything beat that piping hot biryani with tender mangsho (mutton) pieces? Also, we Bengalis NEED to have potatoes in our biryani.
Egg roll/ Chicken Roll
You will be encountering a lot of Kolkata Kathi rolls in pandals. Of course, vegetarians will have their choice from soya chaap rolls, or paneer rolls. But, nothing can really replace egg/chicken rolls. It is a must.
Puchka
Puchka is basically the Bengali version of pani puri and it is the best. You can easily manage a puchka eating competition, because you anyway will not want to stop at the standard five.
Vegetable Chop/ Aloo Chop/ Mocha Chop
Vegetarian or an Non-vegetarian, aloo (Potato) and mocha (Banana flower) chop is an absolute treat. You can easily ditch the fancy lamb and pork chops for the traditional aloo and Mocha chops. It makes for the perfect snack while you're adda is on.
Chicken/ Mutton cutlet
Who cares about cholestrol when you have crumb-fired chicken or mutton cutlet in front of you? Foodgasm assured!
Khichudi
A simple math all the Bengalis agree on: Steaming hot khichudi + labra + begun (brinjal) bhaja (fry) = Heaven <3 Khichudi and labra (mixed Vegetable) is 100% vegetarian and is served as bhog or prasad. It is amusing how such a simple dish can be so remarkably satisfying.
Fish Fry/Fish Kobiraji
Yes, we Bengalis are happy fish eating souls. No Durga puja is complete without fish fry. Fish fry with kasundi (Mustard) sauce is an undisputed combination. Too good to stop at one.
Mughlai Paratha
An absolute gastronomical delight! Mughlai paratha is minced meat stuffed paratha and is extremely popular during Durga Puja and otherwise.
Dimer Devil
Eggs wrapped with spicy minced meat. *Drooling already* Dimer Devil is in a class by itself. The explosion of flavours will make your taste buds go 'Hallelujah!'
Kosha Mangsho
Kosha mangsho is Bengal's pride. It would be a crime to not try the traditional Bengali mutton curry during the five-day Durga Puja extravaganza. Also, finger licking is totally acceptable.
Rassogulla/Mishti Doi
Did you really think that the list of traditional Bengali food items would be complete without roshogulla? So, after you've stuffed yourself with the above mentioned delightfully delicious food, fill in that tiny place in your stomach with those spongy-soft dipped in sugar syrup, roshogulla or the quintessential Bengali mishti doi. Your heart will thank you.
Happy Durga Pujo everyone!
--Edited by: Aishwarya Yerra