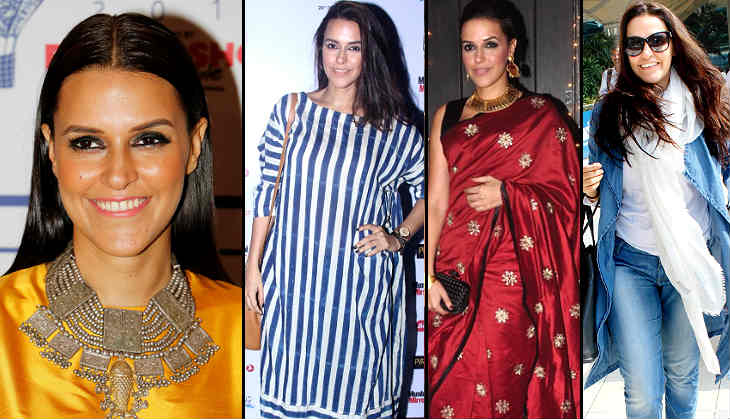 Actress Neha Dhupia's style is always on point. From pulling off the classics to experimenting with unconventional looks, this talented actress can seem to do no wrong in the style stakes. Even when she's not wearing a celebrity-approved designer, Neha just looks too good to miss. 
The regular red carpet stunner has made just about every style work - from an oversized skirt, to an off-beat saree to other things that are considered a strict no-no as per fashion rules. And the best part is, most of her looks can be effortlessly recreated!
To make that job easier for you, we have picked 5 of Neha Dhupia's looks that are so easy to replicate that you won't even think twice before opting for them. Take a look: 
1. Stripes
Neha Dhupia owns this striped two-piece set. And she should be able to convince you to let go of your fear of wearing stripes. Take a cue from Neha and add a few extra details to draw the eye away from the overpowering stripes. In Neha's case, the badge embroidery does the trick. You can also wear a contrasting scarf or a striking belt. 
2. Ethnic twist
It's all about comfort first. Ditch those tight leggings, denims and pants and wear an ultra-wide palazzo with that long kurta of yours. Keep the colour of the palazzo cool and bright, add some antique silver jewellery and you're good to go. 
3. Everything white
Simply wearing white can do wonders to cool your head in the summer. And the best bit is that a white outfit doesn't call for too much styling. Be it a white maxi dress, a kurta, a dress or a saree, all you need is a statement accessory in a stand-out colour. While black and red coloured accessories often accompany this colour, try to break out of these safe colours and opt for accessories like a forest green clutch like Neha. Or maybe you want to put on a cheery, yellow scarf. How about some big blue earrings? Or a pair of striking pink pumps? The possibilities are endless!
4. Same-coloured separates?
Wearing same-coloured separates requires quite some courage as it is a tricky look. But take a leaf out of Neha Dhupia's book. Remember, less is more. Wear white on white, or black on black but make sure not to go over the top with the styling. Do not add any pop of colour in the look. But choose to add accessories like a brown watch, silver chain, tan sandals or booties to it. Most importantly, you need to show the world how comfortable you are in dressed in one colour from head-to-toe. 
5. Layering in summer?
If you think that layering in summers is going to make you look like you have added a few extra kilos off late, then you need to be smarter. Wear that long shirt of yours above similar coloured separates and accesorise the look with multiple chains or stack bangles. 
While Neha's look comprised a grey over sized kurta dress beneath a dark long shirt, you can wear a white top, white denims and layer it with a long, grey shirt or any other long shirt in a subtle colour. A not-so-severe top knot, statement jewellery are what you need to complete your look. 
Now go rock summer!