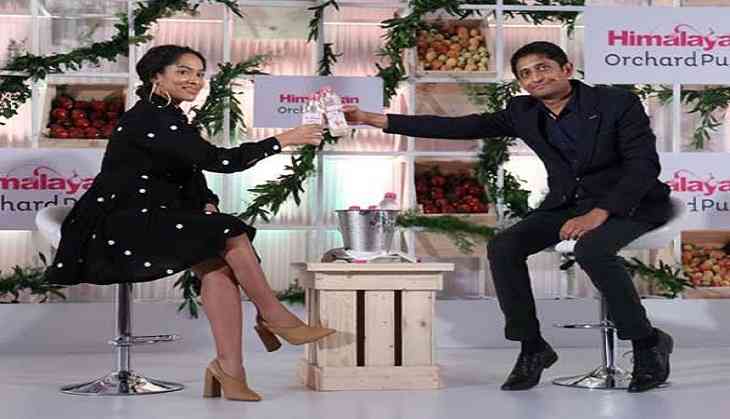 Foraying into the flavoured water segment, Himalayan, India's premium natural mineral water brand marketed by NourishCo Beverages Ltd., recently announced its new offering - Himalayan Orchard Pure.
A non-carbonated, natural mineral water with 100% natural flavors and no preservatives, Himalayan Orchard Pure offers the purity of Himalayan and fresh flavours of fruit orchards in an attractive bottle.
Every drop of Himalayan natural mineral water filters through the layers of Himalayan rocks for twenty years, collecting natural minerals. To this fine water, 100% natural flavours are added to create Himalayan Orchard Pure.
It makes for a great choice for consumers who increasingly seek healthier alternatives but want sensorial delight at the same time.
Himalayan Orchard Pure is available in three flavors - Apple, Strawberry and Peachand is priced at Rs 55 for a 500-ml bottle. The product will be available in Delhi NCR, Mumbai and Bengaluru through select modern retail and e-commerce outlets.
To introduce this product to consumers, Himalayan has partnered with celebrated designer Masaba Gupta, whose work resonates with Himalayan Orchard Pure's proposition of pristine natural goodness with a burst of flavor. As a part of this collaboration, Masaba will be creating an exclusive collection for the upcoming Winter Festive edition of Lakme Fashion Week inspired by the unique qualities of this water and its natural and flavorful freshness.
Speaking about the launch, Kuttiah K S, VP & Head of Marketing, NourishCo Beverages said, "Flavoured and enhanced waters are fast emerging as popular and healthy alternatives in the beverages market globally and in India as well. Himalayan, India's first natural mineral water, created the category and we are confident that Himalayan Orchard Pure will do the same by providing discerning consumers with 100% natural flavors added to the same fine Himalayan natural mineral water. Our association with Masaba is in line with our objective of telling this story to consumers through a medium that reflects the brand's imagery as well as its natural and fruity delight. We are eagerly waiting to see her interpretation."
The launch event was a refreshing set up that reflected the raw and natural goodness of Himalayan Orchard Pure along with the vibrancy of Masaba's fashion sensibilities. Guests were taken through the mesmerizing journey of every drop of Himalayan water that undergoes nature's own filtration process for twenty years, collecting a fine balance of natural minerals along the way.
Designer Masaba Gupta elaborated on her inspiration drawn from the new Himalayan Orchard Pure, which will reflect in the designs for her upcoming collection at the Lakme Fashion Week Winter Festive 2017.
Speaking about this association, designer Masaba Gupta said, "This collaboration with Himalayan Orchard Pure is very exciting for me. When you believe in something it naturally reflects in your work. Himalayan Orchard Pure is my inspiration for my upcoming collection at Lakme Fashion Week Winter Festive 2017. I'm looking forward to an exciting, fruity and colourful range coming up."
-ANI