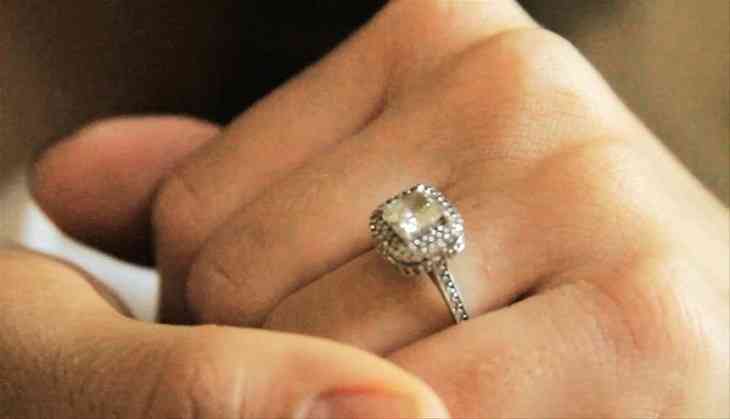 Engagement rings are a complete sentiment of love, a permanent mark of your relationship and a cherished memory of your commitment.
It is said that engagement rings are worn on the finger with the vein of love to keep your loved one closest to your heart. Hence they deserve to look spectacular and unique.
In today's world where customisation has set its firm foot in every aspect of life, personalised engagement rings, adorned with your choice of brilliant coloured gemstones, could be a perfect reflection of your individual statement of love.
When it comes to gemstone rings - the sheer volume of varieties and colours available are overwhelming.
However, before you consider the wonderful array of colours, we recommend you read up on the significance of each stunning gemstone and pick the one that exemplifies your love best, says Isha Pandey, Jewellery Merchandiser, BlueStone.com.
Garnet & Ruby - The colour red was once said to stand out for price, nobility and vengeance. It also symbolises love, passion and courage. Ruby and Garnet engagement rings are considered a perfect reflection of love and passion. For those with Ruby as a birthstone, a Ruby centre stone or side-stones would be a gorgeous choice for an engagement ring.
Pink Sapphire & Rose Quartz -Known as the stone of hearts, Rose Quartz was used as a token of love back in the day and continues to be an important talisman of relationships even today. Representing acceptance and serenity, Pink Sapphires and Rose Quartz rings are most stunning when set in rose gold.
Blue Sapphire & Tanzanite - Mostly used for accentuating the delicate hands of a woman, the dark hues of the blue sapphire make engagement rings more appealing. The most iconic of Blue Sapphire rings of course is the one worn by Princess Diana and now adorns the fingers of her daughter-in-law Kate Middleton, the Duchess of Cambridge. This gemstone is marked ideal for bridal jewellery due to its durability and hence can be worn on daily basis. Known as the gemstone of 20th century, Tanzanite is known to unite the mind and heart. A princess cut or a heart shaped Tanzanite engagement ring would be a stunning choice to mark this special day.
Yellow Sapphire & Citrine - Historically gemstones like Citrine and Yellow Sapphire were known to be energizing and people flaunt it even today due to their vibrant energies. Another plus about these gemstones is that they are affordable too. One could get a large high carat stone without having to break the bank. They look splendid in rose or yellow gold.
Emerald: Once a favourite gemstone of Cleopatra, Emeralds are regarded as an amulet for good fortune. This luxe gemstone is renowned for its rich and elegant colour and beautiful inclusions, which make each stone one of a kind. Emerald's forest green hue looks elegant when paired with rose and yellow gold.
Amethyst: This purple stone symbolises great imagination and denotes insightful and empathetic, considerate and helpful. Purple Amethyst engagement rings find their space in aristocratic family jewellery and are the perfect option for an elegant, regal ring to celebrate your love.
-ANI