#WITW: two amazing women freed me from my working mom's guilt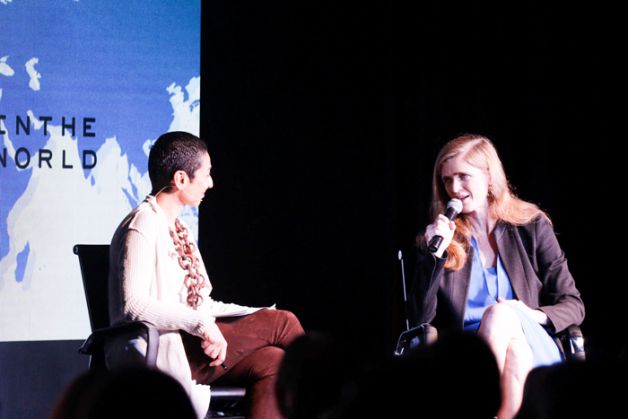 The Women in the World conference (WITW), hosted by Tina Brown, in New Delhi's Taj Mansingh on Friday was impacting not just because it was an opportunity to dive deep into the journeys of awe inspiring women and the battles they conquered, but because if you are a parent like me, it was a lesson in parenting that no book ever taught.
Also read - The Real Power List: women who are changing the world, one gutsy move at a time
At an event that saw a spectacular range of power women - from Hollywood actress Cate Blanchett, Nigerian power activist Obiageli Ezekweili and Iranian Car racer Laleh Sedig to India's own Shabana Azmi, Nandita Das, Deepa Mehta, HR minister Smriti Irani among others, two women stood out for me.
Women who built a bridge from their work into their motherhood, so that each element could build on the other.
One was Naina Lal Kidwai, Chairman, India director, HSBC Asia Pacific and the other was Samantha Power, currently the US ambassador to the United Nations.
When Kidwai got pregnant in 1992, she was with Morgan Stanley then and experiencing a crucial rise in her career. If she dropped out at this point, the loss to her career might be irreparable.
When she gave birth to a baby boy, she kept juggling motherhood and her career. At some point, when her son got older and demanded her attention especially because she was on the phone most of the time, "I decided to involve him the work I'm doing," she said at the WITW summit.
She starting sharing her work with him: the deals she was chasing, who these companies were, what they did and what would happen if the deal went through. And each day when she returned home, her son would be waiting. "How'd it go with x?" he'd ask excitedly.
Kidwai found that involving him into the work she did not only gave her the chance to spend more time with him, it bonded them closer, making their worlds connect in real time.
Samantha Power, one of the most influential humanitarian leaders in the world, and currently US ambassador to United Nations is also a mother of two kids aged 3 and 6.
"Balancing work and kids is harder than negotiating with the Russians!" she said, drawing much laughter from the audience.
Echoing Kidwai, she said "the main way I spend time with my kids, at the cost of causing them psychological damage, is I overshare. I bring them into my world."
Power has worked on the global refugee crisis, whether it is Iraq or Syria or the Burmese Rohingyas. And much of the refugee crisis and war in general, is discussed with them.
She recently told her kids about Sinjar, a small Iraqi town that was recently taken back by ISIL, while pointing it out on a world map.
Also read - Tina Brown + Cate Blanchett + awesome women from around the world: #WITW India highlights
She told them about the families living there and how the kids were thirsty and she, as ambassador, had to get water to them. That night, her 6-year-old son sat down at the dinner table, looking thoughtful and refused to drink his glass of water. "I don't want my water. Can you send it to Sinjar?" he asked.
According to Power, no world event is too big or small to break down for your child.
When her son wanted to visit Zimbabwe to see the wild animals, Power told him that they could visit, but their leader is "this really old guy who's not very nice". And that's how he got sucked into Zimbabwe's humanitarian crisis. "How's Mugabe?" became his favourite question to ask his mom.
Some might question the reality of the psychological damage, as Power puts it. Isn't it too early to learn about debased human beings waging war? Or about the importance of money and bagging investment deals?
No, say these mothers unequivocally. To be a parent doesn't just mean to create a fairytale. The greatest lesson you can impart, through the last mile connectivity in your own work, is perhaps human empathy.
And no age is too young for that.
READ MORE - Maneka Gandhi wants India to have the prenup. Will it have any takers?