Who says we're intolerant: 15 times bigotry and idiocy thrived in 2015
Asad Ali
| Updated on: 14 February 2017, 2:11 IST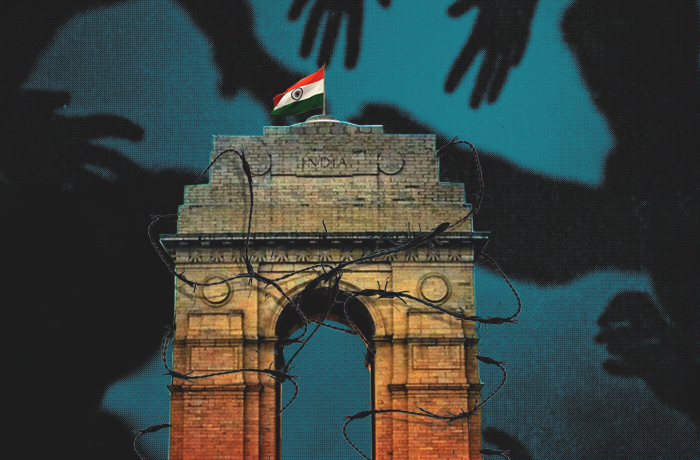 Intolerance has never been a sexier word than in 2015 India.
It was the label most in vogue, and those on either side of the cultural and political debate wanted to own it. From those who felt India's democratic fabric was being shredded to those who felt it was manufactured brouhaha - the word intolerance had many patrons.
Also read - From Ashley Madison to sex in space - 2015 has been the Year of Lust
There's no doubt it was a tough year for freedom. We did more to protect cows than three respected rationalists. We censored a kiss but killed over beef. We attacked anyone who uttered a word of dissent.
But while it may seem we've lived through an incredibly intolerant year, there's actually evidence to the contrary.
15 pieces of evidence, to be precise.
Because the fact that these 15 people below and their far-out opinions exist in public life are the greatest evidence, should India want to offer any, that we know how to tolerate.
1. Yogi Adityanath
The BJP MP from Gorakhpur exhorted Hindus to have more sex - not because he acquired a liberal gene but because he got hold of Census data that showed growth in the Muslim population rate. To Adityanath this - not suicidal farmers and malnutritioned children; not climate change and killer pollution - posed a "dangerous situation", so Hindus should "give birth to at least four children to protect Hinduism".
2. Sangeet Som
Swashbuckling BJP MLA - and Muzaffarnagar riots accused - Sangeet Som wears his dabbang opinions rather nakedly.
Post the murder of Mohammad Akhlaq for alleged possession of beef, Som visited Dadri and using an oblique reference to the Muzaffarnagar riots, warned: "kanoon kanoon ki tarah kaam kare. Warna, ham pahle bhi muhtod jawab de chuke hai aur aage bhi denge [the law should act as law. Otherwise, we have given a strong reply in the past and can do that in the future as well]."
3. Sadhvi Prachi
Ain't no statement bizarre enough for VHP leader Sadhvi Prachi to not spew it. She called Mahatma Gandhi a British agent and that "the title of the Father of Nation to Gandhi was unwarranted because the true sacrifice for attaining freedom was carried out by others."
Sadhvi has also alleged that Christian proselytism was the motive behind Mother Teresa's missionary work.
4. Baba Ramdev
The man who bends food safety regulations as effortlessly as he bends his body, Baba Ramdev inferred that racism was the reason he hadn't yet win the Nobel prize. "If I had been a fair-skinned person, the Nobel Prize would have been awarded to me by now for my work in the field of yoga. But it has been denied to me because I am black."
When's he not being a yoga god and an entrepreneur, he also wrestles:
5. Chetan Bhagat
Writer extraordinaive and man with five-point-something IQ, Chetan Bhagat wondered what the role of historians really was by posting this on twitter: "What do historians do? I am genuinely curious. This happened. Then this happened. Then this. Ok work done for the day."
6. Pahlaj Nihalani
Censor board chief and lover of all things Modi, Pahlaj Nihalani, when asked the rationale for deleting kissing scenes from the Bond film Spectre, said, "This means you want to do sex in your house with your door open. And show to people the way you are doing sex."
7. Mahesh Sharma
Minister of State for Culture and Tourism Mahesh Sharma could have made the list on a number of counts, but we decided to give it to him for this priceless remark: "We have renamed it after someone who was a humanitarian and a nationalist despite being a Muslim" - in reference to changing the name of Delhi's Aurangzeb Road to APJ Abdul Kalam Road.
8. Radhe Ma
The self-styled (and horribly so) godwoman who allegedly lets devotees kiss her has confidantes named 'Chhoti Maa' and 'Talli Baba'. None of those bothered us - till we saw the now-infamous clip of her frolicking in circles like an intoxicated red hamster:
9. Gurmeet Ram Rahim Singh
Head of controversial spiritual body Dera Sacha Sauda, he could have made the list for any number of reasons, such as the irony of being an 'environmentalist' with a fleet of super-luxury cars; but if we had to pick just one reason, it would be this cringe-soaked cinematic endeavour:
10. Dinanath Batra
Pulper of all perceived anti-Indian fiction, Mr Batra took it upon himself to write school textbooks on 'moral education' for Gujarat and Haryana.
Which have verses by him that go: "Maine swapna liya hai, vidyalay key nirmaan ka Hindutva ki neev par, desh bhakti ke aadhaar par (I have a dream, of building a school on the foundations of Hindutva and patriotism)".
His favourite colour? Saffron. He's gone on record to say that. And while every citizen is entitled to his prejudices, an 'educationist' is not.
11. Sakshi Maharaj
Four time BJP MP who had hailed Nathuram Godse as a patriot had this to say about those who kill the holy cow: "We won't remain silent if somebody tries to kill our mother. We are ready to kill and get killed."
He also made news when he said: "Rahul Gandhi eats beef, and goes to the holy shrine (Kedarnath) without purifying himself. The earthquake was bound to happen."
Also read - The Famous Five who Rocked Indian Politics in 2015
12. Mohan Bhagwat
Sheer seniority has given the VHP chief a headstart on outrageous comments. From "Mother Teresa's work had ulterior motives, which was to convert the person who was being served to Christianity," to calling the Dadri lynching a "small episode."
He also offered up a sociological theory of marriage wherein marriage is basically a "social contract" and "a husband and wife are involved in a contract under which the husband has said that you should take care of my house and I will take care of all your needs. I will keep you safe."
13. Somnath Bharti
AAP politician and lawyer, Bharti drove home the point that he cares about pretty women. Only. This is what he had to say earlier this year: "I am fully confident that if Delhi government is given full control (over security), beautiful women will be able to go out even after midnight without any fear." To his credit, he clarified saying "I have said 'beautiful women laden with jewelries can (sic) can travel at midnight fearlessly.."
14. Azam Khan
Samajwadi Party motormouth Azam Khan decided to weigh in on the matter of women's safety - and said that the use of mobile phones was the reason for the rape of minors in the country.
To a rape survivor, he said 'If you rake up such a shameful matter, how will you have a face to live in the society?"
Most recently he called the RSS homosexuals because, you know, that's the strongest pejorative he could think of.
15. Saeed Noori
Raza Academy's general secretary Saeed Noori makes the list for trying to get a fatwa issued against AR Rahman. Crime? Rahman gave the music for an Iranian film that depicts the life of the Prophet and allegedly shows his back.
Power to Rahman for a sane response to an upapologetically insane complainant.
More in Catch - Hit play now for the six best documentaries of 2015
Space Age: water on Mars, amazing Hubble images & more intergalactic stuff from 2015
Why 2015 was a golden year for ISRO and how 2016 already looks promising for the space agency