Tinder's mother-daughter ad for India: just what's going on here?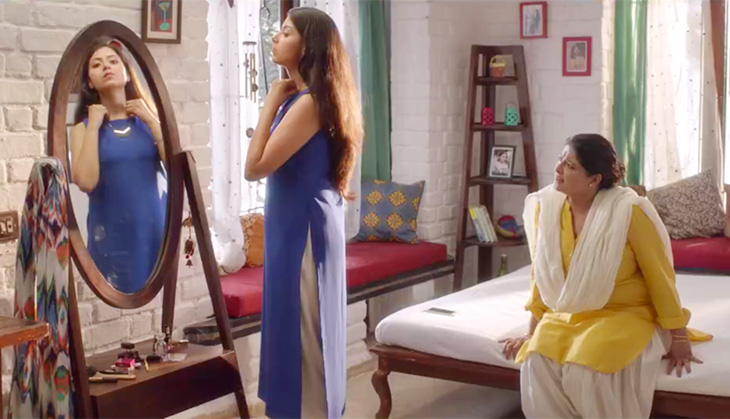 She's standing in front of a mirror, admiring herself in her blue kurta. She picks up a scarf and fusses over it before tossing it aside. Her mother admires her, and asks if she's "meeting someone". Yes, she says, before reassuring her mom that she's not going too far and will be back before sunset. Her phone buzzes and her mom smiles knowingly at the app on the blinking screen.
Nope, not BharatMatrimony or Shaadi.com. The app in question is everybody's favourite hookup forum -- Tinder.
Now, this is undoubtedly confusing, to say the least. Why would Tinder (it's called Tinder for crying out loud) want to go down the '#sanskari' route? It's almost too easy to assume that the dating app is rebranding itself to suit India, but that's unlikely to be the case. Because, you see, Tinder has existed on Indian users' phones for about three years now, and surprise, surprise, has been used in the same date-or-ditch fashion that's common worldwide.
That means if anything, this is likely to be a carefully orchestrated move on their part to establish a new brand identity, perhaps not to gain users, but to aid them by making Tinder more acceptable to Indian parents.
Also read: Women's Day? Video #WomenNotObjects shows how messed up ads are
Still, if we were to look beyond the bemusing ad itself, there are far more unusual, even baffling aspects to it.
1. The fact that there's an ad to begin with
Tinder isn't some new kid on the block. They don't really need to advertise themselves in the traditional sense. After all, with Tinder, discretion is key. And incidentally, they seem to know that too, because traditional advertising is something they've barely done in the past.
That's right. Before Tinder's bizarre Indian ad made its way to our Facebook news feeds, there had not only been no Indian commercial to speak of, but also, there was very little video advertising in general.
Tinder plays its ad games by tying up with the likes of TVF in India and Domino's elsewhere, thereby keeping things fun and interactive. More importantly, it's an approach that helps them cater specifically to their target market. So for them to create the kind of ad that's almost too well suited to Indian TV is rather uncharacteristic.
Also, for a company that used Ava the robot to promote Ex Machina and coolly tied up with The Mindy Project, this initiative is uncharacteristically dull.
Also read:After 59 years, Mattel gets it right: the new Barbie ad is awesome
2. The only other 'ad' is a world apart
The Tinder Plus feature was launched with an ad as well. In this, we see a woman remembering her crazy adventures through London, Paris and Istanbul where she used Tinder to spice things up. Without dialogue and completely based on the texts she sends and receives on Tinder, the ad is what the average user associates the brand with -- a casual hook up app. Not something you discuss with your parents on a slow afternoon.
Since there aren't any other full-fledged Tinder ads to go by, this makes for the best point of comparison for Tinder's awkward Indian offering. While the company describes the former as 'The Next Level of Tinder' on its official YouTube page, the latter has a long Facebook description that reads:
"The people we meet and the connections we forge change our lives. Tinder is how everyone today meets new, like-minded people around them - people who become friends, lovers, mentors, acquaintances, partners, movie-buddies or soulmates.
#SwipeRight to a world of possibilities."
Additionally, the last frame of the ad announces that Tinder is "where people meet". Um, no. Real life is where people meet. Is Tinder trying to sell itself as an app to get a job, get married or get a 'movie-buddy', whatever that is? Because it might be a little late in the day for that.
3. That weird thing about their official Facebook page
Go to Facebook. Type Tinder in your search bar. Yes, click on that one with the verified blue tick. You're on Tinder's official FB page, which should mean that it's the Tinder USA page, right? Wrong.
Look closely at the link. It says TinderInd or Tinder India. While this could be an IP address trick, it still shows a serious amount of focus on the Indian market. And that might have something to do with their expansion in the area in 2016.
The dating app company opened its office in Gurgaon under India Head Taru Kapoor in January this year. On being chosen as head of India operations, Kapoor had said, "Tinder is already the market leader here without significant focussed efforts in the past and the future potential here is astounding." Tinder CEO Sean Rad, while calling the move "a step towards making India one of our core markets", had revealed that the company was looking to expand in India.
Tinder's focus on India makes sense, given our massive population that's indicative of our love for hooking up (That's how babies are made, guys). But do they feel that the Indian market is so far removed from global norms when it comes to relationships, that we can't handle what Tinder actually is?
While one cannot pretend to understand the company's need to redirect the page, one should note that the dating app operates entirely via Facebook. So, what's cooking, Tinder?
Edited by Ranjan Crasta
Also read: Ever heard of a dating app for threesome? No? Here are the weirdest dating apps we've ever seen