Shashi Kapoor's first-ever biography is out, and now we love him even more
That epic line from the 1970s blockbuster Deewar, "mere paas ma hai," best sums up the reel and real life Shashi Kapoor. Copybook prefixes such as 'legendary' do little to explain Kapoor's charm - the dimples, the mischievous glint in the eye, the innocence, the disarming smile.
The word 'legendary' also does nothing to explain the man himself. His extraordinary talent, commitment to family, cinema and theatre, his socialist values, his ability to take risks, his large-heartedness and his fundamental goodness - and when last could we say that about someone in public life?
It's possible we would never have discovered the many ways Shashi Kapoor earns the title of legend - or rather, "legend of all legends" had it not been for Aseem Chhabra's biography of the man. Shashi Kapoor: The Householder, the Star documents the actor's journey. Unfortunately, Chhabra decided to embark on his journey a tad too late - long after the actor has lost the coherence to say it all himself.
Nonetheless, he has pieced together excellent reconstructions of people associated with the star. His children - Kunal, Karan and Sanjna, his co-stars, the film fraternity, and of course his fans. Just a handful of the millions that count themselves his fans, and many of those equally well-known faces in their own right.
Shabana Azmi counts herself one of the biggest.
At 12, she would save any money she could each week to buy a Shashi Kapoor poster and get it autographed by the man himself - Shashi and Shabana's fathers were neighbours. That she got to act with him several years later in Fakira and got scolded - "Itna bada gold medal le kar fayada kya hai? Ankhein nahin khol sakti ho?" ("What is the use of winning such a major gold medal? Can't you open your eyes?") - is another story.
The fans cut across generations. The author's now ex-wife was a huge Shashi Kapoor buff. And their first tiff, a day or two after their marriage, got resolved by a chance spotting of Shashi Kapoor in a hotel lobby.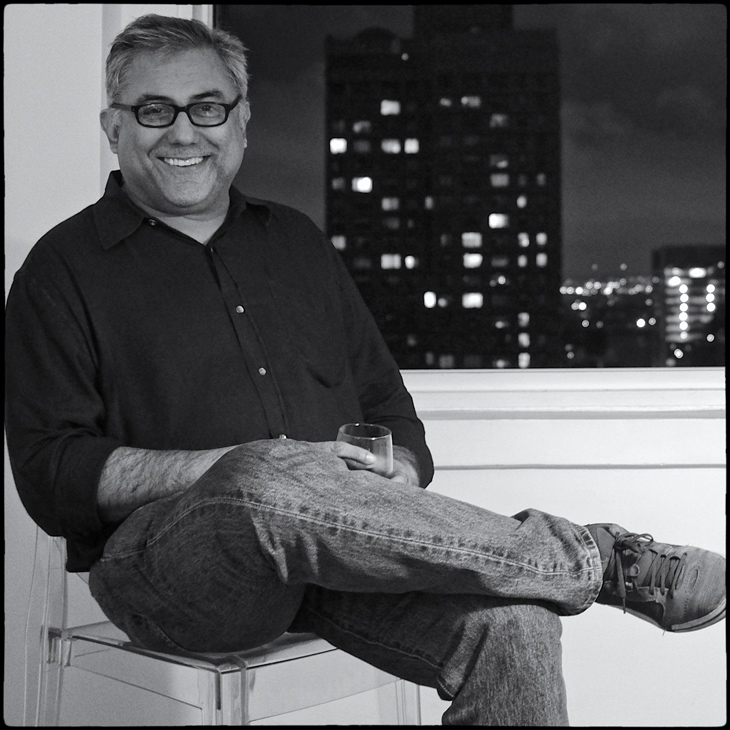 Aseem Chhabra (Photo: Dev Benegal )
There seems to be no shortage of tales told. And untold. Almost every woman of a certain age who grew up watching him act has a story about Shashi Kapoor. And not just women - there's no shortage of male fans either.
Karan Johar, for instance.
In the foreword to the book, Johar says: "It was the 1960s. A dashingly handsome, dimpled hero with abnormally good hair had arrived on the scene. In lush green hill stations, he'd look lovingly at his heroines. And for that split second, time would stop, as would the hearts of members of the audience. The hero was Shashi Kapoor."
The quintessential fan
The author has been a fan of Shashi Kapoor since his teenage years when he watched films like Sharmeelee and Deewar. Then, in the '70s, he saw many of the actor's earlier films Jab Jab Phool Khile, Pyar Ka Mausam, Dharamputra and The Householder - the first film he made with the Ismail Merchant-James Ivory team.
"I always liked Shashi ji for his restrained performances and his uber-charming personality. And he was just so incredibly handsome. I have lived in the US for 35 years and all this while I was also following most of Shashi Kapoor's films that he made outside India or with non-Indian production companies, Heat and Dust, In Custody, Sammyand Rosie Get Laid, Jinnah and his penultimate film Side Streets," says Chhabra when we ask why he was so fascinated by Kapoor.
"So in a way this book is about marrying my life in India and the US through Shashi Kapoor's films. It's the book I had been preparing to write for a long while - much before I actually planned to work on it," he says.
Also read - Now, a Narendra Modi film before every movie in the theatre
Shashi Kapoor was a movie star as well as a family man - the householder - which is where Chhabra draws the title of the book from.
"In recent years I sensed the current generation had forgotten Shashi Kapoor's contribution to cinema. So I wanted to tell the story of a man - a movie star, an actor, his commitment to good cinema as he produced films and acted in indie projects, his love of theatre, as well as Shashi Kapoor the householder - husband of Jennifer Kendal Kapoor and father to three children, Kunal, Karan and Sanjna," says Chhabra.
It took Chhabra over a year to research the book.
"...and through the journey I felt Shashi Kapoor was with me, blessing me on my endeavour. But as I said earlier, by watching many of his films that never made to screens in India and tracking his diverse career, I was indirectly working on this book for a longer time," says Chhabra.
Yet there are regrets.
"I really wish I had talked to Shashi ji and even met Jennifer Kapoor who many people told me was a wonderful person. But while I knew from the beginning that I would not be able to talk to Shashi Kapoor, I was fortunate to talk to many people close to him, including Kunal and Sanjna Kapoor, Rishi and Neetu Kapoor, and many of his colleagues - Sharmila Tagore, Amitabh Bachchan, Simi Garewal, Shabana Azmi, Shyam Benegal, James Ivory, Aparna Sen, Govind Nihalani and even Hanif Kureishi.
"I spoke to Shashi ji's friends - including Anil Dharker, and journalists who over the years had interacted with him. All of these people shared with me their rich, wonderful memories of working and interacting with him."
Prince Charming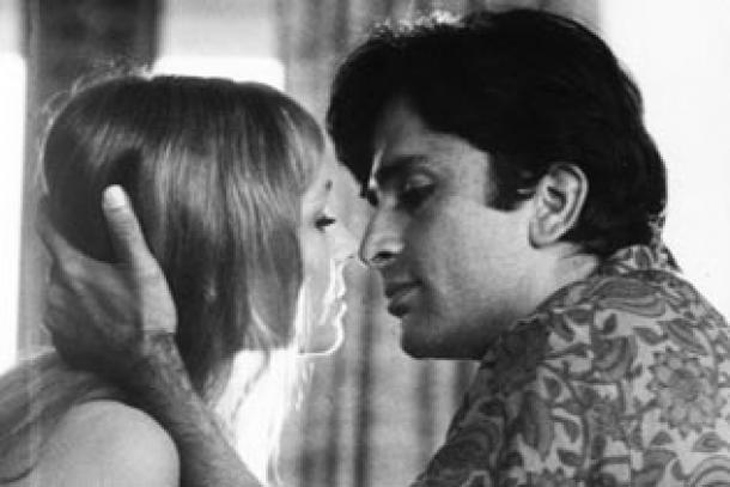 Shashi Kapoor with Jennifer Kendal in Bombay Talkies. (Merchant Ivory Productions.)
The book is peppered with anecdotes that provide a glimpse into Kapoor's personality, including the fun side we often saw on screen. The twinkle in the eye, the characteristic shake of the head with which he charmed his way out of odd situations.
Shashi and Amitabh Bachchan were great friends - even though Shashi was senior in years and often played the latter's younger brother onscreen.
Once, both along with Zeenat Aman were invited to judge a beauty contest in Pune. Both Shashi and Amitabh got so drunk that they could not decide which woman to pick as the winner.
"'They all looked lovely to us. We thought they all should win prizes,'" Chhabra quotes Shashi as saying.
As for himself, he cared little for prizes. Or awards. He bagged his first National Award for Best Actor two years after his wife Jennifer passed away.
"I only wish they had given [the award] to my wife Jennifer when she was alive for her performance in my film 36 Chowringhee Lane. Frankly, the awards mean nothing to me at this stage when I do not have her to share them with me," Shashi told a journalist then.
His fundamental humility didn't fade with age, Chhabra found.
He quotes Shashi's son, Kunal, "When told about being conferred the highly prestigious Dadasaheb Phalke Award (in 2015) for his immense contribution to films, all (my father) did was smile and nod."
"His reaction to the news of the Dadasaheb Phalke Award was: 'Who me?' and then he chuckled."
India's First International Star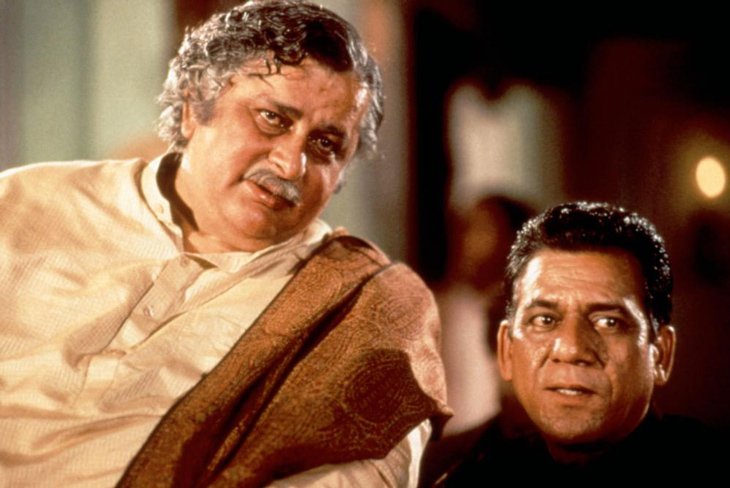 Shashi Kapoor with Om Puri in 1993. (Sony Pictures Classics)
Chhabra writes that Shashi was India's first international star - long before the Priyanka Chopras and Irrfan Khans made their mark in Hollywood.
"He was also, by all counts, the most handsome Hindi film actor of that period -a fact corroborated by almost everyone I've spoken to, from Sharmila Tagore to James Ivory."
"He was just so good looking,' Shabana Azmi, his co-actor in several films, tells me. 'In fact, I sincerely believe that his good looks went against him. Because the first impression was that of a strikingly attractive man, people would forget what a fine actor he was!" she said to Chhabra.
He also details an interesting incident when Shashi was chosen to play the lead in The Householder.
When Ruth Prawer Jhabvala gave permission to make a film based on her book, she had a concern. She thought Shashi was far too handsome to play the role of Prem Sagar, the hapless schoolteacher.
"If you wanted to make a film about a poor, struggling tutor in some miserable school in Delhi, you probably would not cast someone like Shashi, who was so magnificent..." James Ivory told Chhabra.
However, when Shashi heard of Ruth's objections he went to a barber's shop in Delhi and asked for "a typical, lower-middle-class Hindi teacher haircut" - and bagged the part.
The star who is bigger than his stardom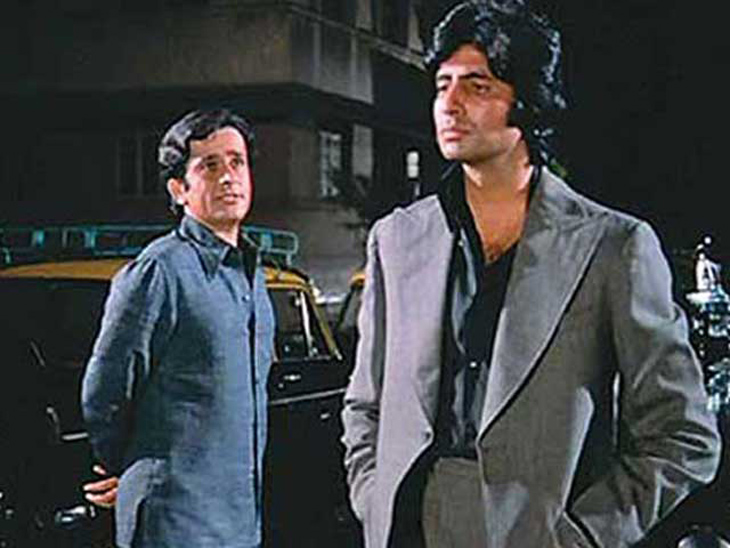 Shashi Kapoor with Amitabh Bachchan in Deewar.
If there's one takeaway from this biography, it's a renewed faith in the possibility of goodness.
Because that really seems the only word to describe Kapoor. His idealism and large-heartedness. Attributes the world may never have discovered.
Shashi's commitment to theatre was intense. There were times when he and his then fiance Jennifer survived on half a parantha.
"Sanjna says of her parents, 'When they were doing theatre, they were poor. They were underslept and underfed and my father would tell me how they would be tormented by hunger while strolling down the streets - both my parents trying to decide if they could get half a paratha..."
However, there were times when Sanjna was embarrassed to find her father featuring in "crap" films.
"Really, I am not a great feminist, but there is a whole period of Hindi cinema which upsets me so much - not only the violence, but also the way women are treated."
"Then, Jennifer Kendal Kapoor explained to Sanjna that her father would have continued being a stage actor if it were financially viable," says Chhabra.
Oddly Shashi did everything to support good cinema. And always lost money.
Says Chhabra, "When I started to work on this book, I was aware of Shashi Kapoor the actor and handsome star. But in researching and writing this book, I learned so much more about Shashi Ji's commitment to cinema as an art, the way he produced films for Shyam Benegal (Junoon and Kalyug), Aparna Sen (36 Chowringhee Lane), Govind Nihalani (Vijeta) and Girish Karnad (Utsav).
"Shashi ji was a most generous producer and his generosity actually worked against him since he ended up losing money making these films."
Chhabra says Shashi did not believe in the Hindi film industry's hierarchical system and treated everyone - from a technician and a junior artist to a top star - equally.
"I discovered that there is so much love for Shashi Kapoor from everyone I talked to," he adds.
This goodness will die with Shashi Kapoor. And he would probably let out a little chuckle from up above.
More in Catch - 'Thin line between sensual and vulgar': Shabana Azmi on Bollywood item numbers