Rafi's Indian Dream: a book meant to foster empathy for India's strays
Nicola Gothard believes that powerful stories can change the world. So two years ago she founded Generation 2050 - a publishing company for children in the UK - to improve empathy for animals through the power of stories. She has now set her eyes on India where parents often feel proud of children who like to scare away animals by hurling a stone or two.
Gothard has a story for India. A heartwarming tale about a street dog named Rafi and his little friend whom he meets at a busy train station.
And July 13 is the day when Gothard is launching a crowd-funding campaign to raise £1000 to send 1,000 copies of the book, titled Rafi's Indian Dream, to four charities in India who run humane education programmes. The Indian charities who will benefit from this book include Tree of Life for Animals, KISES, Help Animals India and The Welfare of Stray Dogs.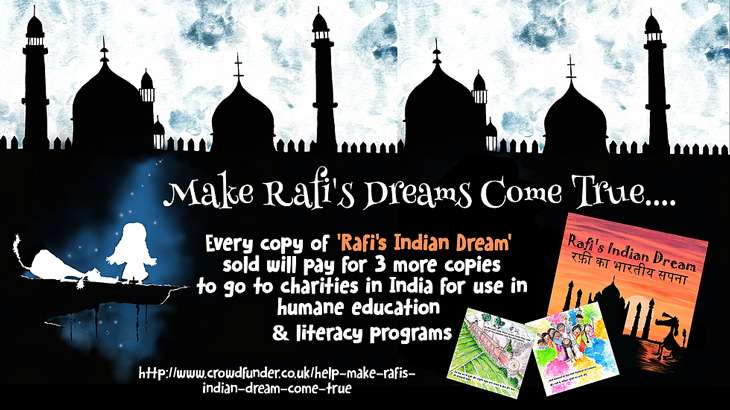 "Stories bring ideas to life by allowing the readers to step inside the lives of people and animals other than themselves, which develops their capacity for empathy and understanding," Gothard tells Catch.
"We publish books which inspire and empower children to become responsible world citizens who will act with compassion, respect and take responsibility for the well-being of other people, animals and the planet."
Supporters of the campaign will be able to buy copies of the English version of the book, beautiful prints and bundles of books from Generation 2050's collection of humane education books.
"Every book sold will pay for three more to go to India, so you can enjoy a good read and give the child in India the gift too, some of whom have never had a book of their own. The dual Hindi/English version will only be available to charities," says Gothard.
Generation 2050: India
After completing her Masters in Animal Welfare, Gothard struggled to gain employment with an animal charity owing to the recession. After teaching in South Korea and becoming convinced of education as a vehicle for positive change, she decided to go it alone and start her own business to benefit animals and the environment through education.
Generation 2050 published their first book at the end of 2014 by raising money from selling old clothes on eBay.
The India project kicked off in December 2015. Indian Animal Charity and Tree of Life for Animals approached Generation 2050 to create a story that could help them deliver their humane education programme and create a sense of empathy and understanding for street dogs among Indian children.
Also read - Delhi's dog menace: Blame the civic bodies, not the strays
Gothard got on board - more than happy to take her agenda of making the world a better place for animals forward. Soon enough, three other Indian charities became a part of the project.
India has more than 30 million street dogs and there is a vicious cycle that begins with fear of dogs biting, which leads to cruelty and aggression towards them. Consequently dogs learn to fear people and react defensively.
Partners in Change
The books have been targeted at the 4-10 age group. The good news is that between all of the charities that Godhard has teamed up, the books will be going to locations across India.
Tree of Life for Animals (TOLFA) is an animal rescue centre in Pushkar which also runs humane education outreach programmes for kids of all backgrounds because they believe education is crucial to improving how animals are treated.
Clara Nowak who contacted Gothard says, "Rafi's Indian Dream will be a fantastic asset to our education programme. We believe that this beautiful story will help inspire children to see street dogs as emotional, individual beings and show them that forming lasting, loving bonds can be beneficial to both them and the animals in their communities."
Also read - Animal Tales: Are animal abuse cases a 'waste of time' for our cops?
Nowak also believes this book will help break the generational fear-cruelty cycle.
"The distribution of the books on humane education will help further our objectives of making children more sensitive and kind towards animals, reduce cruelty towards animals especially street animals and make children role models for us, adults to follow," says Abodh Aras, chief executive officer, the Welfare Of Stray Dogs.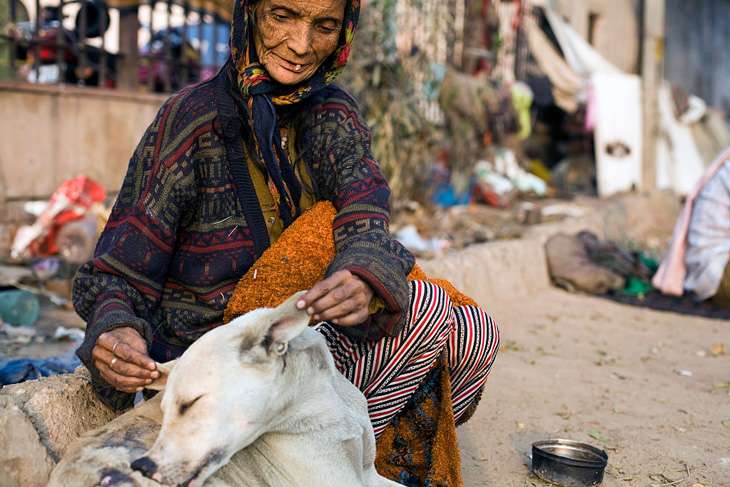 Kathleen Lama, 70, a homeless woman, fusses over a stray dog. Originally from Darjeeling she has now made her home on a patch of land in Nizamuddin, Delhi, India."I came to Delhi with my husband in 1965. We lived for some time in Old Delhi and then we had bad luck and became homeless. I don't want to leave here because my husband died in this place and anyway, I serve all the animals here now." (Photo by In Pictures Ltd./Corbis via Getty Images)
Jessika Ava of Help Animals India, a US registered charity that supports many smaller grassroots animal welfare groups that rescue animals and provide community education across India, says improving animal welfare standards is truly a grassroots commitment.
"India has among the highest animal welfare laws in the world, however, without community buy in, these laws are essentially meaningless. This is where humane education makes a difference from the ground up. Teaching children compassion leads to communities that are kinder to street dogs and other animals. Street dog behaviour is then reflective of this kindness, leading to friendlier street dogs who are less likely to bite," says Ava.
Apart from the crowdfunding event, Gothard is bending over backwards to make sure this book is sold well.
She has a "Paint a Patch for a Pooch for a Pound" event lined up at the Swansea Veg-Festival for July 16 to sell copies of Rafi's Indian Dream. She will be running a workshop where kids can decorate a fabric patch which will then be made into patchwork dog beds for rescue dogs.
It's going to be an uphill task for Gothard and the four Indian charities to make an impact on Generation 2050. We're just happy a beginning has been made.