'Shiv Sainiks get angry. But even they are capable of love': Ghulam Ali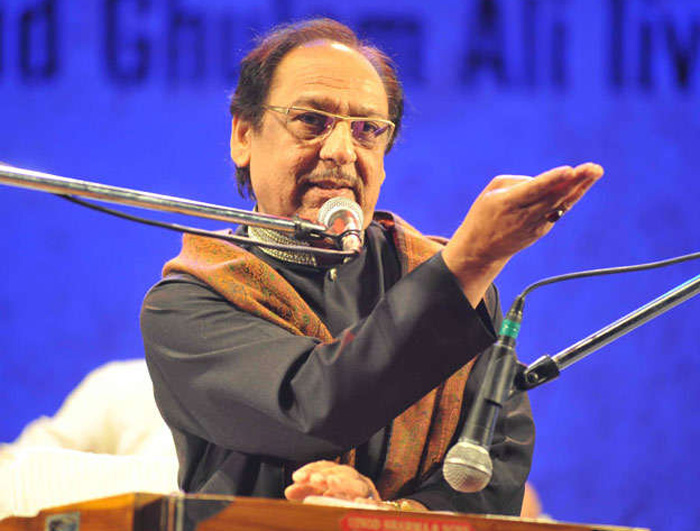 A new symbol
Shiv Sena threats led to the cancellation of a Ghulam Ali concert in Mumbai last year
Since then, the Pakistani ghazal maestro has been invited to Kolkata, Kerala and Lucknow
It seems he has become a cultural symbol of secularism in non-BJP ruled states
Guru of peace
Ghulam Ali says: \"Love and harmony is the message of my music. I stand by that\"
\"Shiv Sainiks too are capable of love. They get angry when certain things happen. This does not mean they don\'t like me\"
Pakistani ghazal maestro Ghulam Ali seems to have become the new cultural symbol of secularism in the non-BJP ruled states of India.
After his concert in Mumbai was cancelled last year due to threats from the Shiv Sena, which rules Maharashtra in coalition with the BJP, he vowed not to return to India 'till the time is right'.
Then, on 12 January, Ali enthralled a 25,000-strong audience in Kolkata, on Swami Vivekananda's 153rd birth anniversary. Chief Minister Mamta Banerjee declared from the stage: "This is the land of Rabindranath Tagore, Ramakrishna Paramhansa, Swami Vivekananda, Netaji Subhas Chandra Bose and Deshbandhu Chittaranjan Das. Ghulam Ali ji, you are always welcome here and will have to come again and again."
Also read - Shiv Sena demands cancellation of Ghulam Ali's concert, says no cultural ties with PaK
In what seemed to be a direct message to the right wing, Mamata continued: "Swami Vivekananda preached tolerance, and today is his birthday. The world is one and we cannot live without tolerance."
Soon after, Ali was invited to Kerala to perform at two venues. And while he Ali received a state banquet and public reception, Shiv Sena activists burned his effigy, and even a Pakistani flag, in front of the venue. Even fierce political rivals, CM Oommen Chandy of the Congress and Opposition leader VS Achuthanandan, united to welcome him.
Next, the maestro has been personally invited by UP CM Akhilesh Yadav to grace the upcoming Lucknow Mahotsav with his presence. "He invited me with such respect that I couldn't say no," Ghulam Ali told Catch.
In a wide-ranging conversation, Ali came across as someone unfazed by the political manoeuvring and mudslinging around him. He insisted that he only sings for his audience out of love, regardless of boundaries, and India remains special to him.
"Love and harmony is the message of my music. I stand by that," he said.
Here are excerpts from the interview.
There have been protests against your concerts in Kolkata and Kerala by certain sections of society. However, Kerala and West Bengal are known to be the strongholds of anti-BJP forces. Is the invitation to perform in these two states a mere coincidence or was it pre-scheduled?
I have many links to Kolkata. The city is home to some of the greatest artists, many of whom are very close to my heart. The people of Kolkata have always loved my work.
I had no prior plans to come to Kerala. But, the Chief Minister of Kerala called me with great affection. He said they want to felicitate me and insisted that I must not decline the request. I could not say 'no' to such a respectful gesture.
This world is full of loving people. How can you refuse when someone invites with such love? I had no option but to accept the invitation.
After your Mumbai concert was cancelled last year, Kolkata also saw protests. Now, the Shiv Sena is protesting against your performance in Kerala. What is your message for Shiv Sainiks?
As far as the Shiv Sena is concerned, there are people with love in their hearts in that organisation too. However, sometimes, there are disputes in every family. Their discontent does not mean that they are bad people. May the Almighty bestow the capability to love upon all.
The reasons to love are decreasing in today's world. In such a scenario, there is no scope of nursing a grudge.
Like everyone else, Shiv Sainiks too are capable of love. However, they get angry when certain things happen. This does not mean they don't like me or respect me. It is only the love of the people that makes me accept any invitation.
Ghazal maestro Ghulam Ali performed in Kolkata and Kerala, and is slated to perform in Lucknow
You had declared that you would not return to India till the atmosphere is right. With all the talk of intolerance, do you feel the atmosphere is right now?
Nearly 20-25 thousand people attended my concert in Kolkata. Earlier, only 5-7 thousand people would come to listen to my ghazals. Yet, people claim that intolerance is rising. The large audience in Kolkata proves that love is winning over hatred.
What can I say? I have never been able to understand why people get angry. I can only wish that Allah gives ability to exist with love to all.
I met with Prime Minister Modi last year. He received me with great love and respect. He was a very gracious host. I am thankful to him for giving me such honour.
People receive me with love whenever I visit India. I start getting phone calls from India if I don't come for a month or two. Sometimes, I get confused - people are angry, yet they want me to come. I can only pray that the hearts of those who are angry be filled with love. May there be good relations between our two countries.
Also read - Pakistani ghazal maestro Ghulam Ali cancels all forthcoming shows in India
Kerala is a Malayalam-speaking state, a language that is entirely different from Urdu or Hindi. Do you think people would accept ghazals here?
Chief Minister Oommen Chandy has just awarded me and felicitated me in a heart-warming state ceremony. He is a self-confessed fan of my ghazals, and says that music has no language. Currently, I am in Thiruvananthapuram. I will perform in Kozhikode on 17 January.
You have sung for an upcoming Hindi movie called Ghar Wapsi. Will you go to Mumbai for the music release of the movie? Were you aware of the political controversy surrounding 'ghar wapsi' before singing for this movie?
Yes, I was told about this.
Suhaib Ilyasi, the producer and director of the movie, is my close friend. He requested me to sing a song for this movie. I have lent my voice upon his request. I have not decided upon Mumbai yet.
Insha Allah, if things remain calm and nothing untoward happens, I will participate in the music release function on 29 January.
Your voice hasn't been heard in Bollywood for a long time, since the song 'Chupke chupke raat din'. Is Ghar Wapsi your comeback movie?
I had sung a ghazal called Yaad teri aati hai for Anil Kapoor's movie Bewafa. It was liked by the audience. It is true that I stopped singing for films quite some time ago. I enjoy singing in front of a live audience. The sparkle in their eyes gives me immense satisfaction. Singing in a closed studio can never match this feeling.
There have been several attempts in India to link art with politics. You have been visiting India for a long time. Do you find any change in the atmosphere here?
There is no change in the love that I receive from the people of India.
See, we are artists. Last year, I was invited by Mahant Vishambhar Nath of the Sankat Mochan Temple in Varanasi. I went there and thousands of people gathered at the temple to listen to my concert. The place has witnessed the performance of several great classical musicians in the past. But, it was for the first time in history that a ghazal concert was organised there.
I was greatly appreciated by the audience of Varanasi. An artist belongs to people of all religions. I have fans in India, Pakistan, Afghanistan and all over the world.
I believe the Almighty has made this universe. We might have different methods of worship, but Allah has created only one humanity. Only petty minds divide it between nationalities, religions or castes. Allah has not favoured one community over the other. When the creator has not discriminated between human beings, who are we to do so?
"Nearly 20-25 thousand people attended my Kolkata concert. Yet people claim intolerance is rising"
In the wake of the 26/11 Mumbai attacks, you had cancelled your India visit, saying 'who would enjoy my music in India now'? Similarly, there was criticism from some quarters as your Kolkata concert took place in the wake of the Pathankot terror attack. Your reaction?
The loss of human life is always painful. Those who lose their loved ones feel more agony. That does not mean we don't share their grief. I want peace in the entire world, including India and Pakistan.
You talked about attempts to link art with politics. I talk about music all the time, because it brings peace of mind. People find solace in Jagjit Bhai's voice or Rafi Sahib's music, or any other singer.
We artists are men and women of peace. We have nothing to do with politics. This does not mean that politics is bad.
There are equally ghastly terror attacks in Pakistan as well. You will feel pain at the death of every innocent human being, if your heart is still beating. If you don't empathise with the pain of others, it means your heart is dead.
It is our job to keep people's emotions alive. But in today's day, love is receding from families, let alone nations.
What are your immediate plans in India now?
I have also been invited to perform at Lucknow Mahotsav by UP CM Akhilesh Yadav. He personally called to invite me for the Mahotsav. He reverently told me that his father is a big fan, and my presence would add to the glory of the Lucknow Mahotsav. He invited me with such respect that I could not say no.
Both India and Pakistan share a common heritage of ghazal singing. The ghazal genre is South Asia's gift to the world. What is your message to the people of our two countries?
I am not a big enough artist to give a message to anybody. My only attempt is to make people happy.
More in Catch - Ghulam Ali concert called off: 5 other times Shiv Sena have threatened Pakistanis
Welcome heat: After writers, 400 artists speak out against intolerance
Raghuram Rajan, Narayana Murthy and Kiran Mazumder Shaw: business bigwigs pull up Modi government on intolerance