"Absolutely no censorship": Rakeysh Mehra, censor board revamp committee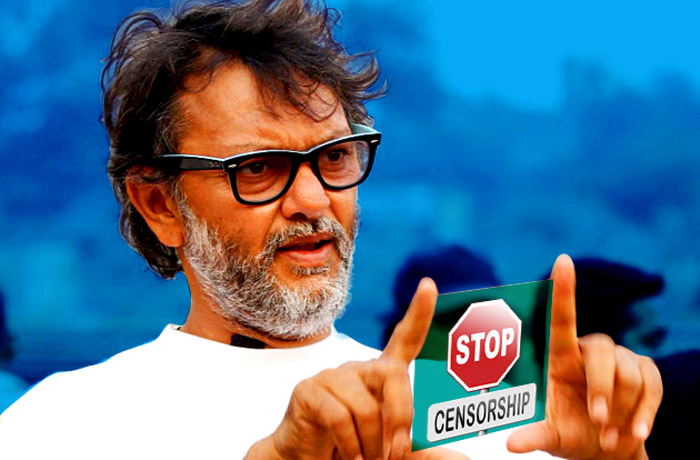 The panel
The government has appointed a committee to suggest a revamp of the Censor Board
The panel includes filmmakers Shyam Benegal and Rakeysh Mehra, and ad guru Piyush Pandey
The point of view
Mehra feels there should be no censorship at all
He says the Censor Board should merely certify films according to appropriate age categories
More in the story
What Mehra feels about the Constitutional position on freedom of expression
Why he thinks filmmakers also have to be more honest while applying for certification
The year gone by was a year of cascading creative regressions, summed up by the censored kiss in the James Bond film Spectre.
Gratefully, 2016 has got off to a more hopeful start.
The ministers for information and broadcasting, Arun Jaitley and Rajyavardhan Singh Rathore, have formed a committee to revamp the controversial Censor Board - currently headed by Pahlaj Nihalani, a producer of indifferent films and a self-confessed acolyte of Prime Minister Narendra Modi.
Also read - Shyam Benegal to head committee to revamp Censor Board: Here's why Bollywood can't be happier
Their choice for the committee is fascinating: directors Shyam Benegal and Rakeysh Omprakash Mehra, and ad man Piyush Pandey. All three are not only highly regarded professionals, but staunch liberals, committed to the idea of artistic freedom.
India strongly needed a show of good intent from the government: this sure is one.
As Rakeysh Omprakash Mehra outlines his ideas about freedom and censorship in this interview, it becomes evident just how strong this move is; how radical, how welcome. Excerpts.
Where do you stand on the issue of censorship? Should there be any censorship, or is it enough to certify things according to different age groups?
There is complete clarity in my head that there should not be any censorship at all. There is no negotiation about that.
But now that I've agreed to be a part of a committee that will look into the working of the Censor Board, I will get a better understanding from a holistic point of view, not just the industry point of view.
The issue I have to understand is, if there is a misuse of the medium, is there a way to negotiate and curb that? I have to help decipher a way to handle that.
When you say misuse, what do you mean? In your personal capacity -- in all your years of being both a consumer and producer of art - has there ever been a situation where you felt something had crossed a line and you wished it had been curbed?
It's difficult to say. It's a question of ideology. For instance, I don't like gender biases or women being objectified, but what do you do? So now, one has to put on one's thinking cap and see, where do we go?
Obviously that kind of cinema or aesthetic has to be allowed. You cannot say "I will not allow your point of view" just because I don't like it. Because whoever is making that sort of cinema is also a part of society and, by default, becomes a point of view of the society. Whether ugly or not ugly, it's up to them. Who am I or anyone else to censor that?
There is complete clarity in my head that there should not be any censorship at all
My understanding is that it should be certified for a certain age group, or in the parental guidance category, and left at that. The point is, cinema like that should be available for people who are older and have a fully-formed mind and can understand what's being shown and absorb it in the right perspective. The problem is in India we only seem to arrive at that maturity when we are 70!
It is interesting that the government has reached out to people like Shyam Benegal, Piyush Pandey and you. That seems to show good intent. It also shows that resistance makes a difference. The fact that the government is being responsive to the outcry against the narrowing of creative space is a hopeful sign.
Yes, I have always stood for no censorship. I'm happy that despite knowing that, the government has still reached out to me. Unofficially, we've had these conversations with the government and shared our concerns, and they know my views very clearly.
Watch: Angry Indian Goddesses team hits back at the Censor Board with a cheeky video
Do you feel differently in terms of religious sentiments? A lot of censorship kicks in on issues of religious and patriotic sentiment, and one is surprised how even liberals start hedging their bets when religion is involved.
No, again I feel there should be no censorship, regardless of whose religious sentiment is at stake. When you're an adult, you should be able to absorb things and understand what's going on.
There are always two sides to a coin: one side feels freedom is being misused, the other feels it's a legitimate point of view. It would be interesting to see how one goes about freeing up more space for that creative tension to exist without censorship in a country like ours.
You cannot say 'I will not allow your point of view just because I don't like it'
Yes, that is the most complex part. Everyone's sentiment in this country is so easily hurt. The restrictions on freedom of expression have to be much more tightly worded. Currently, Article 19.2(a) in the Constitution itself provides an umbrella for governments to hide under, because it restricts freedom of speech on the grounds of "threat to law and order"; or if it "hurts anyone's sentiments".
I'd be very interested in that. How can one word it more tightly? I want to know because being on the committee means one has to accept responsibility and understand the challenges.
I accepted it because you can't just keep sitting on the fence. You have to get into it, and speak out that things shouldn't be this way.
So, how would you word it? What restrictions do you feel are valid?
I think if at all there have to be any restrictions on freedom of speech, they should be very empirical, measurable and narrowly defined - not based on something as vague as sentiment, emotion or potential threat to law and order.
Most liberal societies even allow the existence of hate speech - hard to stomach as it may be. Restrictions kick in only if you actively advocate violence against someone, or advocate that some community should be treated as second-class citizens. These empirically violate someone else's fundamental rights guaranteed by the Constitution.
Yes, we have put an end to that and move a step forward from that. You cannot have one human individual or a few - irrespective of whether they are the government - interpreting what is the mood or sentiment of the country or an entire community. We have to abide by the Constitution, and if something needs to be changed, one will have to change the law of the land, or the words of the Constitution.
As a creative person, what have been your experiences with the censor board? Can you pick some instances when they went overboard?
For me, there's never been a problem at a personal level. With Bhaag Milkha Bhaag, I was going in for a U/A certificate because there was a scene in the film when Milkha loses his head in Australia for a woman, but the Censor Board said we don't see any reason why this film should not be seen by every eight-year-old, so they said it was up to me if I felt like making any voluntary cut.
So I went back home and watched it with my kids. When I asked them what they thought of the scene, they said that I'd made my point and perhaps it wasn't necessary to go so far. So I took off about 10-15 seconds on my own from the scene between Milkha and the woman he is infatuated with, and then it was perfectly fine.
Also read - Censor & Sensibility: the films likely to offend Pahlaj Nihalani in 2016
What are the industry concerns you will be bringing to the table as part of the committee? Can you recount difficult incidents others have faced? Currently, even ordinary curse words have been disallowed by the existing Board.
The biggest incident I remember is when Shekhar Kapur made Bandit Queen and the Censor Board came into conflict. He just stuck to his guns. From the Board he went to the High Court and then to the Supreme Court. He won the case in the Supreme Court. That has been one of the most inspiring case studies for all of us.
But everybody cannot afford to do that because most films normally go to the censor in the last minute, just before the release, and there's a lot of money at stake. So they're always pressurised to go ahead with certain cuts.
But even filmmakers have to take stronger stands. It's nobody's business to say, "If you cut this word or scene, I'll release the film". No Board should have that power. But producers and directors too shouldn't give in so easily either.
Filmmakers have to be more honest. We want to disguise sexual item songs and want a U certificate
The point is, why was a certain scene there in your film in the first place? Why give up on it so easily? If it is not integral to your film, why have it there? One can't always hide behind the 'commercial pressure' argument.
On the flip side, filmmakers also have to become much more responsible and honest. We want to disguise overtly sexual item songs and want a U certificate for that. I would say, keep the song but go for an Adult certification. Let's be fair.
So what will be the key areas you will focus on as part of the committee?
We haven't even had our first meeting, so I won't comment on that. But this much is pretty clear: there should not be anything called a "Censor" Board. There should be no discussion on censoring anything.
The only discussion left is what you said rightly, one's Constitutional rights and how can we certify a film? Should it be certified as under-12, under-15, under-17, Parental Guidance or Adult? And leave it at that.
If, in some instances, you encounter something really big that you think will cause huge outrage or create a humungous problem, that should be sent to the courts and be made to abide by the law of the land.
More in Catch - You be the judge: Censor Board chief Pahlaj Nihalani's work broken down in numbers
Over texts: Ashoke Pandit would be happy to see Censor Board chief Pahlaj Nihalani sacked
#SanskariJamesBond is only allowed a 50 per cent kiss in Modi's India