Meet Azad Chaiwala. Who helps shop for wife 2, 3 & 4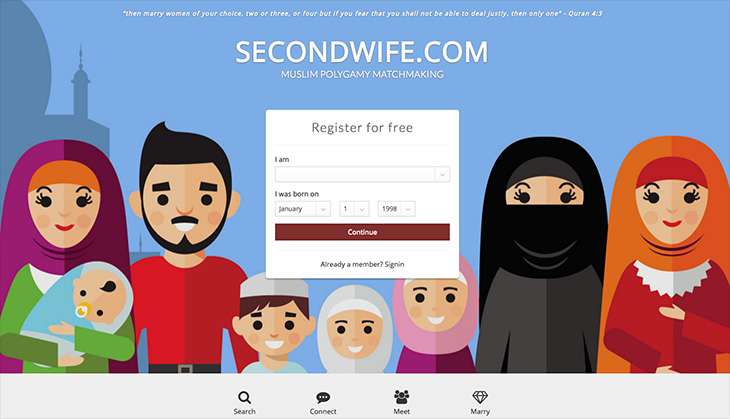 Azad Chaiwala decided to be a polygamist when he was 12 years old. By 22, he had married - shortly after he had made his first million in the UK. He then spent the next decade looking for a second wife.
Having failed offline, Chaiwala who is of Pakistani origin, decided to try his luck online. However, there were no such options in the virtual world.
So the technology entrepreneur who had built almost a dozen web-based businesses that were clocking over 50 million unique monthly users decided to launch an online portal for polygamy for himself and for others like him.
Also read - The long & short of marriage: older women who marry younger men die early
He decided to call the project www.secondwife.com. Of course, the polygamous men didn't have to stop at two. They could keep coming back for more wives.
At 33, Chaiwala describes himself as a "serial tech entrepreneur" - one who is proud of making it big without a degree. And he has his heart set on changing the way polygamy is perceived.
His logic is absurdly simple - Muslim men need more than one wife "to ward off the danger of divorce or of falling into any illicit relationship outside of marriage".
And that has logic has now extended to the non-Muslim world too.
Polygamy vs pornography
Chaiwala wants every Muslim to have more than one wife - an age-old tradition of the Prophets - a "Sunnah" he wants to revive.
He quotes the Quran on his homepage for those feeling any pangs of guilt.
"Then marry women of your choice, two or three, or four but if you fear that you shall not be able to deal justly, then only one" - Quran 4:3
This first-ever matchmaking website for Muslim polygamists was launched in November 2014. It has 25,000 members from across 163 countries. Interestingly, 30% members are women.
Not just that. Two successful marriages are reported every week.
He cites figures from a documentary film on polygamy saying there are 20,000 Muslim families practicing polygamy in the UK. He wants to change the number by many multiples. Both in the Muslim and the non-Muslim world.
Buoyed by the success of secondwife.com, Chaiwalahas launched another project - polygamy.com for those who are not Muslims.
"At 12 I knew I was a polygamist...By my late teens I had already informed every living soul that I was going to have multiple wives and 20 children. At 22, I got married for the first time and let my new wife and in-laws know about my future plans," says Chaiwala.
However, a decade later he was still with just one wife.
".. I was living in the digital age where I could find anything from a burger to a bathtub online... what use of me being an entrepreneur, if I could not use my own digital expertise and solve this problem
electronically. I knew like me there would me many others struggling to find additional wives offline... Thus SecondWife.com was born and seeing it's success and demand, Polygamy.com soon followed."
Chaiwala is certain that more people should practice polygamy.
"Because we already practice a very corrupt form of it in the shape of pornography, easy hookup apps where you can swipe for an encounter, strip clubs and extra marital affair websites.... except they all have a very bad effect on the fabric of society that is the family. Polygamy keeps families together and makes them bigger and stronger."
Any publicity is good publicity
Azad Chaiwala
Asked if such a website would bring a bad name to Muslims, he retorted, "If there was a gaymuslims.com would that give you good publicity?"
"I am comfortable with the concept. I am a Muslim and I urge everyone to be comfortable in their skins. There is no need to justify your existence. Justify your actions. Who are we trying to please? Are you trying to please Allah or his creation - the people. There is no such thing as bad publicity. All publicity is good."
Chaiwala says it is difficult for men to "window-shop for wives" on his website.
"It is not easy for men to abuse the system. While it is free for females to sign up, men have to pay. And even though they pay up they do not have access to all women or their pictures or their contact details. They have to initiate a conversation..."
Also read - Love in the aftermath of marriage: three unhappily married poets tell the truth
He, however, admits the system is not flawless - much like other matchmaking websites because "we cannot control people's minds and hearts".
"We get some dubious women...or people disguised as women," he informs.
The polygamy closet
Chaiwala says it is tough being a heterosexual man in modern society.
"There is so much temptation and far too many men are strong enough to keep control and thus lose out on their ability to be who they are. I believe that polygamy though not for everyone is a part of our innate nature."
He claims every religious scripture endorsed polygamy, but all that changed in the last century or so. And now - once again - polygamous marriages are becoming more acceptable.
"It's making a serious come back. Encouraged by the many mainstream TV shows, reality documentaries and of course our websites. People are very quickly finding the courage to come out off their polygamy closets."
This first-ever matchmaking site for polygamists was launched in January. It has 5000 members from across 91 countries.
But what according to Chaiwala is polygamy?
"...where an individual has more than one spouse and everyone is in agreement. This is not cheating and certainly not bigamy. Polygamy is a choice and a way of life for thousands of people worldwide. Most commonly there will be one man with multiple wives... All the wives are friends and are to be treated as equals."
Who are they to judge?
Criticism does not perturb Chaiwala. Or the fact that many societies do not allow polygamy.
"But as with any man made law, their is always a way around it. Majority of our users are from the US and the UK and these guys get around the law by simply marrying their additional wives through their own belief system and society... you don't need a piece of paper from the state to tell you whom you can love or love not and who you can share your life with."
So there are women willing to be second or third wives. To men who may want more.
"Some people think that polygamy is not for women, even I was shocked at the sheer high rate of female members signing up, which is 30% on secondwife.com and 35% on polygamy.com. To put this into perspective, when the data was leaked on Ashley Madison they only had 5% female sign-ups.
"In all honesty I was expecting about 5% members to be woman. These figures are further encouraging because 80% of these female members are highly educated and working professionals. I have lost count of how many doctors, lawyers, teachers and business women I have came across. We even have a ton of high ranking active and ex-military personnel."
Chaiwala cites two cases that touched him and that establish the popularity of his website.
The first is of a man with three wives who told him that he had to travel extensively and spend a fortune on finding his three wives. He is happy that there is such a service now and this is where he will look for his fourth wife!
The second being the case of women trying to register on behalf of their husbands and their new brides.
"Sisters looking for more wives for husbands... A sister told me that she grew up in a household where there she had four mothers. All mothers loved us and each mother had a different skill set. One took care of the kitchen, the other our homework....I don't want my children to miss out on this system."
Criticism doesn't hurt Chaiwala. He says he is available to handle the slander. In fact, he is rather cheeky - "At the end I just need to benefit from it. So please help me out!"
Chaiwala is thrilled at his success at making the world go back in time. Perhaps an academic degree - that he is proud not to own - would have helped him perceive the damage.
More in Catch - Why I never want to marry in a Catholic church
Matrimonial sites should not become dating platforms: Centre