Maneka Gandhi wants India to have prenups. Will it work?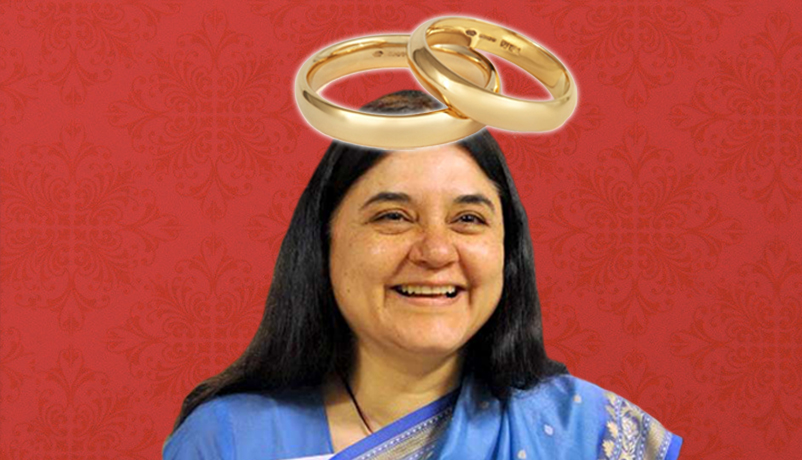 Fair agreement
Maneka Gandhi plans to introduce prenup in India
It lays out the terms of divorce - asset division, kids\' custody
India\'s divorce rate is rising. Is prenup the need of the hour?
Unfair norms
In India, marriage is largely premised to be unbreakable
Patriarchal society prevents women from asserting their claims
For the prenup to catch on, parents will have push for it
If marriage is the chief cause of divorce, as Groucho Marx said, alimony, someone else said, is the screwing you get for the screwing you got.
Such divorce jokes were met with awkward silences only a decade ago. Not anymore. India's divorce rate has risen from 10 out of 1,000 marriages to 13. In big cities, it has increased exponentially. Mumbai, for example, recorded 5,245 divorces in 2010, last year it had 11,667.
Usually, divorce leaves the woman more vulnerable as our patriarchal social norms undermine her rightful claims - to property, custody of children.
WATCH: The mad new world of arranged marriages in India
Women and Child Development Minister Maneka Gandhi wants to change this - by introducing the prenuptial agreement.
A prenuptial agreement, sweetly shortened to prenup, is a binding pact between a couple entering marriage that lays out the terms of separation in the event of divorce.
Widely practised in the West, the prenup is meant to prevent divorce from turning horribly messy and emotionally draining.
And it's quite as practical as lifeboats on a voyage. It doesn't mean you think you'll drown, only that you are safeguarding yourself in the eventuality of a shipwreck.
Of course, many in the West have taken the prenup a step further to chalk out the lifestyle they want; the frequency of sex, vacations, dining out, watching movies; and even who cooks and does the laundry.
For India, the question is more rudimentary. Can the couple see beyond their starry-eyed romance for a while, imagine the worst-case scenario and chalk out a fair agreement no matter how inauspicious it seems?
Unfair deal
Nupur had an arranged wedding two years ago. She was already 30 and her parents had grown tired of rejecting men whose horoscopes didn't match hers. When they finally got a match, they pressured Nupur into agreeing.
Both were from middle class families, he an employee with a corporate outside of Delhi, she worked at a think tank in Delhi. Her family coughed up Rs 10 lakh for the wedding; the jewellery alone was worth Rs 5 lakh.
Within months, however, Nupur found herself in a loveless marriage. There was not even genuine friendship between them. The fights got uglier by the week. One day, Nupur packed her bags and left.
'Had I asked my wife for prenup, she wouldn't have married me. I don't see it becoming a wide trend'
Back in Delhi, she spent months convincing her parents that she wanted out. It wasn't easy for "an empty marriage" didn't make sense to them. So what? So many women spend their lives this way, they said.
Finally, when Nupur's parents spoke to the man's family, they flatly refused to give her anything - not her jewellery, or the dowry. Not even a divorce.
It took a year of battling before they agreed to return some of her jewellery and the divorce papers. Nupur took whatever she got, unable to fight any longer.
"Perhaps, had there been a prenup, it wouldn't have been so traumatic. All I was asking for was what was rightfully mine. I didn't ask for a single rupee from him," says Nupur. "But I can't ever see something like a prenup being discussed in a family like mine where the basic premise of a marriage is that it's never going to break."
"What's the need for a prenup? The sad thing is it would only be used by the uber rich who have much wealth at stake," she says
In an arranged marriage like hers where she didn't even know the prospective groom's salary, what would such an agreement look like? Nupur wonders.
Hard notion
"Most women walk away or they play dirty by not giving a divorce. Either way, women are not smart when it comes to divorce. A prenup can help claim their rights," says writer and blogger Lalita Iyer, speaking about the women's appalling lack of understanding of their basic rights.
Human rights lawyer Sarim Naved feels that while the intention is good, India isn't mature enough to embrace a prenup. "For two reasons. Muslims already have this. The nikahnama is the contract. It mentions an amount called meher which the husband pays the wife in the event of a divorce."
"But, firstly, divorce is really hard to get. Secondly, in 2015, if your meher is 5,000 rupees, then we're really not there yet. There's also a notion within the community that this amount shouldn't be too high to prevent showing off."
"On the other hand," Naved continues, "Hindus have the notion that marriage is not to be tarnished with such an inane legality."
READ: Separate marriage and inheritance law for Buddhists in Maharashtra soon
"I don't see this becoming a wide trend," says Karuppa Kuzhandaikumaran, 30, from Chennai. "In a country where dowry takes place under the nose of an anti-dowry law, what sort of legality will a prenup hold? It is cold-hearted, cold-blooded and cold-headed. If I had raised it with my wife at the time of our marriage, she would never have married me."
"Also, assuming we did sign it, every fight would have become an opportunity to walk out."
Mutual benefit
Perhaps, a prenup can happen only if both partners see value in it. Rohan from Hyderabad is thrice-divorced. Two of those were messy courtroom battles over money.
"I don't intend to get married again but if I were to get married to my partner, I would want a prenup because both of us are capable of handling such a discussion with clarity," he says.
In the contract, he adds, he would make sure to mention money, assets and, most importantly, custody of children.
Mumbai recorded 5,245 divorces in 2010, and the number rose to 11,667 last year
Or, perhaps, what the prenup needs to be accepted is greater awareness and a healthy dialogue between the couple. And if the couple doesn't initiate the dialogue, Iyer says, perhaps the parents could.
"A prenup would come most handy to parents. In India, whenever a marriage goes wrong, the girl always comes back to her parents. It makes sense for parents to push for this in the interest of their children," Iyer explains.
State sponsored
Maneka Gandhi recently met Law Minister Sadanand Gowda to discuss the issue and now plans to organise a public consultation on 23 November to get inputs from experts in law, social work and women's rights.
Perhaps, the smoothest public induction of the idea would be for the ministry to draft a standard prenup that is offered to couples at the time of marriage registration.
It could have standard provisions that safeguard the woman's right to, say, the property she brings into the marriage. The couples could then have the choice of adding to these clauses.
The institution of marriage today is shaky. We need to realise the importance of the prenup before our ships wreck and the waters are too choppy to draft one.
"We are living lives of aberration. Why not formalise it with a prenup?" says Iyer. "I say we are ready!"
Some names have been changed to protect identity
More in Catch:
#Spectre movie review: license to thrill temporarily suspended