Hauz Khas Social wants you drunk on Modi's NYE speech (Rs 31 per shot!)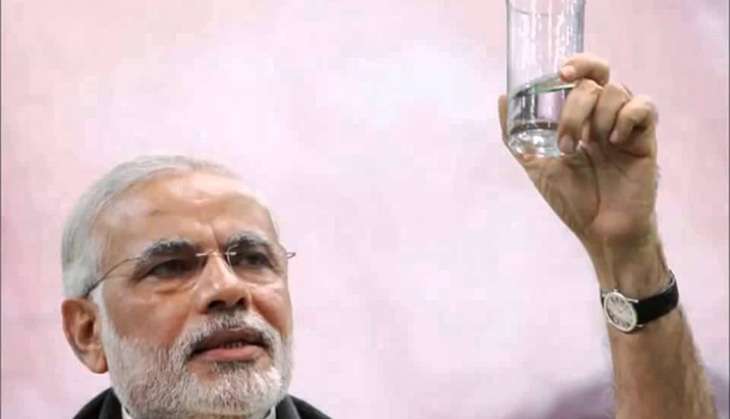 Isn't it great that we finally have a prime minister who inspires us to play drinking games?
The "end" of Prime Minister Narendra Modi's demonetisation drive deserves celebration, and so does the end of this ghastly year. And given that PM sahab is delivering a speech as the year closes, Hauz Khas Social, a popular bar & lounge in South Delhi, has decided to up their game, by a few shots.
Social, as it's called by regulars, is offering 3 shots or beers for Rs 31 (priced thoughtfully after the date we've managed to make it to) while our PM speechifies on national TV. The idea, initially, was to take a shot each time he said "Mitron", but the bar has, in the spirit of demonetisation, changed the rules arbitrarily so that you can get drunk easier.
Drunken speech
Where did they get the brilliant idea, you ask? "There was this joke circulating online, a New Year's drinking game," Disha Sukhija, Culture Manager at Social tells Catch. "So it had different [cue words] to it. One was 'Mitron', one was 'Bhaiyon or beheno'..."
Valid between 7:30 and 8 PM this evening, HKV Social will play Santa to any adult above the legal age of drinking as long as they can find a way to make it there in time.
The organisers are super confident about their marketing ploy. After all, the last time they had an alcohol offer based on a Modi speech their bar was full for two whole hours.
On 8 November, when the PM announced demonetisation would strike at midnight, people were desperately looking for a way to rid themselves of Rs 500/Rs 1000 notes. And HKV Social jumped up on the offer. They slashed the rates of their alcohol, offering to take the old notes.
"It was madness," recalls Sukhija. "People really wanted to get rid of their notes by drinking."
Admitting that Modi is a bankable PM (to get people drunk), Sukhija says, "The last time he made his speech, everyone was tuned in. The idea is to enjoy it together."
But would people really want to "enjoy" the PM's speech on December 31 in a bar? "Yeah. [The alcohol helps] pregame for New Year's. It should be fun!" says a rather positive Sukhija.
2016's biggest 'KLPD'?
The new offer, posted on their official Facebook page last night, reads, "Come watch our PM's follow up speech to 2016's biggest KLPD - The Rs. 500 & Rs. 1000 Denomination Demonetization, at your favorite Social."
On being asked if it would be a disappointment for their customers to tune into the PM's speech when they should be partying, Disha Sukhija says, "If you want to watch it you can watch it. If you don't want to watch it, there's another area in the restaurant where the speech will not be heard."
Social's marketing move shows an incredible amount of cheek, for our increasingly conservative government has repeatedly censured everything that's not "sanskari". And downing alcohol over the PM's address would definitely top their list of un-sanskari acts.
Bars as expensive as Social getting more political is a sign of even the elite and privileged getting affected by our government's policies. Which is ironic, given that we have a supremely capitalist Centre.
That people who hang out at Social would bother to watch a speech delivered by the prime minister, that too on the one night when the whole world parties, is indicative of, if nothing else, a more socially conscious public. Or the sheer terror that his last speech unleased.
A speech all would watch
Sukhija doubts anyone would want to miss the speech, because, as she observes, PM Modi has left the aam junta super clued into news. After all, the rules of the demonetisation game changed every day.
"It's very important," says a concerned Sukhija. "Because [demonetisation] shook the entire country. Everyone has a mixed opinion on it."
"I know it's an inconvenience, I know a lot of people have suffered, and people have also died. But who knows if it will actually solve the problem [of black money] in the long run or not?"
Is she worried that he'll make a new announcement? "I think he's gonna stick to what he's doing. He's very confident and doesn't care about what people say. I'm hoping that he's realised the problems, I really hope he doesn't take a bigger step that makes it more inconvenient for the lower classes, because there has been a lot of suffering over the past two months."