From drug addict to therapist, Vijay Simha to tell his gory story through two books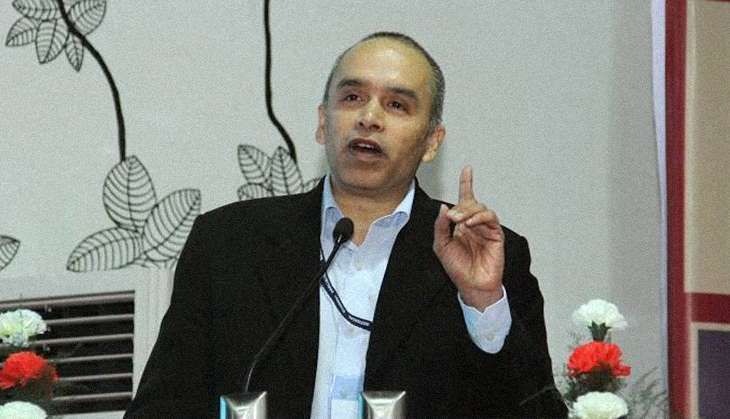 Vijay Simha's personal struggle with drugs and alcohol is one of India's best-known stories of victory over addiction. Simha became homeless and penniless and landed on the streets, was rejected by most people he interacted with, that is, till he decided to do something about it.
Simha has signed a two-book deal with Fingerprint! to talk about this difficult journey. The first will be a memoir, and the second on how to recover from addiction.
He talks to Catch about his incredible journey - how he overcame his personal struggle with drugs and alcohol and how he is now touching the lives of others.
Edited excerpts from the interview:
LH: When, why and how did drugs happen?
VS: I had begun to step out into the world towards the end of class 10 in 1978 in Secunderabad. The friends I began to spend time with listened to western music, watched English movies, smoked cigarettes and drank alcohol.
None of this was part of the environment I was raised in. Doing it with friends was cool and it created an alternate, exciting world for me. My friends introduced me to tobacco, alcohol, marijuana and opium and its brown sugar derivative. I never introduced drugs to anyone. I was a follower, blown away by the magical effect these substances had on me. Drugs made my life thrilling. I began to spend more time with friends and less with family.
My first experience with any substance was in 1979. Thus, I was about 15 when I first tasted chemical substances. Within minutes of each other, I first had a swig of alcohol and then smoked a cigarette. 1979 was also the year I began to make my own life decisions.
I was with two friends, one day, one of them took us to his father's study. It was lined with books and I was amazed to see so many books in a room for the first time in my life. Our host led us to a cupboard and took out a bottle from the bottom drawer. It was filled with colourless, transparent liquid. He pointed to the label, which said feni. He unscrewed the cap and filled a capful as we watched, agape and nervous.
My friend handed me a capful with the authority of someone who had done this earlier and who knew what it would do. I gulped it down. It was like magic. A sudden warmth spread through my body, along with the feni as it went down from my throat to settle in the pit of my stomach. My mood was instantly elevated.
My friend then fished out a packet of cigarettes. He said it would kill the smell of feni. I lit up and took a deep drag. The cigarette burned my throat and insides. It smelled terrible. It tasted awful. I began to cough, almost racking cough. But I noticed none of this. I was transformed, yet again. The cigarette too cast a spell. I felt like a king with the cigarette in my fingers. I hadn't even taken in the entire drag of smoke but I was high. My life was altered.
LH: Your most ugly memory when you were doing drugs?
VS: Being thrown out, repeatedly. My parents threw me out of their Tarapur house, where I landed up for money in crumpled dress and smelling a mile from not bathing for days. They virtually disowned me; such was their alarm when I landed up unannounced in a small, dignified neighbourhood.
I was thrown out of my grandparent's house in Secunderabad in 1985; I was 21. My grandfather had died in 1984 and my grandmother had had enough of my demands for money (for drugs). She was so upset that she drove me out of Secunderabad itself.
I was banished to Nagda, a tiny township in Madhya Pradesh where life revolved around Grasim Industries of the Birla Group, which had its headquarters there. My uncle (father's younger brother) worked there in a senior position and my grandmother left me to him, hoping that he would straighten me. He did; I got a job there and worked hard until I made friends who drank alcohol and smoked marijuana. My uncle and aunt threw me out in 1988 although this was dressed like a fond farewell.
My younger brother threw me out in 2001 when I landed up without warning, back at the home I was raised in just when they thought they'd never see me again. I cold-turkeyed my way out of drugs (sudden abstinence, which triggers severe withdrawal symptoms) and began to eat again. Flush with a sense of false security, I began calling my then romantic partner using my brother's landline. The calls were long - two-three hours at times without interruption. He began to get hefty phone bills and he hated me for it. One afternoon, after a nasty argument, he chucked me and my suitcase out on the road.
In Delhi, I was thrown out by my then live-in partner. She and her family couldn't take it anymore and she packed me off to the south of India. I was thrown out by my landlord from an east Delhi housing society for disrupting the peace of the neighbourhood and for not paying his rent. This society has since banned its residents from leasing houses to journalists. I had cast such a vast and scary shadow on their psyche.
I was even thrown out by a drug peddler in Connaught Place. He slapped me and threw me out of his joint because I had no money for drugs and I wasn't leaving until he gave me my fix.
A five-star hotel in Connaught Place threw me out for doing drugs in their toilets. The toilets were cozy and I did drugs there everyday. Eventually, I got thrown out of jobs too. This pattern of rejection only drove me further into drugs. I hated my life and I hated those who rejected me. Such was my insanity. I landed on the streets of Delhi - with nothing left. No pride, no self-esteem, no job, no home, no friends, no family, no health, no money and, worst of all, no drugs.
LH: How difficult was it for you to win the war against drugs and alcohol?
VS: Until the year 2002, I hadn't known much about or understood the word 'addiction'. It was never a part of my life or my work. A former colleague and later friend Paranjoy Guha Thakurta admitted me in a drug rehab in 2002. Until that point, my life was a long story of drugs, cold turkey, drugs, cold turkey, drugs. I went back to drugs each time I quit.
In 2002, Oswald Pereira, who ran the therapy programme in that rehab then, taught me about addiction. Suddenly, it all made sense. Once that happened, I had no problems. I have been sober since 2002. But yes, quitting drugs didn't happen until I had that moment of clarity.
LH: How many lives have you been able to rebuild...
VS: About 25 or so people are in various stages of personal progress after working with me. I began independent addiction therapy by counseling and other tools in the winter of 2012. For a year, I did this work pro bono. Not many took me seriously. They'd come, talk, listen, go away and never return. I learned the hard way that there is a price to sobriety.
I began charging for this work sometime in 2013. My work is intense and I do not work with more than four people at a time. It is hugely demanding and exhilarating when it succeeds. So, more than 25 people in three years of one-on-one work is not bad. Also, I do Root Cause Therapy, which is nothing like past methods. This has resulted in people working with me from outside India without even meeting me.
In late 2015 and early 2016, I was able to certify that people who worked with me purely on Skype were free of addiction. This, I believe, is the first time that this happened probably anywhere on earth but definitely from India. That we are able to successfully treat the addicted with no medication, no rituals, no self-help group methods, no rehab, and no disruption to life at all. I am thrilled by this. I am working to expand my Root Cause Therapy now.
LH: Your two-book deal - what is it about?
VS: The first book is a memoir. My story in all its gory glory. It appears that there is some interest in this; people have been suggesting since 2006 that I write my story. But I delayed it because such a story has to first stand the test of time.
The second book is a complete contemporary text on addiction and how to beat it. Addiction is one of the oldest human conditions. It pops up in human history almost soon after Adam and Eve. It is stunning that since then, this has remained a challenge. We still have no answer to addiction, although the understanding has improved greatly. Thus, my second book provides new thoughts and I expect it to start a fresh discourse on one of the oldest human challenges.
LH: Will it be a self-help book? Or is it mostly autobiographical?
VS: The first book is an autobiography of one man, which really is more like an autobiography of India over the past 40 years. This is because of my location and life map across India and the role the state of the country played in the story. I am told there is excitement about this book. I hope so.
The second book is a DIY. For decades, addiction treatment is hostage to poorly skilled and poorly motivated rehabs, self-help groups and the medical world. Even with good intent, immense harm has been done. I intend to free families from dodgy practices and equip them with the best of commonsense and clear solutions to their suffering loved ones.
LH: How would you make the content of the book/s different accounts/books already out there?
VS: I would not be writing these books if there existed anything like them. Nobody else thinks the way I do on addiction. The concept of addiction as a disease has had devastating consequences. The USA is in the grip of its worst drug epidemic after nearly 80 years of dealing with addiction as if it is a disease.
My books intend to help end this terrible cycle of ignorance, suffering and death - especially in India. India has been desperate for clear books on addiction and I hope that my books will provide them just that. I hope that every family would keep and read a copy.
Likewise, my personal story appears to have connected with many Indians. I am told so. Thus, I am writing with the sense that it might be helpful. The two books are not a vanity project. Their only purpose is public good, particularly in India. I have undertaken this project after great deliberation. Addiction is not about drugs. It is about what causes a person to overdo drugs. This, you will find my books establish, covers life itself.