Facebook's suicide hotline takes off. No alarm bells 1 week in
In 2011, a World Health Organisation study concluded that India is the most depressed nation in the world. Four years later, the statistics are a little less alarming. But alarming nonetheless. One in five women and one in 10 men suffer from depression.
Often, the depressed get onto social media to drop hints about their mental state. Sometimes a picture of the wrist they have just cut. Or propose to cut. Sometimes they even post suicide notes.
A couple of years ago, Bollywood actor and cancer survivor Manisha Koirala poured her heart out on Facebook: "How slowly, shadows of my past friendships are becoming distant dream... Did I have bunch of friends with whom there were promises of life time? Disappointed, yes I am... but then life fills you with new hope, new friends... Hoping this time round it would be rooted in deep values rather than just crazy, fun times!!" Koirala wrote.
Also read - Busted by the FB-I: why is Facebook playing moral police?
For Koirala, help was not far away. Fellow-actor Dilip Naval flew into the US to spend time with her.
However, not all stories end on a positive note. And there are plenty of depressed people out there. To make matters worse psychiatric services in India are hardly top of the line. Last week, a depressed housewife committed suicide because her symptoms were aggravated after seeing a psychiatrist.
On our own Facebook walls we've been witness to depressive rants of friends. Sometimes we make time to counsel them, sometimes we ignore their cries for help because we're too busy or distracted.
But Facebook has decided to take all such outbursts on its platform seriously. Last week it upgraded its tools to help individuals in India struggling with thoughts of self-injury or worse - suicidal thoughts.
It has tied up with actor Deepika Padukone's NGO Live Love Laugh Foundation. Padukone herself has suffered from depression and was brave enough to talk about it. In collaboration with AASRA they've launched a 24-hour support helpline.
It's been a week since the tools were launched - however, there hasn't been a significant increase in calls or emails to the helpline that can be directly attributable to the launch of Facebook's tools.
Also read - As promised, Deepika Padukone launches Live Love Laugh Foundation to help fight depression
How it works
Anna Chandy, chairperson of Bangalore-based The Live Love Laugh Foundation (TLLLF) tells Catch how the tools work.
"Suicide is a cry for help. Thoughts and feelings of suicide occur because the world, life and an individual's view of life, seem bleak and hopeless. Therefore the first element of support an individual requires is in the form of having someone who reaches out, listens to them and provides hope."
Facebook, TLLLF and Mumbai-based AASRA will provide this support by connecting such people to professionals.
"For counselling, TLLLF has partnered with iCall, a helpline run out of Tata Institute of Social Sciences. This is a free psychosocial helpline catering to people across age, gender, sexual orientation and issues. It currently runs for 6 days a week, Monday to Saturday from 8 am to 10 pm. There are 14 counsellors available through this time. (The iCall number is 022 - 25531111. Email is [email protected])," she says.
Counselling is provided in not only English and Hindi, but also Urdu, Bengali, Tamil, Telugu, Kannada, Malayalam, Punjabi and Marathi.
If you suspect a friend is depressed you can either alert these two NGOs directly, or knock on the Facebook help page.
Facebook will monitor such posts 24x7, which means a post can be reported any time.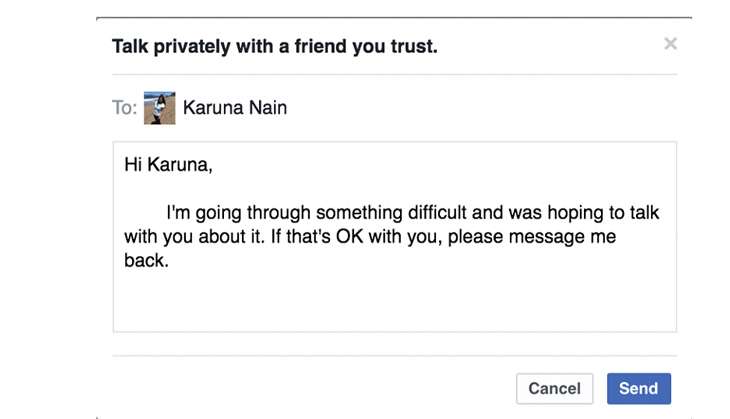 Photo: Facebook
The Suicide Hotline
This is how to get to Facebook's Suicide Hotline:
> Settings
> Help
> Visit the Help Center
> Safety tools and Resources
> Suicide Prevention
> How do I report Suicidal content to Facebook
> Suicide Hotline.
The reporting tool will ask you a specific set of questions that will lead you up to the option to indicate that you think the person may harm themselves.
You will be asked to provide information and do the following;
* What you can do if your friend is in immediate danger
* Call, local emergency services
* Send a message to your distressed friend to let them know that you care
* Reach out to a friend because you need support too
Facebook will take a look at the post as soon as possible. Your name will be kept confidential. The update on the case will be mailed to your inbox.
Also read - Facebook rolls out 'Reactions', Twitter goes bananas
Facebook Suicides
Scores of cases have been reported from around the world of people who posted suicide notes on Facebook before taking the drastic step.
Tim Marcellino, 22, a student struggling with depression was found dead in his bedroom by his father in the UK last year. He posted his suicide note on Facebook, but made sure through a computer programme that it got posted after he had taken the fatal step.
An Australian man drove his car into the sea, killing himself along with his two sons after posting a lengthy suicide note on Facebook.
A teenager sent a Facebook suicide note to her mum telling her: 'Hopefully we'll meet again,' before hanging herself. Unfortunately, her mother did not take the suicide note seriously.
Closer home, Varun Malik, a techie from Gurgaon bid his friends goodbye on his Facebook wall on 14 June. He also posted a photo of his cut wrist, with drops of blood trickling down.
Photo: Facebook
Malik was lucky. His friends alerted the cops and rushed to save his life.
That same day, Facebook decided to roll out its suicide prevention and support tools - already in use in the UK and US.
The social networking giant has done its good deed. We wonder if Twitter will follow suit?