Congratulations JNU. You just got slut-shamed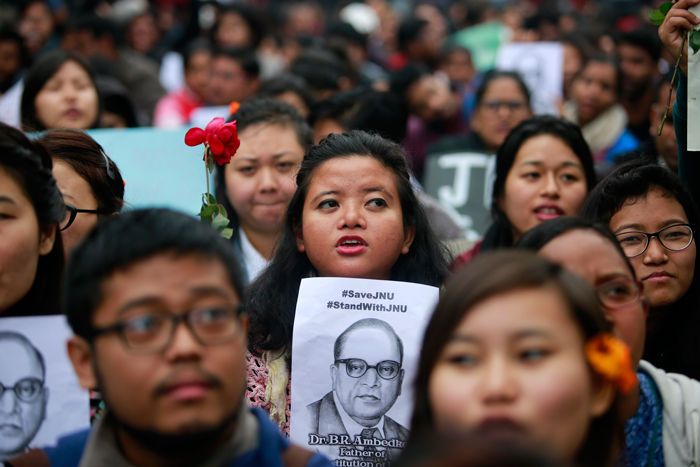 Gyan Dev Ahuja, a BJP MLA from Alwar, Rajasthan, recently made the following statement:
"2,000 Indian and foreign liquor bottles are found daily in JNU. More than 10,000 butts of cigarettes and 4,000 pieces of beedis are found. 50,000 big and small pieces of bones are found.and so are 3,000 used condoms - the misdeeds they commit with our sisters and daughters there. And 500 used abortion injections are also found."
Now let's not waste time pondering the logistics of how he knows this (Does he hide under heaps of odorous garbage? Separate the bones from the condoms? Then pen a daily log? Interesting questions, but irrelevant.)
Also read: #BJPCountsCondoms: Twitter replies to Gyan Dev on JNU & 'illicit activities'
Let's also not mull over the fact that photographs have emerged of the same Gyan Dev Ahuja throwing money at female dancers. (This is also irrelevant, because it presents the danger of getting into 'respectability politics'.)
Let's instead, focus on the one indisputable truth - JNU, you've just been slut-shamed.
But that's kind of awesome
In other words, you've had your "character" - your choices on sex, food and drink - called into question. So that you can now go scurrying proving it isn't true. Or wondering why it's even relevant.
You've been slut-shamed JNU, but it could work in your favour eventually
You're likely the first ever university (an entire university!) to join the ranks of other 'slut shamees' - rape victims, victims of molestation, victims of domestic abuse, Lena Dunham, Sarah Silverman, Aarushi Talwar, every woman who has ever gone to a police station to file any manner of FIR, Mary Wollstonecraft, Jane Austen, Virgina Woolfe, most women who've gone to court over a custody battle, most divorcees, most feminists, and any woman who's bra strap showed from under her blouse on a bus.
By and large, this isn't poor company to be in.
You've been slut-shamed JNU, because Ahuja doesn't know how to argue using reason. And he doesn't have the vocabulary to argue using the law. But even he has the vocabulary to slut-shame.
Gyan Dev Ahuja slut shames JNU because he doesn't know how to argue using reason. Simple
You've also been slut-shamed because he's lazy. Because in terms of Return on Investment, slut-shaming requires the absolute minimum effort and has the maximum possible impact.
Because calling some students anti-national (on the basis of videos that may entirely be doctored) can be called into question. Because accusing student protestors of "sedition", could be paranoia. It is possible to dispute both of those accusations using logic and fact.
But drawing attention to used condoms - ah! That's an accusation with no rational response. Precisely because it's an irrational argument in the first place.
Convenience-ing the inconvenient
This also means that you're probably doing something right.
Also read: #BJPCountsCondoms, the social media trend that was waiting to happen
You see, when Susan B Anthony demanded voting rights for
women
, here's how she was slutshamed:
(She recognises) no religion but self-worship, no God but human reason, no motive to human action but lust.
That's right. The champion of women's suffrage was made to sound like the protagonist of Hawas ki Diwani.
And then there was Mary Wollstonecraft, who demanded that all humans had, well, human rights. (This was in the late 18th century and the term human rights didn't exist yet. But her demands were precisely along those lines).
In response to her writings, she was called a hyena in petticoats. She was also charged with sedition and treason.
Too bad History doesn't learn from itself.
And when, two centuries later, the police couldn't figure out precisely who killed Aarushi Talwar, we decided that the fourteen-year-old had slept with a man three times her age.
It's the oldest trick in the book. The easiest way to deal with anything that's inconvenient is to slut-shame it.
Also read: Here's why this cartoonist received rape, death threats from angry followers of Asaram Bapu
Even if its seven thousand members of the most linguistically, socially and economically diverse student body in the country with very little else in common, besides a shared garbage dump.
Speaking of garbage
Which brings us back to Ahuja, MLA and dumpster extraordinaire. The only reason a minister would spend painful hours digging through your trash is because he can think of nothing else to do.
The easiest way to deal with anything that's inconvenient is to question its morality. For that you don't need logic
Because dissecting the merits of your various arguments, is proving more tedious than counting smelly chicken bones. So he chooses the latter. He cannot contest your intellectual promiscuity - so he will sing songs about your sex life.
JNU, your History students know this better than I do.
To be slut-shamed means that History will prove you right.
More in Catch:
Everything you know about JNU politics is wrong
It's not about him alone: How Kanhaiya's poor parents put things in perspective
#JNUCrackdown: Dear Mohandas Pai, we fund your sector, not opinions
#JNUCrackdown: You don't mess with a nationalist like BJP MLA OP Sharma