Coding has a gender problem. This film believes schoolgirls are the solution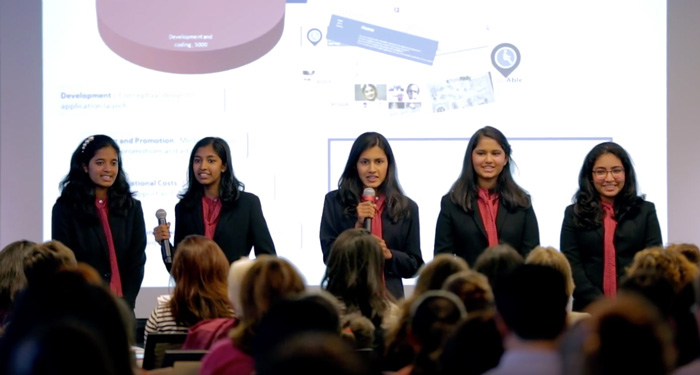 The stereotype is true. Women aren't really contributing to technology as much as they should. Only 7% of technology startups are led by women. And just 4% of app developers are women.
Look at the largest tech companies, the ones ostensibly committed to diversity and equality, and it isn't much better. At Facebook, just 16% of employees in tech departments are female. That number was 15% a year ago. The numbers are dismal, and improving too slowly.
And Technovation, the largest organisation of female developers in the world, have taken it upon themselves to fix the problem.
They set up a competition - one open to groups of schoolgirls everywhere.
This is what the girls had to do: first, diagnose a problem that impairs their community. Then create an app to solve it. Send in the prototype, the business plans and a video pitch.
300 groups of girls across the world got started.
From as far as Moldova, where, between post-school sessions of volleyball, one group designed an app to evaluate if the water in their area was carrying disease (contaminated water repeatedly leads to epidemics of Hepatitis in Moldova).
And Nigeria, where a group of girls designed an app that would serve as a market aggregator (like Uber) for garbage disposal.
Of the 300 fascinating entries, 44 reached the finals. Then six, the finals.
The six teams of finalists - some no more than 14 years old - made their final pitch before an all-female jury in Silicon Valley for a seed fund of $10,000. Lesley Chilcott is director of CodeGirl, the film that catalogues the experiences of these budding tech entrepreneurs. Her camera travels as far as Stefanesti in Eastern Europe, then Brazil and Lagos, in her bid to tell the stories of little girls with world-changing tech dreams.
Between gym class and pitches for seed funds
Their life-experiences are dramatically varied.
One has never owned a passport before. One can't wait to get on a plane for the first time. Another has a father who is convinced the entire competition is a hoax - an elaborate scheme to kidnap and sell his daughter into the sex trade. Some are taking English lessons - the pitch in California demands they be able to speak it well.
If the struggles of girls from lesser-developed parts of the world are immense, the American girls they're competing with are aware of it.
The teams from the US are aware of their privileges. They know that the $10,000 prize money would achieve greater social good in Nigeria and India, a fact they admit to the cameras before the results are announced.
It's a maturity and altruism that's as hope-inducing as the competition itself. It will also remind you to give your teenage self much more credit than you currently do.
Watch CodeGirl. It's available to watch for free on YouTube for 5 days only, from November 1-5.
Then show it to all the little girls you know. Fuel their technological dreams. And wait for the moment when a team of five bright-eyed young girls are complimented for their app design by Apple's Design Chief.
It will remind you that, along with the most popular boy in school, your dreams did once involve saving the world.
And Technovation is, rather wisely, tapping right into that.