Cities of Sleep: this may be the most important film of the year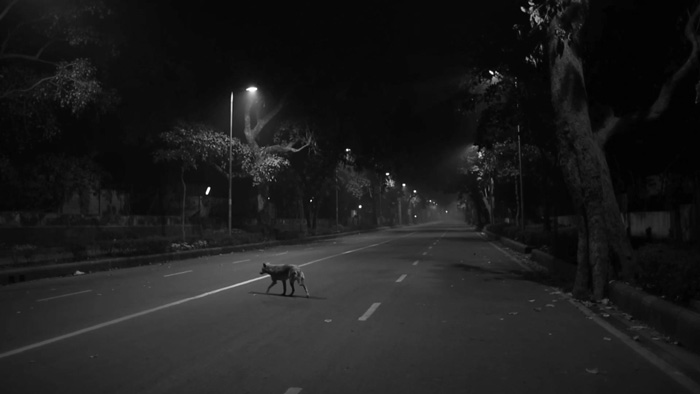 Shaunak Sen's Cities of Sleep does something I haven't encountered before. It is not an end unto itself.
Sen set out to tell an important story. The film is just the means to do it.
Cities of Sleep ventures into the violent politics and economics of sleep in an urban Indian metropolis. Because, really, where does a city's floating population go after sunset? Caught between the economics of real estate and the absence of a state infrastructure, where does our migrant labour rest?
At no point during the 74-minute documentary is the film bigger than the narrative it unfolds. The film relinquishes control to its subjects.
Mattresses and Warm Spaces
And what they show us of their lives is shattering.
They sleep in parking lots, under warm cars. On the seats of rikshaws, and in public buses.
On dividers, where permitted. Because a gush of wind from a passing car helps keep away mosquitos.
Read: Shiseido's new ad is doing something no mainstream makeup brand has done before
If they're lucky, they could end up in one of the illegal sleeping settlements that have mushroomed across Delhi.
The film deals with this in two parts. First, it profiles a man called Shakeel.
Shakeel is a beggar, and a particularly unlikeable one. He is an outcast, even among the most economically marginalised. After work, every day, he sets out to find a few square feet to call his own, just for the night. In a city as vast as Delhi, you think it wouldn't be very difficult. But, as Sen discovered, it is.
The quest for a space warm enough can sometimes take hours. On one particularly difficult winter night, Shakeel searches for a spot the entire night, is exhausted, and discovers that a cold and exposed bus stop was perhaps as good as it is going to get. S0 he curls up at the bus stop at 5 am.
It's a moment you'll remember long after the film ends. You are aware that they have been searching for hours. You have watched Shakeel get turned down at every sleeping settlement he visits. You can sense the tiredness of both the cameraman and Shakeel. And that's when a defeated Shakeel says,"You only care about shooting me on camera. You don't do anything to help."
The other part of the film profiles Loha Pul or Iron Bridge.
It is a bridge built across the Yamuna river in East Delhi. Under the street cars and traffic complainants they contain, in the metal framework hanging over the Yamuna river below, is a thriving community of seven hundred people, brought together by their communal search for sleeping space.
The man who runs the community under Loha Pul is Ranjit. He is an astute businessman, with a philanthropic (and often philosophical) disposition. He deliberately deflates the cost of a sleeping spot under Loha Bridge in order to accommodate more people on cold nights. Perhaps this is fuelled by some degree of self-interest - he can retain clout over the operations of a large number of people. And so he finds himself becoming a bridge, quite like the one he is situated on - between the legal and the extra-legal.
The film-maker's quest for sleep
Shaunak Sen is a man affected by insomnia. He sleeps two to three hours on most nights. Five on good ones. His eyes have suffered the consequences - he suffers from visual impairment in one eye. Perhaps to put into perspective his sleep-associated problems, perhaps to discard what he calls 'middle-class blinkers', perhaps because sleep has only entered popular conversation through the prisms of science and psychoanalysis, he embarked on his own quest for sleep.
It took close to three years. One-and-a-half years were dedicated to filming. 175 hours of footage were heartlessly cut down to 74 minutes over the next year and half.
Also watch- #JoshTalks: from sex worker's daughter to pro drummer, the incredible story of Sheetal Jain
Did the film aid his search for sleep? Not quite. In fact, it left him with nightmares. Memories of a particularly stormy winter night have left him unsettled, with a lasting bitterness.
On a cold December night in 2013, when the temperature had dropped to close to three degrees, Delhi was hit by a storm. Storms such as this one are not uncommon - but usually come with forewarning. This one didn't. And on this cold night when rain struck, the sleepers of Meena Bazaar were sent running for shelter under plastic sheets, wet in their only pair of clothes.
One man died. Abbas Ali was found two days later on a pavement, drenched in his own faeces and vomit. He was driven to a public hospital, but did not survive.
Nobody dies of hunger in a city
Sen's film is important, primarily because it opens our eyes to a blind spot in popular conversation.
It is impossible, he says, for a man to die of starvation in a city. Those like Shakeel, who beg, find food at gurudwaras and temples for free. Food is readily available and cheap.
The greatest murderers are in fact the violence of malnutrition, cold and lack of hygiene.
Sen's film is putting conversation about poverty into a context that we don't often explore. A critical one.
If middle class 'smugness' is what he set out to destroy - then he's done it with finesse.
Watch Cities of Sleep. It may rob you of yours. It may help us all wake up.
More in Catch:
Move over Trudeau: Rwanda, Bolivia beat you to 50% women in Parliament years ago
BJP's #BiharResult postmortem report: don't blame Modi, Shah, RSS