Bookaroo: Instilling a love for reading and storytelling in children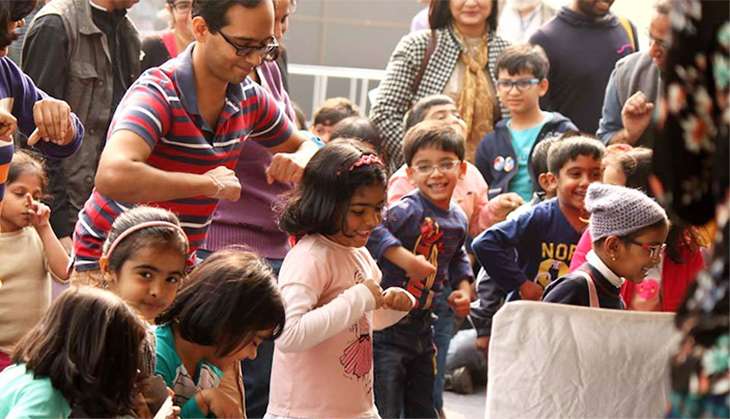 Delhiites have reason to cheer this weekend. If you have a school going child or just love children's literature, come soak up some winter sun and stories at Bookaroo - a literature festival for children.
Being held for the ninth consecutive year in Delhi, Bookaroo is a two-day festival held every winter. This time it is being held on 26-27 November at New Delhi's Indira Gandhi National Centre for the Arts.
Also read - Why is Google's Children's Day doodle important? Take a closer look
The two-day festival is divided into art and craft, storytelling, drama and workshops crafted for an audience aged 4-14 and their accompanying adults.

Something for every child
"When we started in 2008, children's literature had just begun looking beyond mythological stories that don't tackle contemporary difficult issues to a newer form of storytelling. Today there are new stories that celebrate new subjects told through newer forms and styles whether graphic or illustrations," says Swati Roy, one of the organizers of Bookaroo.
Roy feels that Bookaroo is all about having something for every child - from the reluctant reader to the craft buff to the Shakespeare fan to more regional story lovers. While Bengal was the state in focus last year, Bookaroo has chosen to shine the spotlight on Maharashtra this year round. The festival will be giving children room to explore marathi literature - both in marathi and its english translations; as well as celebrating the state's prized Warli artform.
"Even the reluctant readers are more keen to be engaged in storytelling in Bookaroo's carnival like atmosphere, rather than a serious workshop," says Roy.
Going Regional
Student activist Kanhaiya Kumar, in his autobiography From Bihar to Tihar, speaks about growing up in rural Bihar's Begusarai without phone connections, electricity, a bed or proper food to eat. He writes about dealing with the baffling irrelevance of his english literature textbook.
In his textbook was the story of 'The princess and the pea', where a princess doesn't sleep well because a pea lies beneath 20 feather mattresses. 'What relevance does this have to my life?' he asks.
Lalita Iyer, a writer of children's and adult books, who's hosting a session at Bookaroo this year, seconds Kumar's dillemma.
"What is lacking in children's literature is getting more regional voices. Getting more translations. Getting our local stories to travel much more. I grew up on Enid Blyton where the kids ate scones and drank ginger ale. I had no clue what other children in my country were eating. Why didn't any of the fictional characters I was exposed to eat litti chokka? Or pesarattus?" asks Iyer
Roy says that is fast changing in Indian publishing and Bookaroo goes some distance in celebrating regional stories.
Also read -Universal Children's Day: 5 fun outdoor games from across the world
With publishers like Tulika, Pratham, Eklavya, Katha, Duckbill and Red Turtle, Roy feels that the characters are regional and local. They also celebrate diversity such as being physically challenged, belonging to broken families or just being imperfect and having to face the subtle complexities of life.
But will these stories ever replace 'The princess and the pea' in our school textbooks?
"Why not? A lot of integration is already happening," feels Roy.
And integration, feels Iyer, happens because of children's literature events like Bookaroo and parents taking an active role in exposing children to stories.
Travel through stories
"We travel through stories. Stories keep us rooted. The sad thing is families would rather take their kids to Singapore and Hong Kong on holiday than Bihar or Madhya Pradesh. Kids are introduced to western icons before they even get to know their own people. The West is glorified in real life and in children's literature. We need regional stories and good translations more than ever now that introduce children to local heroes," says Iyer.
With writers and storytellers like Vidya Bhagwat, Jane De Suza, Tanya Batt, Peter Forster, Shalini Srinivasan, Shilpa Ranade, Ajay Chowdhury and Judith Rossell among several more, Bookaroo will be a hub of creative storytelling sessions.
Indian literature has moved far beyond just mythology and Amar Chitra Katha. Writers agree that there has been much demystifying of mythology, lending epic characters new voices and interpretations. Also, this time around, children's literature is seeing a strong trend in non-fiction books. As Iyer says, "The story of Kanhaiya Kumar or demonetisation could make excellent graphic novels in the near future," says Iyer.
Also read - Sham ki Pathshala: Policemen teach under-privileged children for free in Bihar
The founders of Bookaroo get that. They also understand that libraries are shrinking and book stores are shutting down. We need literature to become a carnival and celebration of stories both fictional and real, for parents to see merit in introducing their children to the quiet pleasures of life.