A day at the Auto Expo in Greater Noida: Exposing the 'tiring' boredom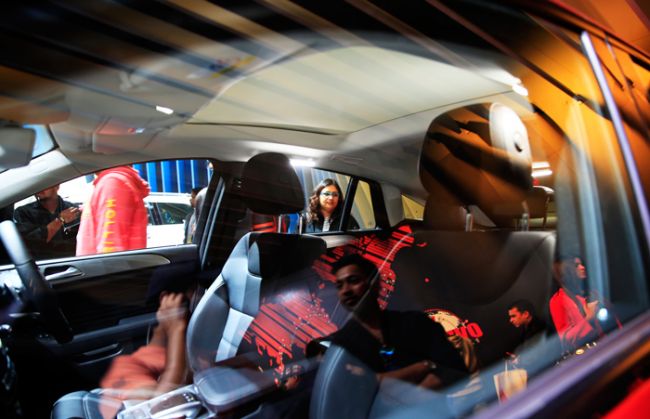 When you think of Auto Expo, you think of Pragati Maidan. For years, the bi-annual event took place within the bustling capital but since 2014, it moved to the depth of Noida, Greater Noida to be exact (read: it is way beyond the last metro station). It was moved "for more space and better amenities". Whilst I agree that moving it was necessary, somewhere as far as India Expo Mart is a little bit too far. Even if one has a car.
Waking up bright and early at 8 a.m. and getting to office is one thing. Travelling 90 minutes to Knowledge Park in Great Noida is another. Our Uber driver knew exactly where to go and we had no problems getting there. The thing they (read: organisers and BookMyShow people) don't tell you is where the ticket counter is and that you can't enter with an e-ticket even though the bar code is right there.
So we walk and waste another 30 or so minutes from the point where we were dropped off to getting the tickets to walking to the particular gate we had to enter from.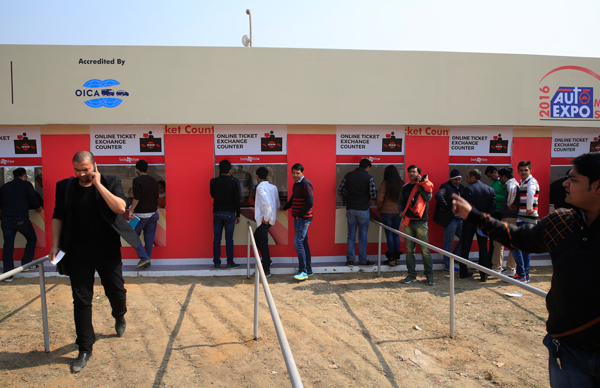 Once in, around 12 p.m., we basically had an hour before the general crowd was to enter, but we didn't think much about that. We entered the Mercedes trucks that were next to buses and trucks. And you could see the stark difference there itself. Most people wanted to see the Mercedes-Benz AMG GT S or the Formula 1 car on display and not really the buses and trucks they were confronted with!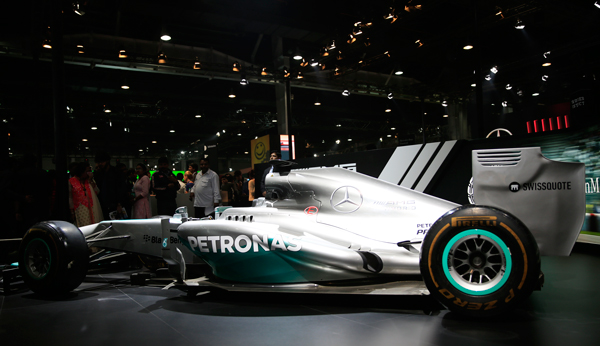 The car was there but not a soul to look at it! We tried to get up close and personal with the car but it was barricaded in. So, it was one of those cars that were off limits - no touching and no sitting inside - and was sponsored by a bankrupt BlackBerry. And - no model next to the Formula 1 car and you could tell right away then why there was no crowd. Meh, I wasn't impressed.
Then we walked to the Volkswagen section and there was a males and a female gracing the car. They are paid to stand next to the car and give you little to no information. They are there to draw in the crowds. Which is why there were no crowds at the F1 car!
The people who actually know about the cars are senior people wearing suits who look like they've been studying the cars for about half a year. Also, the Volkswagen section had both phirangi and Indian male models. Regardless, the cars did not inspire. They were all rehashes of previous cars or subtle upgrades.
Not even the Volkswagen Ameo, their new launch this year, impressed. What did catch my eye was how obsessive these companies are with keeping their cars clean every second that it is on display.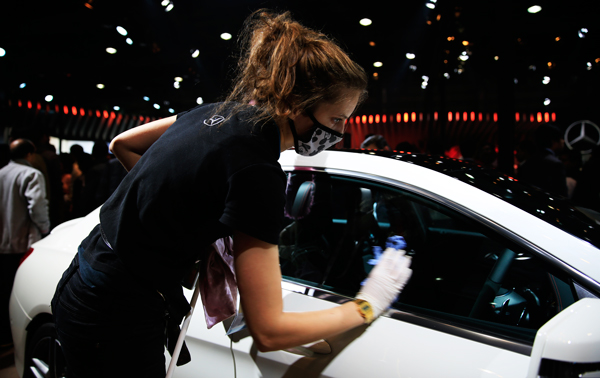 We had no real itinerary or agenda, we just saw what came our way. Tata Motors, an Indian company, was up next. Tata Nexon was the highlight here. Not the car but the utterly disinterested model couple (or at least that's what they looked like, standing next to the car}. They looked like they wanted nothing to do with the car and were there to make a quick buck and get out.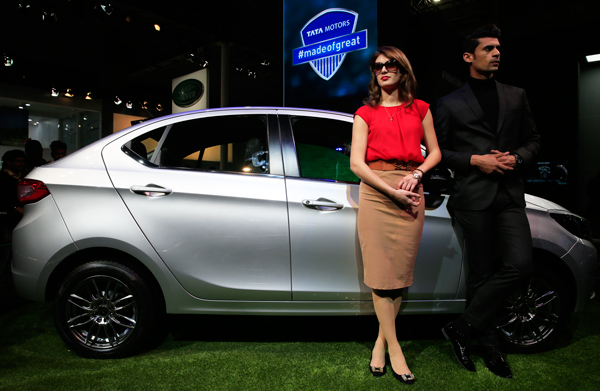 Right after we passed that, we saw it, the much talked about, much hyped, Tata Zica. Not for the car, but for the massive rebranding campaign that has been launched post the outbreak of the Zika virus. Before the expo, they had announced they would rebrand. So, it was strange to see that the one car they had brought to the Expo had the branding intact.
By this time, I had heard YoYo Boys, finalists in one of the seasons of India's Got Talent, perform in the far distance. As we walked to the Renault lab, the seriously disinterested but quite good looking (they had selected the right models for the job this time) models gave the right come hither signal. Truth be told, most people attending the Expo were also only interested in the models.
After taking a break from the cars, we saw some trucks and buses. As we reached the section with the buses, there was the ubiquitous "Make in India" - the Swachh Bharat truck and the Noida Metro Rail Corporation bus. Everyone who entered was a certified business person. People passing by were barely curious, they just walked on.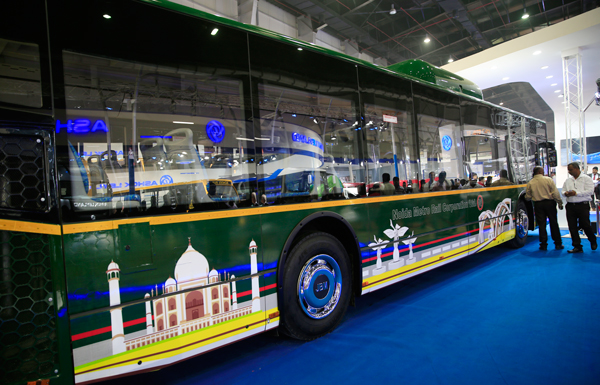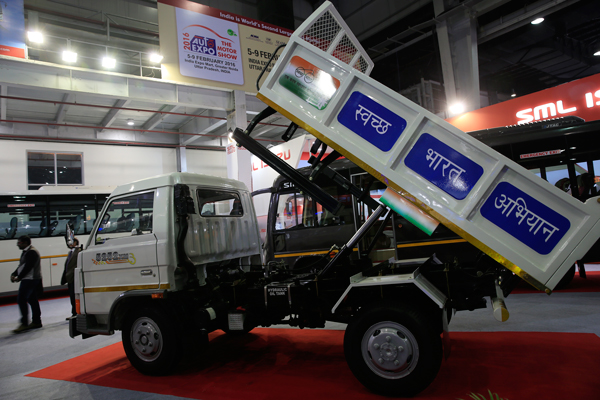 Finally we got to the real stuff! Next up was the BMW i8. This was the single most gorgeous looking car (besides the Ford Mustang and vintage cars that I will get to later) at the expo. And it was a plug-in hybrid also. So, very friendly for the environment. Unfortunately, by this time, it was already close to three and hence the line was super long. Most of those in line though got to sit in the car eventually, after waiting for over half an hour, but little did they know that affordability is a really long way off.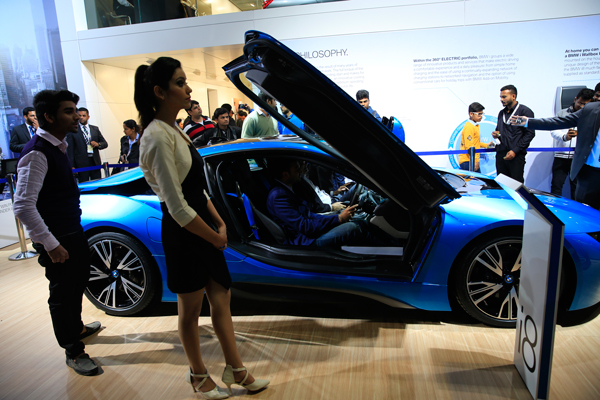 At the fancy cars, the crowds kept on growing with people blocking the view. The Audi Prologue had some interest it seemed but the Nissan GT 4, the "most expensive car at the show" received little to no interest except from some talkative people and a few petrol-heads who knew exactly what they were talking about.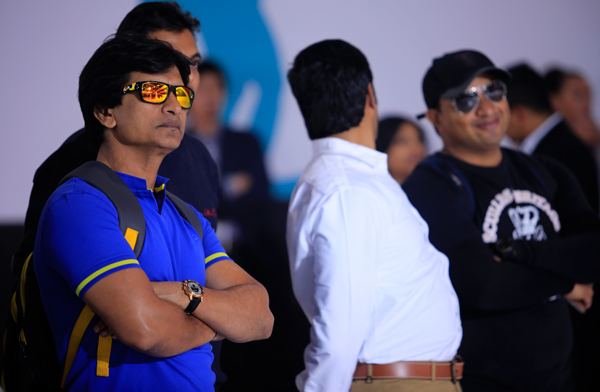 As the day went on, and the crowds grew bigger, I noticed people more and more. Auto expos being more of a male thing, there were a number of arguing couples. Some argued on which hall they wanted to go to next and some of the women complained that they were tired, but because of their male companions, they kept trudging along. The models were all wearing watches and checking them frequently too. Thinking to themselves, "When will this day end? When can I finally get out of here and grab a drink?"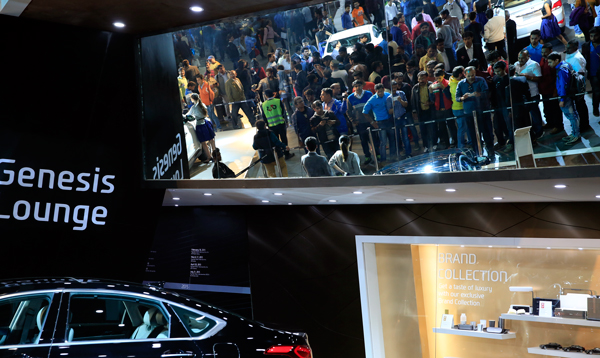 Fiat Abarth 595 competizione. Toyota Mirai. Just some cars we passed by. In front of Toyota's new Innova Crysta though, we stopped. We stopped for a performance of epic proportions. There were rows of models, hooked up with their instruments, ready to give us the performance of their lives, or so the host would like us to believe. Out they came, lined in position and performed. With their out of sync playing and blasting sound system, this too turned out to be a dud.
Something you wouldn't see at an Auto Expo anywhere else in the world - a kid's pavilion. We love family and kids in India, no doubt.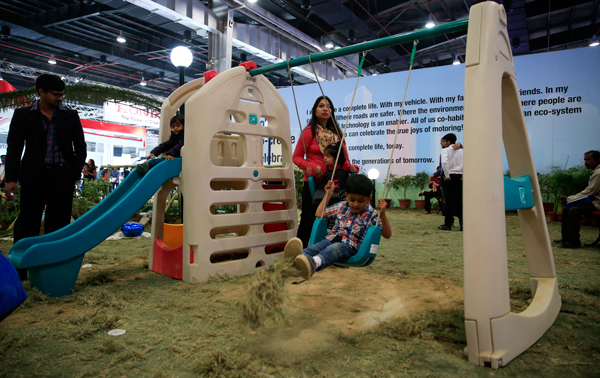 Just as we saw at the Toyota pavilion, Maruti had the same. Brought out good looking performers to, umm, not performance! Chevrolet was up next and they were blasting The Black Keys. I for one was happy.
One thing, my colleague and photographer noticed, that I found very interesting, was that all models were wearing skirts that came just as far as the top of the tyre of the car they were modelling next to. Just see the photo below and you'll know what I'm talking about. The legs matched the tyres.
As we reached the end, we headed out towards pavilion No 16. Before that, my colleague, wanted to film the two bikers from abroad. One was from Japan. He was a kid! They were doing stunts on the bike. Beside them was the host and officially the most annoying one I have ever heard. All she kept saying was "jor se bolo" (Shout louder). "I can only here noise from one side." "Koi toh seete bajao" (Somebody blow the whistle). She was trying to get the crowd up, but she was trying too hard. People were tired and mostly disinterested. It's a tough job, no doubt in this over-satiated era.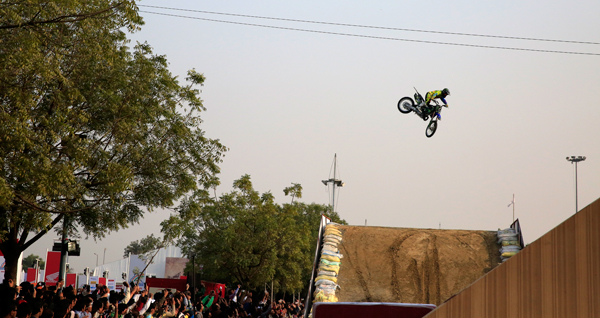 Finally, the last hall. Hall number 16. The hall full of vintage cars.
First up, we saw a transformer. Yes, literally. It was also a Make in India car. Representing team Modi! It looked fab. The vintage cars. Someone who is even a cynic (read: me) was happy. I was tired but I soldiered on because it was something that I couldn't resist smiling about and getting giddy looking at. Vintage cars are always a treat and these didn't disappoint.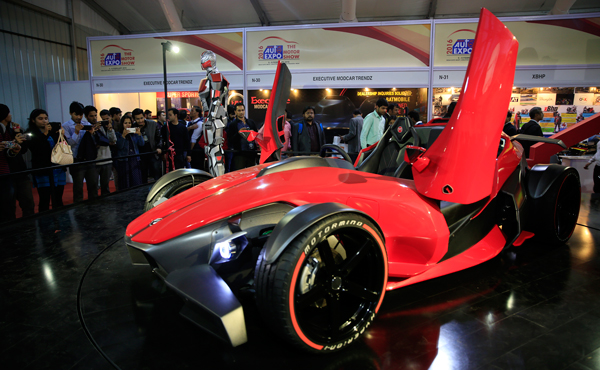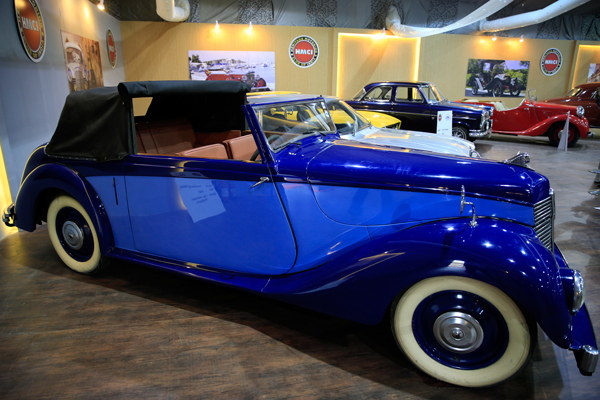 At 5:30 p.m., it was time to leave. Not before an adventure though. So, as the India Expo Mart is eons away from the closest metro station, we decided to book a cab. We thought it would be fairly straightforward and either an Ola or an Uber would come pick us up. The next two hours were the most difficult. First, two Ola's got lost on their way to picking us up. Then an Ola Share wouldn't let us go forward as we had only booked one seat and not two and hence had to leave the cab. One Uber didn't show up and the rest of the time there was a 4 to 5 times surcharge.
So around 7:15 p.m., we decided to at least go forward. So we walked to the circle, then took an auto to Pari Chowk. There, we thought we'd get a bus going to Delhi, as we were told. Unfortunately, not. Not even a taxi. Only one person was willing to take us and that too, for 1,000 rupees. We said no. Finally, around 8 p.m., got in a bus to take us to the metro station. 2 kilometres away from the bus stand, we got stopped on the flyover and were told to walk or find another bus. We trudged on, tired as anything, and walked to the station. Not wanting to brave the crowds of the metro, we asked an auto rickshaw driver to take us all the way.
Traffic awaited us and it seemed to never end. Finally, just as office was shutting down, we got there, at 9:45 p.m., tired and just wanting to relax and unwind.