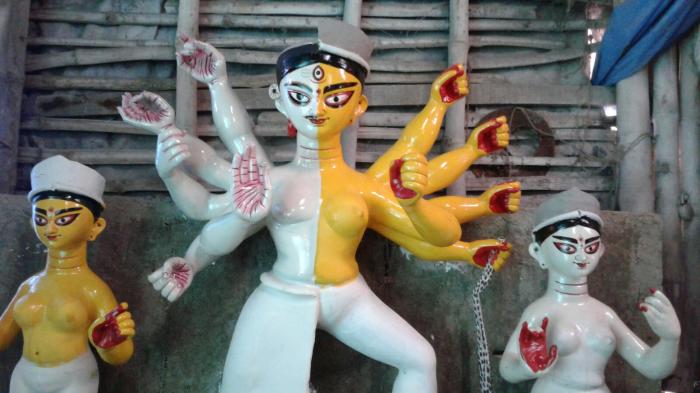 For the first time ever, a transgender Durga idol will be the center of all eyes in Kolkata.
The Udyami Yubak Brinda Durga Puja (UYBDP) committee - a puja committee in Sovabazar - in partnership with transgender rights activist group Pratyay Gender Trust has made an idol fashioned after the Ardhanarishwara avatar of Lord Shiva and Goddess Durga. The idol is an attempt at representing the marginalised transgender community in Kolkata.
UYBDP has been organising the puja for the last 27 years and has included the transgender community in puja celebrations for the first time.
While one half of the Durga idol represents the goddess in her familiar avatar - seen in countless other Durga puja pandals - the other half is adorned with a mustache and half a dhoti.
The idol has been envisioned by a 55-year-old transgender Bhanu Naskar and created by China Pal - the only woman sculptor in Kumortuli.
Since its inception, the Durga idol has received immense appreciation on social media. Locals were initially apprehensive about worshiping the idol. However, after the idol created a buzz, crowds began to throng the pandal to see and worship the idol. A fund raising campaign has been kicked off on Facebook to generate funds for the puja celebrations.
If you have any plans to visit Kolkata for Durga Puja this time around, visit Joy Mitra street to witness something unique.