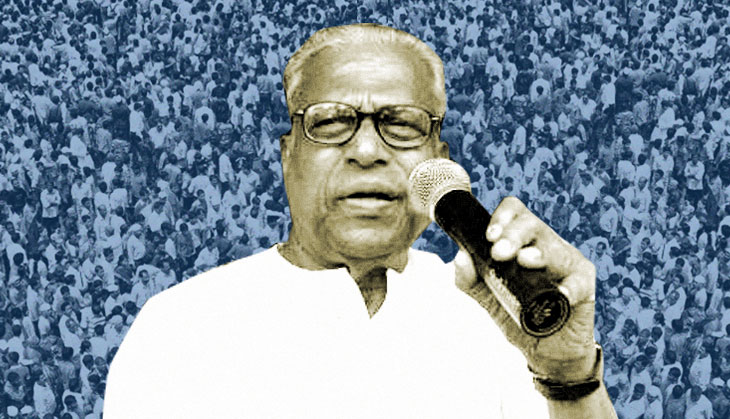 Ninety two years of age, VS Achuthanandan, the steel-cast Communist, is criss-crossing Kerala this torrid summer, over highways and bouncing dust roads, covering an average of 250 km a day, addressing up to half a dozen large gatherings of fervent Left supporters. Polling is just days away.
The mercury is hovering above 40 degrees Celsius in most places, and each day brings the news that sunstroke has felled sturdy workers in farms and at construction sites. The elderly insist they have never witnessed a difficult summer like this. No wonder, most people prefer to stay home. But not the thousands of the veteran CPM leader's supporters who are ready to brave the scorching sun to hear him.
At every meeting, it's as though an electric current shoots through the crowd when VS arrives. Slogans ring out from all corners. After being helped on to the podium, VS raises his hands, palms not touching, in what has become his signature way of greeting the public. Suddenly, the slogan shouting stops, and is taken over by a roar of spontaneous thrill as the crowd raise their hands.
Also read: Kerala elections 2016: 10 things you need to know
Such is the chemistry VS has with Left supporters as well as with a large mass of people detached from politics. Even at this age, VS is the biggest crowd-puller in Kerala.
This election season, he started out on the campaign trail from Kasargode in the north on 20 April, and made his way down to Thiruvananthapuram in the south on 3 May. A crew of reporters follows him wherever he goes. What he says or doesn't say makes the headlines for the day, for this veteran politician, more than anyone else in the state, shapes the public debate, especially on the campaign trail. "It is remarkable he does it at his age," CPM chief Sitaram Yechury said in a recent TV interview.
"When he speaks, all eyes are on him, all cameras are on him," marvels Ian Macdonald, a British photographer who is following the veteran leader on his campaign trail to make a documentary. "Everything stops when he speaks. And people are totally involved in what he says...I don't understand the language...but the way in which he speaks...it must be poetry, he must be singing and they are lapping it up."
For his opponents, who know the language which he speaks in, there is no poetry in what he sings at public meetings, only stinging whiplashes. Chief Minister Oommen Chandy, who is heading the UDF's campaign for another term in power, even approached the court to restrain the veteran from using his choicest words. It's another matter that the court's advice to not turn the court into a place for election games only added insult to Chandy's injuries.
Also read:
Kerala: For CPM, winning the election is only half the battle
Achuthanandan's words and imagery come from the blunt Malayalam of rustic Kerala, yet his admirers include a large number of youngsters, who jostle with each other to take selfies with him. His admirers also include women of all ages. Such is his popularity that every LDF candidate wants to get the old man to visit his or her constituency before the polling day. They all want his personal stamp of approval before the voters. For they know he is the game changer in this election, as indeed do his opponents - the UDF and the BJP - who are taking turns to grapple with him.
What is Achuthanandan's secret? As for what keeps him incredibly fit at this age, his personal assistant Vinod says he gets up before sunrise and begins his day with a glass of tender coconut water. He puts on his tracksuit and canvass shoes and goes for a walk in the open, and some mild exercises and a sort of meditation he has developed himself. He glances through newspapers, has his bath and does 20 minutes of simple yoga. A "frugal breakfast" follows and then he is out and about in the field of battle. There is an unfailing rhythm of focused political activity to each day in his life, each moment of his waking time.
Having watched him as a journalist for over three decades, I feel he's like the Samurai in the Zen story who diligently goes on sharpening his sword all day, day after day, season after season, year after year and so into old age. But he's so focused on what he's doing that time for him came to a standstill long ago. VS never ages.
Edited by Mehraj D. Lone
Also read: