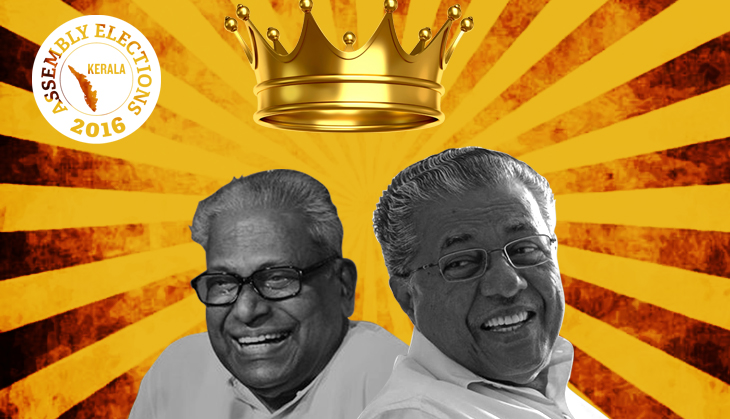 While the Congress in Kerala faced a predictable debacle as exit polls had projected, paving the way for a clean LDF win, it is the only state that has still not announced its next chief minister.
But there are only two options- the nonagenarian leader VS Achuthanandan or former CPM state secretary Pinarayi Vijayan, who rejoined the electoral arena after one-and-a-half decades.
Read: O Rajagopal's nearly 50-year long wait ends, becomes BJP's first MLA in Kerala
It was all but sure that Pinarayi would be the party's chief ministerial candidate, but with veteran leader VS Achuthanandan overtly expressing his desire for the post again, a decision is yet to be made. Pinarayi had opted out of the polls in 2006 and 2011 when Achuthanandan had projected himself as the party's chief ministerial candidate.
There are basically two probable outcomes:
Seat sharing: When a regional television reporter asked Pinarayi whether there would be a division of term between him and Achuthanandan, his response was merely a smile. This may or may not be a confirmation but could be the most plausible scenario.
The Sonia Gandhi agreement: According to rumours, many suspect that Achuthanandan would be made the LDF's parliamentary party leader, while Pinarayi would be the chief minister, effectively ensuring the veteran retains power. This is a lot like Sonia Gandhi's stature during the UPA's regime.
Who will be CM?
Achuthanandan was sidelined initially after Pinarayi joined the party, especially during an Alappuzha state committee meeting earlier this year, resulting in the ire of many of the ground-level party workers. They wouldn't want to upset his supporters again.
While the veteran leader's popularity cannot be disputed, Pinarayi has also proved his mettle as an unwavering administrator of the party for the last 15 years.
It should be noted that on many occasions in the past the CPI(M) general secretary Sitaram Yechury has openly supported VS Achuthanandan and many say he has a soft corner for him.
Also read: Hindu backlash thwarts Chandy's dreams of retaining Kerala
Bets are on for the million-dollar question, but the chief minister will only be declared after a LDF meeting that's scheduled for tomorrow, which Yechury is expected to attend.
With Pinarayi having made way for Achuthanandan twice before, many hope that the veteran, who is at the fag end of a historical career, will back down and give him a chance.
It all boils down to Achuthanandan's wide support which show no signs of waning, versus Pinarayi's proven administrative skills in handling the party and spearheading the election campaign.
Edited by Anna Verghese
More in Catch:
Trump may not love China, but the Chinese internet sure loves him
The bare truth: mass nude photographer set to expose Trump's politics
India's shame: Bundelkhand woman eats mud for 12 years to survive
Fake lawyers: crooks in black coats face Supreme Court crackdown