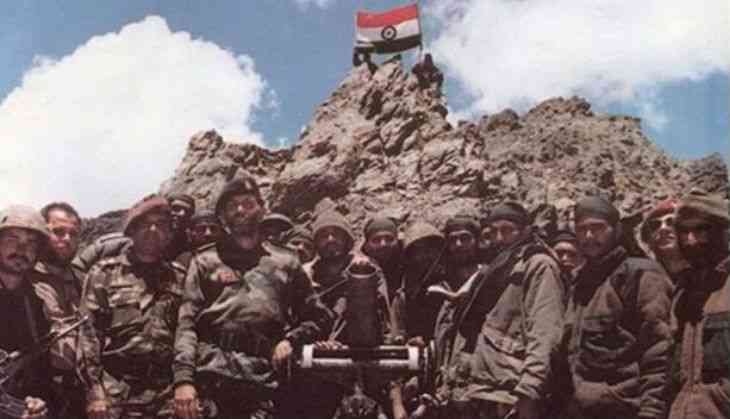 The entire nation is commemorating the sacrifices of Indian soldiers as the people remember the sacrifices of war heroes during 1999 Indo-Pak Kargil war on the occasion of Vijay Diwas on 26 July.
Prime Minister Narendra Modi took to Twitter and hailed the great sacrifices made by the Armed Forces. He wrote, "Remembering our brave soldiers who fought gallantly for the pride of our nation & the security of our citizens during the Kargil War."
The war, which went on for two months (May – July) in 1999, was fought between India and Pakistan in the Kargil district of Kashmir and elsewhere along the Line of Control (LOC).
The victory was declared on 26 July 1999 when Pakistani soldiers withdrew from the mountain tops they had occupied overlooking the Srinagar-Leh highway.
The Indian Army lost over 500 officers, soldiers and jawans during the war.
People flooded the social networking site Twitter with messages in the honour of the martyred soldiers and Indian victory in the war.
18 yrs since #KargilVijayDiwas Tribute to All those who Sacrifice their lives for us.Bowdown & Salute to our true heroes,our SOLDIERS!

— Dharmpalsinh Gohil (@Dgsoldier) July 26, 2017
On #KargilVijayDiwas as v remember r soldiers who made supreme sacrifice, shd ask what lessons india learnt. #KargilDiwas #KargilVijayDivas

— Gaurie Dwivedi (@GaurieD) July 26, 2017
बस इतना याद रहे 
एक साथी और भी था.... #KargilVijayDiwas pic.twitter.com/oBRZeU76En

— Pratik Prasenjit (@pratikprasenjit) July 26, 2017
Salute for the real Heroes #KargilVijayDiwas💐

— NILESH KUNDE (@NILESHKUNDE222) July 26, 2017
We salute our national heroes #KargilVijayDiwas pic.twitter.com/DxHxkBXnVS

— Mohit S Devgn (@iammohitdevgan) July 26, 2017
Salute the courage, valour and supreme sacrifice of our Soldiers who laid down their lives for Our Nation #KargilVijayDiwas pic.twitter.com/W8Y6vo1hLz

— Saravana (@imsaravana_01) July 26, 2017
#KargilVijayDiwas pic.twitter.com/jNGvA8e1KC

— Anant Suresh Patil (@anantspatil) July 26, 2017
@RJSIDDHARTH Rich tributes to IAF SOLDIERS MATYRED in Kargil war on #KargilVijayDiwas.

— Devamitra Panda (@devamitrapanda) July 26, 2017
We salute each and every soldier who faught for our country and keep enemies away 🇮🇳 #KargilVijayDiwas

— rajat shukla (@IamrajatShukla) July 26, 2017