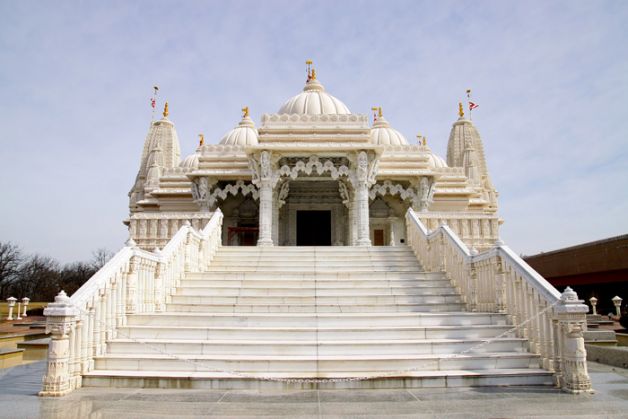 The conflict between RSS and other Hindu outfits with the ruling BJP government is intensifying with every passing day because of the massive demolition of temples, shrines and historical places to pave way for metro rail project in the city. RSS has already announced a strike on 9 July from 9 to 11 AM under the banner of 'Mandir Bachao Sangharsh Samiti'.
Sangh officials have sent a message to the government through state BJP president Ashok Parnami and legislators clearing that RSS would not hesitate in protesting against the government if needed. They have demanded the reconstruction of 275 years old 'Rojgareshwar temple'.
Alarmed by the developments, series of meetings were held between senior government officials and organisation members on Monday. To find a common ground, BJP's co-organisation minister V. Satish has taken the central role by reaching out to RSS 'Pracharaks' in the state.
Rashtriya Swayamsevak Sangh (RSS) has blamed the Jaipur Development Authority (JDA) and moved its attention towards the metro project in Jaipur to look into the matter of temple demolition. Technical team of RSS officers inspected the metro project on Sunday. It has decided to prepare a factual report on demolition of temples and other monuments after talking to the people.
The report will contain facts about total number of temples demolished, number of broken idols, bribe given to the priests, carelessness in renovation of temples, etc., and then it will be sent to Nagpur. It will also highlight the names of all the functionaries and representatives who are silent about the issue.
What areas were covered?
All the ancient temples and palaces at Chandpol gate.
Kasht Haran Mahadev temple, Barha Jyotirlinga Mahadev temple, Amreshwar Mahadev temple, Khande wale Balaji temple, Kanwal Sahab Hanuman temple and Rojgareshwar temple at Chhoti Chopar area.
- 17th century tunnel at Tripoliya Bazar area which was destroyed.
- 250 year old Nawal Kishore temple.
- Newly contructed rojgareshwar temple at Aatish Market area.
- All the demolished temples near Badi Chopar area.
All these details were collected
Officers who 'hurt religious sentiments', the 'tactics' used to bribe and threaten priests and the need for conservation of temples and monuments for the benefit of the city.
Other organisations that have extended their support
Vishwa Hindu Parishad (VHP) has also opposed to state government on the issue.VHP has announced that if fair investigation is not carried out by the government then it will call for a state wise strike.
Narayandas Maharaj of Triveni has also blessed the Mandir Bachao Samiti said Badrinath Narayan, president of the committee.
Various others Hindu outfits and saints have also raised their voices in support of the movement.
Latest Developments
JDA commissioner Shikhar Aggarwal and other officials met on Monday to prepare a comprehensive report relating to demolition of temples for metro work. The report has been submitted to Chief Minister's office which contains details of 73 religious places including 65 temples and 8 Sufi shrines.
Temples demolished without any official order
It is discovered that several temples including the famous 'Rajgareshwar' temple were demolished without any formal order from an official. The demolition work was carried out after verbal instructions and now nobody is ready to reveal their names.
According to the order by district administration issued on 9 June, it was said that the temples shall only be shifted from their places. Even after this, centuries old Shiv temple and Rojgareshwar temple were destroyed. The district collector says that no order was issued after 9 June and only verbal instructions were given to the metro officials to demolish the temples.
List of 58,000 temples was submitted in court; claims RSS
Badrinarayan Chaudhary, Convener of the Mandir Bachao Sangh Samiti (MBSS) asserted that they had not wasted much time in starting the protests because the government had submitted a list of 58,000 temples considering them to be encroachments, out of which only 80 are demolished so far.
The RSS and MBSS took out rallies from four different places in the city on Tuesday. The rallies started at 3 pm and for two hours they travelled across the city asking for support of people for blockade planned on 9 July.
Muslims come in support of the movement
General Secretary of Dr Zakir Hussain Social and Welfare Society, M. Sadik Khan said that government had hurt religious sentiments of people by destroying places of worship like Rojgareshwar Temple and other Sufi shrines.
He added that Muslim organisations will now support RSS and MBSS in protesting against the government's move. These include president of Zahida Welfare society, Qureshi Yuva Manch and Sheikh Samaj's state president.