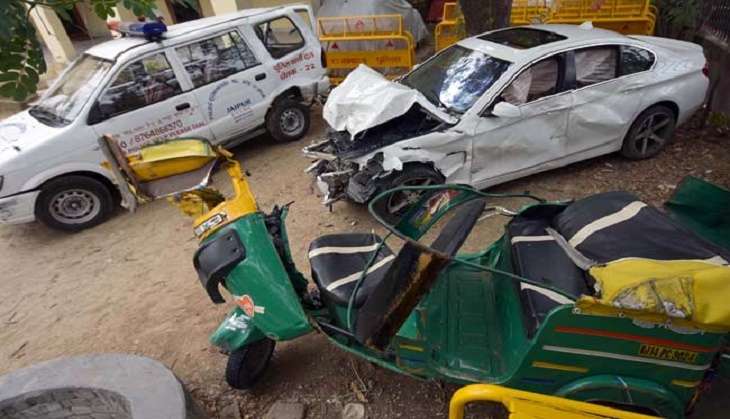 Siddharth Maharia, the son of an independent Rajasthan legislator, who was arrested for allegedly mowing down three people with his BMW, was sent to one-day police custody on 3 July.
Three people were killed and five others injured when a BMW car allegedly driven by an intoxicated Siddharth rammed into an auto rickshaw and a police PCR van near St Xavier's School in Jaipur on 1 July night.
Deepak Chauhan, Siddharth's lawyer, said that the charges levied against his client were false and that a person named Ramesh was responsible for the accident.
"The police had requested for three-day police custody. We have told the court that Siddharth was not driving the BMW. In fact, a person named Ramesh was driving it. After the accident, Ramesh ran away," said Chauhan. The lawyer further said that Ramesh later on went to the police and said he was responsible for the accident.
"Even then the police did not arrest him. The most important aspect of this case is that the accident took place at around 1 am and the police lodged an FIR twelve hours later. They have not given any reasonable explanation. This itself proves that they have filed a fake case against Siddharth," he added.
The police alleged that 20-year-old Siddharth, son of Independent Rajasthan MLA Nandkishore Maharia, was driving the vehicle in an inebriated state.
The incident occurred at around 1.50 am when Siddharth and his cousin Jayant (19) were heading to Jyoti Nagar in a BMW. The three victims were identified as Jethanand, Kailash and Vishnu.
On Saturday, Siddharth had cried foul, saying he was not driving the car and it was his driver who caused the accident.
Divulging the details about the incident, Siddharth said, "We went to have ice cream in the night. When we were returning, two drivers approached us with a very high speed. The driver of our car did not see the auto rickshaws as it was raining heavily and there was no street light on the road as well," he said.
--ANI