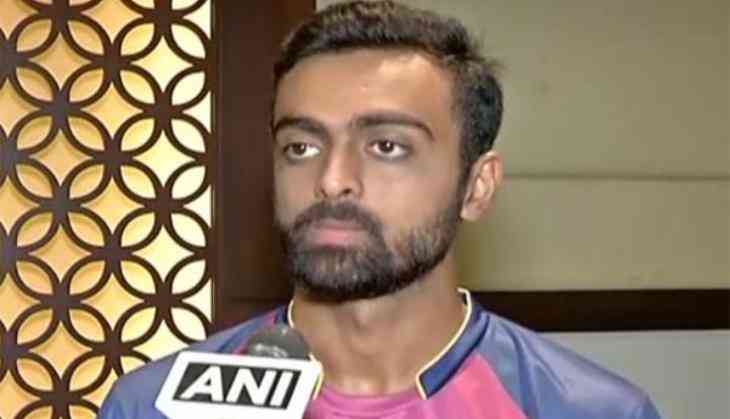 In very good shape at the moment: Jaydev Unadkat (ANI)
Indian left-arm pacer Jaydev Unadkat, who made his Test debut six years back, has insisted that at the moment, he is in a very good shape and space of mind and is looking forward to making a comeback to the national team.
Unadkat, who is a part of Rising Super Giant in the ongoing season of the Indian Premier League ( IPL), made his Test debut against South Africa in 2010. He was, however, unable to make any mark as he could take only one wicket in the entire match.
'I have always looked to learn something new from every net session that I go through or every match that I play. It has been six years since I made my Test debut. So it would be great now that I make a comeback to the Test team and that is what I aspire for,' Unadkat told ANI in an exclusive conversation.
The 25-year-old believes there's a lot of competition for a place in the team at the moment, which is for the good of the team.
'But at the same time, I need to work hard, there's a lot of competition in the team at the moment, which is for the good of the team,' the left-arm pacer said. The Porbandar-born further said that right now his goal is to improve his fitness and skill.
'For me, right now the goal is to improve. I have set some short terms goals for myself like how to improve fitness wise and how to improve skill wise. Both these aspects are very important for a fast bowler,' he said.
'I am looking for a great year ahead and I think I am in a very good shape and space of mind at the moment to achieve the goals that I have set for myself and I am pretty much sure that once I am up to the level that I want myself, I will definitely make a comeback and be helpful for our team.'
'I guess the time has come for me to understand my game more than learning from others and just trying to do something new every day in and out. It is important for me to know my strengths rather than looking at other people's strengths,' he added.
-ANI