What Brexit would mean for relations between India and the UK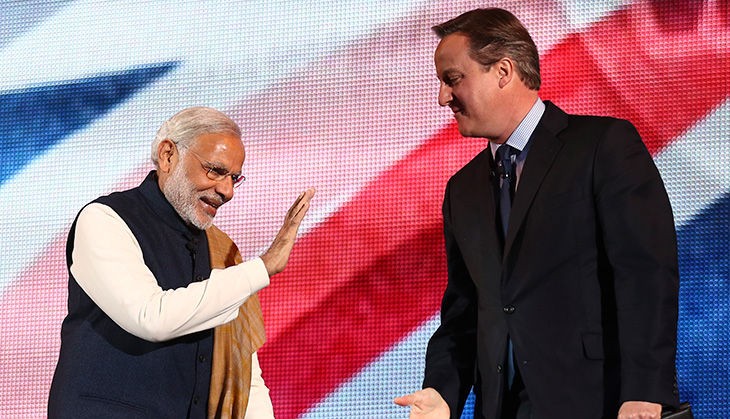 Much of the debate about Britain's impending referendum on membership of the European Union so far has focused on external trade and the UK's standing in the world. President Barack Obama intervened to say that the UK would not find new trade deals easy to conclude, even with strong allies. While relations with Canada and China have entered the discussion, little has been said about India.
This is surprising, given India's strong links with the UK and status as the world's fastest growing economy and world leader for inward investment.
Since India gained independence in 1947, its relations with the UK have remained strong. But as India's economic importance has grown, the balance in the relationship has shifted. India's importance to the economy was demonstrated by the crisis caused by Tata Steel's decision to withdraw from steel manufacturing in the UK. India's was the third largest source of foreign direct investment (FDI) into the UK in 2014-15, behind the US and France.
Yet the post-colonial context looms large - and this matters in debates about what the UK might do if it leaves the EU.
Leave campaigners have not shied away from mentioning the UK's imperial past in their arguments. Leading Brexit campaigner and outgoing mayor of London Boris Johnson said: "We used to run the biggest empire the world has ever seen". This is a risky rationale. India, and other Commonwealth countries, could interpret this type of rationale as an implication that a Britain outside of the EU would seek to assume a greater leadership role towards its former colonies instead of genuine partnership with them.
Rhetoric on controlling and "cracking down" on migration has been a key theme of recent UK elections, including the EU referendum campaign. Indians are the largest group of non-UK born citizens in the UK and are able to vote in the referendum as Commonwealth citizens. But they have felt targeted, leading Indian prime minister Narendra Modi to raise the issue with his British counterpart David Cameron.
Other European friends
European states and the European Union itself have been actively pursuing deeper relations with India as its economy grows. The EU is India's largest trading partner, ahead of China and the US.
The EU and India agreed a "strategic partnership" in 2004 covering a variety of economic and non-economic matters including cooperation on terrorism. Negotiations for an EU-India Broad-based Trade and Investment Agreement (BITA) began in 2007 but have hit speed bumps over complex issues including tax, market access and free movement of labour. A recent high-level summit between the EU and India in March 2016 has reinvigorated the process.
Although the EU has the power to conclude trade deals on behalf of all of its members, individual states can promote themselves as destinations for investment and trade. And other member states have made progress in pursuing economic links with India. For example, FDI outflow from India into the Netherlands has been steadily increasing, suggesting a Dutch financial gateway for Indian companies into Europe.
Investments are increasing in Germany, which has also strategically increased the number of Indian students in its universities by offering ever increasing scholarships and academic partnerships. France, too, has been welcomed to India in high-level visits to promote economic cooperation in innovation and high-tech areas, including transportation.
Not high on India's agenda
Indian business leans towards remain
The reaction of the Indian business community has generally been cautious, but leans towards favouring the UK remaining in the EU.. The secretary general of the Federation of Indian Chambers of Commerce and Industry stated in a press release that a British decision to leave the EU "would create considerable uncertainty for Indian businesses" and would "possibly have an adverse impact on investment and movement of professionals to the UK".
While some business leaders see potential opportunities for enhanced India-UK cooperation in the event of a Brexit, many share concerns with other parts of the world about the risks of future instability.
It is uncertain whether a post-Brexit UK would be able to secure greater cooperation with India than it has already. Much would also depend on a future UK-EU agreement which might restrict the UK's options to pursue potentially conflicting deals. It's likely there would be significant barriers to concluding a new agreement: for example, any change to the free movement of skilled workers would be politically difficult against the background of the UK's heated migration debates. So there is no evidence that the UK and India could reach an agreement any more quickly than the current India-EU BITA, currently under discussion.

Paul James Cardwell, Reader in EU External Relations Law, University of Sheffield and Navajyoti Samanta, Lecturer in commercial law, University of Sheffield
This article was originally published on The Conversation. Read the original article.