Watch Video: Scotland breaks record for the biggest gathering of 361 golden retrievers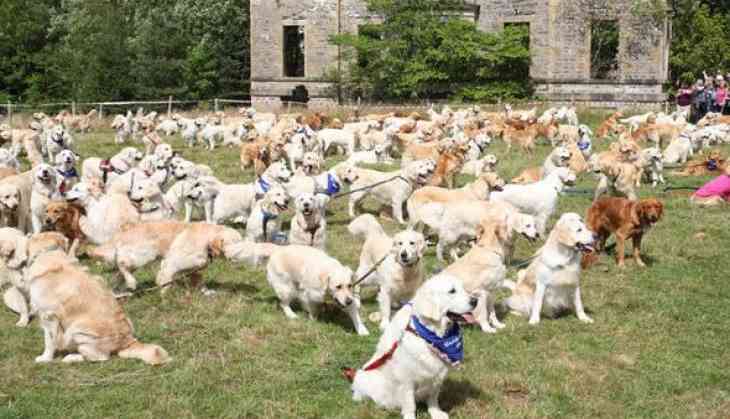 The Golden Retriever Club of Scotland organised an event where breeders and owners from across the country gathered to commemorate the origin of the happy-go-lucky breed of golden retrievers.
The event was held at Guisachan House, the former estate of Lord Tweedmouth, the breeder who brought this variety into the world in 1868. Almost 361 golden retrievers were present there to celebrate the 150th anniversary of the origin of the breed.
The breed was developed by a businessman named Dudley Majoribanks. The very first golden retriever is believed to have been a cross between "light coloured pup from a litter of black Wavy-Coats" named Nous and a tweed water spaniel female dog named Belle.
Golden Retriever World Record gathering, in Scottland. 361 in one place!! What a dream!!! @GoldenRetriever #goldenretrievers #WorldRecord pic.twitter.com/L9Z4nFNRPM

— Jill Hegna (@RPFriesians) July 22, 2018
"It's such a popular breed," Doreen McGugan, chair of the Golden Retriever Club of Scotland, told TODAY. "It was a lot of pet owners who came just to join the fun. People didn't realise that it all went back to this and that there is a place to go to commemorate (their golden retrievers)."
McGugan added that there was "not one bark in these dogs", but the good boys and girls at Guisachan House clearly proved him wrong and demonstrated their vocal prowess.
Also Read: 25-year-old Indian student killed in Australia after online date goes wrong