Watch Video: Endangered black rhino surprises visitors at Chester Zoo in England by giving birth to male calf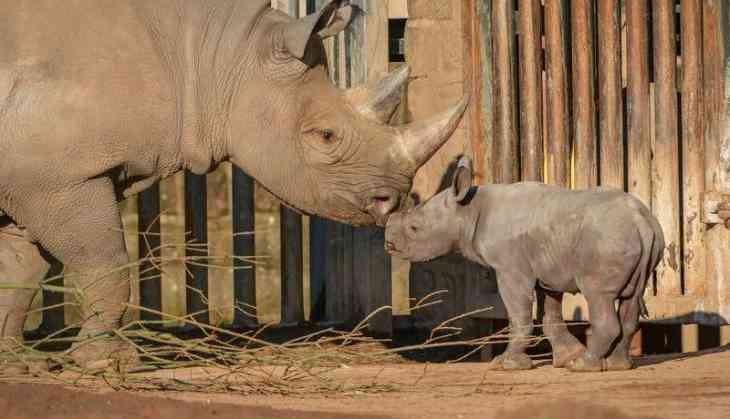 An endangered black rhino, named Malindi gave birth to a male calf in front of the visitors in Chester Zoo of England.
It was a rare moment for the visitors at the zoo as they witnessed the birth of a male calf. The conservationists described the birth as a "very rare and special event".
The visitors were shocked when the mammal went into labour in the middle of the day Thursday as most of the rhinos give birth in the night.
Also Read: Red Alert! Heatwave in Portugal and Spain breaks records, kills 3 people
"Visitors to the zoo were treated to something incredibly special when Eastern black rhino, Malindi, went into labour in front of them. With just 650 Eastern black rhino left in the wild, seeing the birth of a new calf and it's very first steps is a very rare and special event indeed," he said.
According to Rowlands, the delivery was smooth ad the newborn "was delivered onto soft wood mulch". "Although it's still very early days, the little one is showing great signs by feeding regularly and mum and calf appear to have bonded very quickly," he added.
Rowland also said, "We cannot and must not allow this subspecies to become extinct – a fate which has, tragically, already become of some of its cousins."
Also Read: Humans are shrinking on this island, and no one knows why