#USElection: Trump and Clinton continue their march; Cruz holds, Rubio is out and Sanders deflated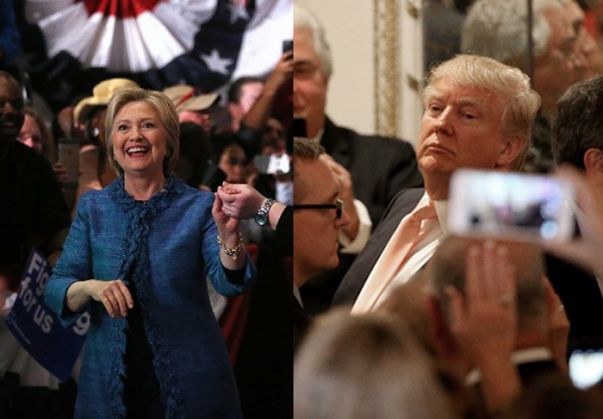 In the run-up to the US presidential election that has already surprised most - including business mogul Donald Trump - 15 March's results were as expected. Five states selected their candidates -- Florida, Illinois, Missouri, North Carolina and Ohio. Trump, from the Republican side, and former secretary of state Hillary Clinton from the Democratic camp each won in four states.
What's crucial to note is that on the Republican side, Florida, Illinois and Ohio were winner-take-all states. Florida, the largest state (with 99 delegates to the electoral college), went to the business magnet, while Ohio, with 66 delegates, went to John Kasich. Illinois, with 24 delegates, went to Trump again.
None of the states on the Democratic side were winner-take-all. Saying that, Clinton extended her lead on Super Tuesday 3. In Florida, she got 122 to Sanders' 60. In Ohio it was 75-38. North Carolina was 56-26.
Here are the winners and losers from Super Tuesday, Round 3
Winners:
1. Donald Trump: We all know what Trump has been saying, what he's been doing, and even what's been happening at his rallies. And while Trump's loss to Kasich in Ohio is being used by the establishment to conclude a bad night for the business mogul, it actually was a wonderful night for the billionaire. Trump won in North Carolina, overwhelmingly defeated senator Marco Rubio in his hometown of Florida and even took Illinois.
While Trump's loss in Ohio may work against him on his way to the 1,237 delegates, it still says something when after tonight, Trump would have won at least 18 of the 32 contests in the Republican race so far.
2. John Kasich: He had his hometown of Ohio, a winner-takes-all state, to win; and he did. That alone puts him in the 'winners' column. Kashich's chief strategist John Weaver had this to say, "With the electoral map shifting significantly in our favor, Governor Kasich is positioned to accumulate a large share of the almost 1,000 remaining delegates and enter Cleveland in strong position to become the nominee."
While that looks unlikely, let's all take a step back and let Kasich enjoy the victory over Trump for at least one night.
3. Ted Cruz: For the simple fact that he pushed Marco Rubio out and made it a two-horse race, Cruz makes it into the 'winners' column. Cruz has been positioning himself as the 'candidate who can beat Trump' and now is his best shot at that.
4. Hillary Clinton: Super Tuesday Round 3 could not have gone any better for the former First Lady. She won Florida by a huge margin, won Ohio and came out trumps in North Carolina. In her victory speech, besides thanking Bernie Sanders for being a fierce competitor, she trained her guns on Donald Trump, indicating that she is already past the primaries and well focused on the general elections ahead of us in November. The delegate math is looking easier and easier for her as we head towards the second half of the primary race.
Losers:
1. Marco Rubio: It was a long time coming, but it finally happened on the night of 15 March. After losing his home state of Florida to Donald Trump, Rubio finally stepped out of the race. He lost by double digits in the end and that was enough to send him packing.
Rubio did tweet this and that might have been just to save some face:
https://twitter.com/mviser/status/709890395627524097?ref_src=twsrc%5Etfw
Rubio's exit speech was probably his best of his whole campaign. He made it clear about one thing; how much he despies Donald Trump and his campaign.
2. Ted Cruz: He's in the winners column, yes, but he's also in the 'losers' column. Loser because he won zero states on Super Tuesday Round 3. Being runners up, or third place in all five of the states is not the mark of the 'contender to beat' Trump. It's the mark of someone who should resign to his living room chair and watch the drama from afar.
3. Republican establishment: They had chosen Jeb Bush. That didn't work out. They then turned their attention to Marco Rubio. That also hasn't worked out. With only two non-Trump candidates left, Cruz and Kasich, it seems the Republican establishment isn't exactly happy.
4. Bernie Sanders: This was the night where the dream of Sanders becoming the Democratic nominee were doused. Sanders promised a win in Ohio but that never came. Sanders may win some states in the next few primaries but all those victories are slim, while Hillary Clinton continues to thump him in many a state. The system of proportional delegate allocation is catching up with him.
For Sanders to become the nominee, he will have to win big in many of the upcoming states and looking at the polls, that looks far from likely. At the end of Super Tuesday, Sanders came up trumps in only one state, Missouri. Not nearly enough for a man wanting to become the Democratic nominee and eventually be President of the United States. It's all but over Bernie.
5. Super Tuesdays: Whether it is Super Tuesday 3 (as CNN and others reported it) or Super Tuesday 2 (as Washington Post and other called it), let's just get one thing right. Enough of calling every multi-state day as 'Super'. Nothing is Super about it. 1 March's vote was Super Tuesday (Here's why). What is so superb about two or three states voting on the same day? Is it that they are all unifying for Trump? No? Okay, then. Let's not call it Super anymore.