Thai Cave: 8 Thai boys wait as rescue operation on hold for 10 Hours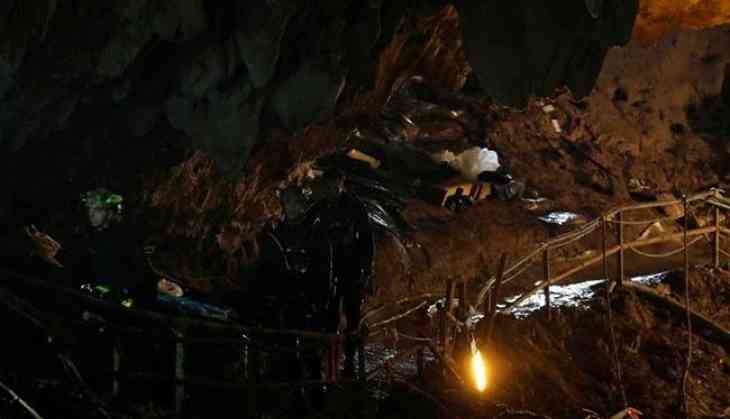 After four unidentified soccer players were freed from the waterlogged cave, eight young players and coach waited in the cave for the rescue operation to resume. The four boys are in good health and recovering in hospital.
Late on Sunday, the rescue operation was stopped as oxygen supplies replenished and the rescue team wanted time for the preparations, that would approximately take 10 hours. According to the authorities, it can take around four days to rescue the remaining eight of them and their coach.
The route is insane. These Thai navy SEALS are superheroes #ThaiCaveRescue pic.twitter.com/Bqdy1SE5hE

— Brie (@coolbreeeze_) July 8, 2018
This is how narrow and risky the evacuation of the 12 kids and coach would be. A Thai Navy Seal lost his life yesterday night in the cave placing tanks inside the 3rd cave. RIP#ถ้ำหลวง #ThamLuang #Thamluangcave #13ชีวิตต้องรอด #Thailand pic.twitter.com/HjO1zbr0My

— anonymousAsia (@anonymousAsia) July 6, 2018
Heavy rainfall has increased risk overnight, making things difficult, this is a war with water and time.
Interior Minister Anupong Paochinda said, " Rescued boys were in good health in hospital but did not give further details."
One of the parents said, "We have not been told which child has been brought out ... We can't visit our boys in the hospital because they need to be monitored for 48 hours," He even added that he is hoping for good news.
Also Read:Watch: 89-year-old lonely man turns to nude modelling for financial aid