Taking from those who've already lost it all: Denmark to seize refugees' valuables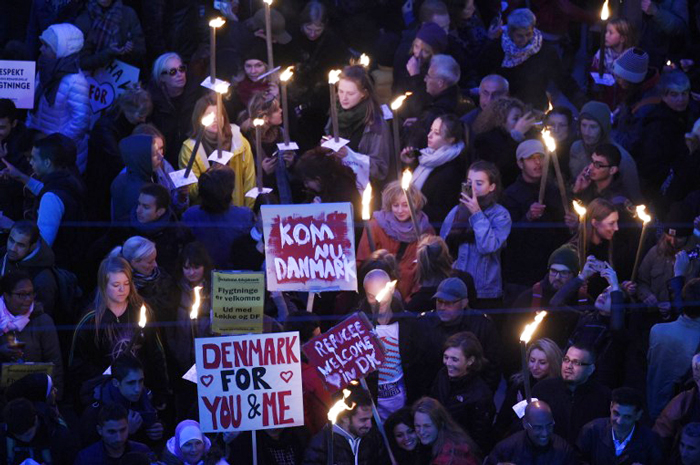 When it comes to the refugee crisis, Europe has definitely not been a 'union'. Different countries have reacted in dramatically different ways - some welcoming, some heavily obstructive.
And now Denmark, which already has one of the harshest records on Syrian refugees of any other European Union nation, just approved a legislation that will enable authorities to seize jewellery and other personal valuables from refugees.
Also read - Migrants aren't statistics: three heartbreaking stories show why
Under the law, which was passed by the Danish parliament 81-27 with support from the Social Democrats (the largest left leaning opposition party), any possessions worth more than 10,000 kroner - about $1,453 - will be fair game for immigration authorities to seize.
This is up from the original proposal, which set a limit of 3,000 kroner or $436.13.
Chinese artist Ai Weiwei quickly protested the move by shutting down his exhibition in Copenhagen:
The bill is scheduled to be signed into law by Denmark's Queen Margrethe within a few days.
'That's only fair'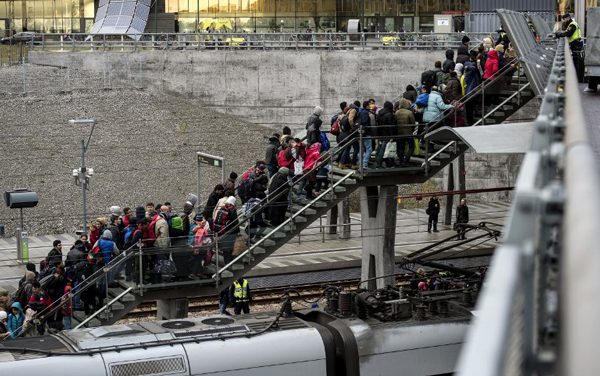 The idea is that the items might pay for the expense of supporting and accommodating refugees. Home to 5.6 million people, Denmark registered 21,000 asylum applications in 2015, making it one of the top EU destinations per capita alongside Germany.
Justice Minister Soren Pind floated the notion, now dubbed the 'jewellery bill', in December 2015, arguing, "I'm talking about a situation in which a man comes along with a case full of diamonds and asks for protection in Denmark. That's only fair."
Refugees will be allowed to keep items of sentimental value, such as wedding rings, the government said. But they've put an upper limit on the value of such objects - including watches and mobile phones.
Refugees can also be freely searched - unlike a Danish citizen who can only be searched in extreme situations with a court order.
Supporters of the bill have also argued that "being Danish is expensive". Which is true
What truly hits hardest is that those fleeing 'indiscriminate' rather than "individual persecution" will have to wait three years instead of one to apply for their families to join them.
The application process itself can take several years.
Supporters of the bill have also argued that "being Danish is expensive".
"All Danish citizens and refugees coming here receive universal health care; you receive education from preschool to university, and you receive elderly care; you receive language training and integration training free of charge, paid for by the government," Liberal Party spokesman Jakob Ellemann-Jensen told CNN's Christiane Amanpour last month.
"The only demand that we set to measure this is if you have the means to pay for your housing and for your food - regardless of whether you are a Dane or whether you are a refugee - then you should."
Similar laws already exist in Switzerland and Germany. Switzerland requires refugees to hand over any assets that are worth more than 1,000 Swiss francs ($1,000) to cover the costs of their accommodation. Refugees who stay in Switzerland are also required to hand over 10% of their wages for up to 10 years.
Also read - Tough Love: Angela Merkel is TIME's 'Person of the Year'
Deterring migrants
The United Nations has harshly condemned the plan. Others have even compared the country's measures to the ones carried out against Jews in Nazi Germany and Nazi Denmark.
Amnesty Denmark says the law reflects how the government's main priority is to deter asylum seekers.
The Paris attacks & the mob sex assaults in Cologne have not helped the cause of migrants in Europe
"The real objective of this law is to stop Denmark from appearing as an attractive country to asylum seekers," Claus Juul, senior legal adviser at Amnesty Denmark said.
It makes sense. The policy also reflects a hardening of attitudes toward migrants across Scandinavia - and Europe in general - in the face of a historic influx of immigrants (numbers not seen since World War II) hailing predominantly from the Muslim world, many fleeing the war in Syria.
Changing winds
In Sweden, the winds are changing. The anti-immigration Sweden Democrats party has soared in popularity, polling at about 20% in recent polls. That may not sound like much but before 2010 the party had not won a single seat in the country's parliament.
But the ever-growing numbers of asylum seekers, combined with high-profile crimes blamed on migrants, have made host populations wary and gradually fed rising anti-migrant sentiment.
Denmark isn't alone - in November, Sweden introduced tighter border controls and asylum rules to reduce the number of asylum seekers entering the country. And last week, Norway began deportation of migrants who had entered via a border with Russia.
Blowback
Key events have contributed to the hardening of public attitudes toward migrants across Europe, including the Paris terror attacks in November and the mob sex assaults of women in the German city of Cologne.
More than 900 people reported being attacked by men of North African or Arab appearance during New Year's Eve festivities in Cologne, 523 of them reporting having been sexually assaulted. Similar attacks were reported in cities across Europe, including Sweden and Finland.
Many believed that authorities and the media had been slow to acknowledge the crimes in Cologne out of a misguided sense of political correctness.
Finally, will this be allowed?
The UN has noted that confiscating property without due cause violated migrants' basic rights. "It is an affront to their dignity and an arbitrary interference with their right to privacy."
Denmark is bound by the UN Refugee Convention, the UN Convention on the Rights of the Child and the European Convention on Human Rights.
The UN refugee agency (UNHCR) has warned that the latest plans risk violating these standards. But as of now Denmark seems set to pass it into law. Now all that remains to be seen is how this mean-spirited bill is implemented.
More in Catch - #JLF2016: Molly Crabapple on migrants, gaza, Iraq & Syria
350,000 and counting: migrant crisis has put the idea of EU at stake
Why 35,000 people died trying to cross the Mediterranean in one year