Sri Lanka's Supreme Court to decide the fate of snap poll legality today; President Sirisena had announced for polls on January 5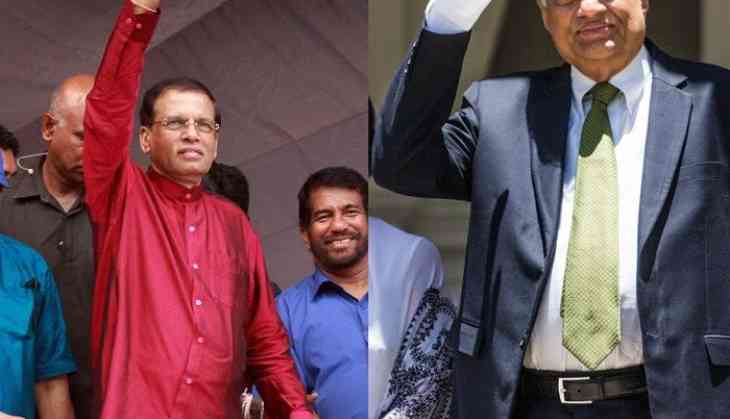 The Sri Lanka's constitutional crisis has deepened after President Maithripala Sirisena decided to sack PM Ranil Wickrmesenghe and invited former President Mahinda Rajapaksa to form the government.
After Rajapaksa fell short of majority in the parliament, the President decided to conduct a snap poll on January 5, 2019 in respect to maintain the constitutionality of the session.
But the sacked PM Ranil had then moved Supreme Court against the decision and filed plea, seeking to revert the order passed by the President Sirisena.
The Sri Lanka's Supreme Cort will deliver its verdict on the legality of the January 5 snap polls today, after President had dissolved the parliament.
An official from the court siad, "The petitions were accepted this morning and it is up to the Chief Justice to decide when it will be taken up for hearing."
The speaker of the Parliament, Karu Jayasuriya, said "I have watched over the last two weeks as the executive branch has seized the rights and usurped the powers of members of parliament who were elected to represent the people, we must all act with patriotism and independence to safeguard the future of democracy in our country."
President Maithripala Sirisena, in his first address to the nation, said "Had I allowed the parliament to meet on November 14, there would have been violence in the House and it could have spread to our villagers and towns."
Earlier, deputy speaker of the United National Party said, "We firmly believe that we will receive justice and the fair play from the Supreme Court rightly since it is the most honourable place. We have a constitution. We do everything according to that. But the President dissolving the Parliament is a violation of the constitution. If the constitution is continually being violated, the country would become anarchy."
Also read: Rafale deal row: Dassault CEO rubbishes Rahul Gandhi's accusations; says, 'We chose Ambani
Sri Lanka's Supreme Court to deliver its verdict on the legality of the January 5, 2019 snap polls announced by President Maithripala Sirisena today

Read @ANI Story | https://t.co/aRTVGONVD1 pic.twitter.com/UH6okid06v

— ANI Digital (@ani_digital) November 13, 2018