Pulse massacre: With 50 dead, #Orlando is deadliest mass shooting in US history
In yet another horrifying mass shooting in the US, 50 people were killed and another 53 wounded early Sunday morning when a gunman opened fire in a crowded LGBTQ nightclub in Orlando, Florida.
The shooter has been identified by law enforcement as 29-year-old Omar Mateen, an American citizen living in Florida.
Suspected Orlando shooter identified as 29-year-old Omar Mateen https://t.co/E2IesRGtkb pic.twitter.com/PEJxZFYkj0

— ABC News Politics (@ABCPolitics) June 12, 2016
The horrific massacre at the Pulse nightclub has now been classified as the worst mass shooting in US history - more deadly than the Virginia Tech shooting in 2007 that left 32 people dead, and the 2012 Sandy Hook Elementary School shooting that left 27 people dead.
The Orlando nightclub shooting was the deadliest mass shooting in U.S. history: https://t.co/7bHoTlXheD pic.twitter.com/nQop1DvHjh

— Los Angeles Times (@latimes) June 12, 2016
Also read - Orlando club shootout: Shooter shot dead; 50 killed, 52 injured
Salon reports: "Club-goer Rob Rick said it happened around, 2 am, just before closing time. He estimated more than 100 people were still inside when he heard shots, got on the ground and crawled toward a DJ booth. A bouncer knocked down a partition between the club area and an area in the back where only workers are allowed. People inside were able to then escape through the back of the club."
Rick Scott, the Governor of Florida, has declared a state of emergency.
According to police in Orlando, an AR-15-like assault rifle was recovered from the gunman. Adam Lanza, who killed 26 people, 20 of them children, at Sandy Hook elementary school in 2012 used a similar weapon.
One officer at the scene escaped by the skin of his teeth:
Pulse shooting: In hail of gunfire in which suspect was killed, OPD officer was hit. Kevlar helmet saved his life. pic.twitter.com/MAb0jGi7r4

— Orlando Police (@OrlandoPolice) June 12, 2016
The incident follows the fatal shooting late Friday of 22-year-old singer Christina Grimmie, who was killed after her concert in Orlando by a 27-year-old Florida man who later killed himself. Grimmie was a YouTube sensation and former contestant on The Voice.
Connect the dots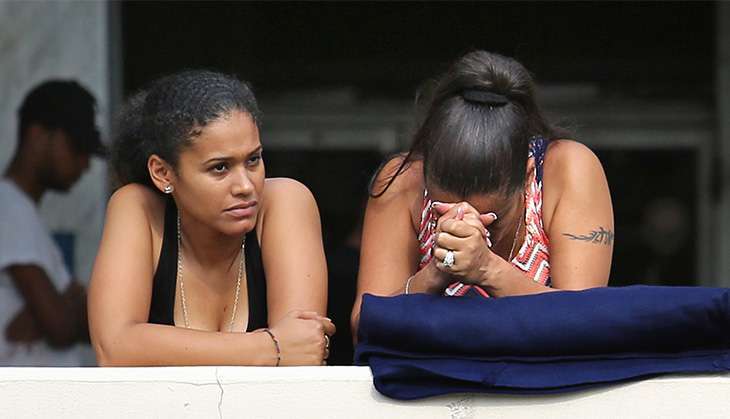 Getty Images
The incident is being investigated as an act of terrorism.
According to CNN and others news sources, Mateen was born in 1986 to Afghan parents in New York, but he has lived in Florida for at least a decade. He had no prior criminal history, but he became "a person of interest" to the FBI in 2013 and again in 2014. Mateen had been "on the radar" for the FBI for "at least five years," CBS News confirmed, and was suspected of being an "ISIS sympathiser".
NBC news has also reported that Mateen called 911 before the shooting to swear his allegiance to the head of ISIS.
Sources also told the news network that Mateen referenced the Tsarnaev brothers, who carried out the Boston Marathon bombings in 2013, at the scene of the attack.
After reports of Mateen's pledge of allegiance, the Islamic State's official Amaq news agency said that Mateen was an "Islamic State fighter" and that the group was responsible for the shooting that killed at least 50 people in a massacre at a gay nightclub in Orlando, Florida.
Amaq news agency claims Orlando attacker was affiliated with the Islamic State pic.twitter.com/1yxJFqa0tn

— Loveday Morris (@LovedayM) June 12, 2016
Who is Omar Mateen?
According to TMZ, who did a records search, Mateen was a professionally-licensed private security officer in Fort Pierce and nearby Port St Lucie. He also held a statewide concealed-carry licence.
Mateen's father Mir Seddique told NBC News, "This has nothing to do with religion" after law enforcement sources said that the gunman had called 911 moments before to pledge allegiance to the leader of ISIS.
Seddique believes Mateen was pushed over the edge by pure hatred for the LGBT community, and says his son became angry after seeing two men kissing a few months ago in Miami, and he speculates that could have triggered his decision to kill.
Seddique also said Mateen was a father to a three-year-old son.
Mateen's ex-wife, an as-yet-unnamed woman from New Jersey, told the Washington Post that she met the shooter online about eight years ago and moved to Florida in March 2009 to marry him.
I interviewed the ex-wife of suspected Orlando shooter: "He beat me" https://t.co/VUX237ISHL

— Adam Goldman (@adamgoldmanNYT) June 12, 2016
She says that Mateen was a private person who was not very religious, worked out often at a nearby gym, and worked as a guard at "a facility for juvenile delinquents".
She added that Mateen repeatedly beat her while they were married. "He would just come home and start beating me up because the laundry wasn't finished or something like that," she said. They divorced in 2011.
An act of hate
During his statement from the White House, President Barack Obama condemned what he called an "act of terror and an act of hate", calling on Americans to stand united in the wake of the deadliest shooting rampage in the country's history.
He also made one more call for gun control.
Also read - Obama takes gun control into his own hands. Will it change anything? Not likely
"This massacre is a further reminder of how easy it is to let people get their hands on a weapon that lets them shoot people in a school or in a house of worship or a movie theatre or in a nightclub," he said. "And we have to decide if that's the kind of country we want to be. And to actively do nothing is a decision as well."
A shattered community
City Hall in Tel Aviv. Don't think you'll see much of that across the Middle East. #Orlando pic.twitter.com/pXguAoidzk

— ian bremmer (@ianbremmer) June 12, 2016
The LGBTQ community worldwide has also just been reminded that they are not safe. "Pulse was not just my safe haven, but a safe haven for hundreds of LGBTQ individuals in Orlando," writes Daniel Leon-Davis in a very personal piece for Fusion.net.
But despite an urgent need for blood to help dozens of injured victims, a large majority of gay and bisexual men remain legally barred from donating blood.
Gay and bisexual men are legally banned from donating blood in Orlando as dozens of their peers sit wounded in a hospital in need of it.

— Chelsea Farrington (@ChelsFarrington) June 12, 2016
Earlier reports claimed that the state had lifted the ban on gay men donating blood within a year of sexual intercourse, but it was later confirmed that it wasn't true.
All FDA guidelines remain in effect for blood donation. There are false reports circulating that FDA rules were being lifted. Not true.

— OneBlood (@my1blood) June 12, 2016
But in light of that ridiculously discriminatory law, thousands have responded and rushed to blood donation centres. The response has been overwhelming.
#Orlando is humanity at its worse, the response has to be humanity at its best.

The blood donation queue right now pic.twitter.com/3zY17n4ALE

— Scott Cuthbertson (@ScotCuthbertson) June 12, 2016
More in Catch - One mass shooting every day: why the US must wake up & implement gun control
Serial killers: what happens when real-life crime follows TV plotlines
The year of wrath: when violence bloomed and the world suffered