Prachanda in India: his biggest challenge is to win back Modi's trust
CK Lal
| Updated on: 15 September 2016, 1:15 IST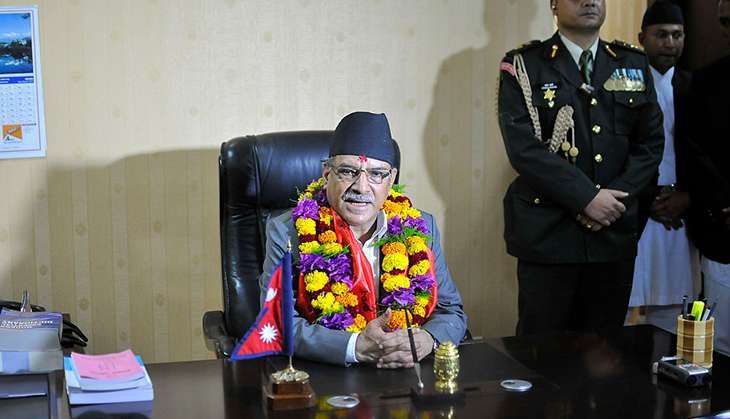 Travelling to New Delhi has almost been a rite of passage for every Nepalese Prime Ministers since the restoration of parliamentary democracy in 1990. A warm reception in the Indian capital confers the legitimacy of acceptance. A South Block snub has the power of raising serious doubts about the longevity of any occupant of Singh Durbar in Kathmandu.
An outright denial of invitation to visit New Delhi is something that even the most powerful politicos of Nepal dread. Elected to the post despite serious reservations of South Block, the-then CPN (UML) Supremo and Prime Minister Jhala Nath Khanal lasted in his post for all of six months.
Premier Sushil Koirala enjoyed slightly longer term of office, but had to bow out in utter disgrace. Both had failed to receive a formal invite from India.
In his first term as Prime Minister, Pushpa Kamal Dahal had decided to make Beijing his first foreign destination under the pretext of attending the closing ceremony of the Olympic Games. He has been trying to make amends ever since, with mixed results.
Due to double-dealing of former Prime Minister KP Sharma Oli, who reportedly entertained Indian interlocutors for breakfast but made secret deals with Chinese intermediaries soon after dinner as a matter of routine, Premier Dahal has managed to garner the benefit of doubt. He has yet to pass New Delhi's reliability test.
Prachanda plays it safe
Fear and apprehension could be the reason Premier Dahal is taking no chances this time as he embarks on the Indian pilgrimage with a jumbo team of over a hundred, including at least three dozen journalists. It appears as if he wants the accompanying entourage to bear witness that he didn't sacrifice 'national interest' but managed to earn the goodwill of the Indian establishment. And he needs this goodwill to implement the controversial Constitution passed in the middle of protests and repression in Tarai-Madhesh plains of Southern Nepal, in which more than four dozen Nepalese and an Indian bystander lost their lives last September. The role of India in subsequent blockages of the supply lines along Indo-Nepal border was widely criticised in the Nepalese media.
The PEON (Permanent Establishment of Nepal) spin-doctors in the media and society have been busy undermining the trip weeks before it began. The CPN (UML), once a beneficiary of Premier Dahal's support but now a bitter critic of the ruling coalition, has warned Premier Dahal not to enter into any compact that may have negative impact. That's a polite way of telling that go to New Delhi, attend official receptions, smile, shake hands, and then come back home empty-handed.
What's at stake?
Almost any agreement has positive as well as negative elements-the best is the one that manages to formulate a win-win situation whereby both parties feel that advantages far outweigh costs involved.
A day before the trip-officially designated as a state visit of the head of government-the Nepali language media in Kathmandu was awash with warnings from political party leaders that the Prime Minister must not give away anything to Indians. The English language press was slightly more circumspect, but said pretty much the same thing. Similar advice was tendered by a bevy of busybodies Dahal had invited for consultations about the agenda of his visit. It appears as if the PEON wants to tie his hands and legs in diplomatic terms before putting him on the plane to Indira Gandhi International Airport.
Though visibly disturbed by widespread suspicion, Dahal has issued bold statements. He said that he and Indian Prime Minister Narendra Modi are so much alike and together they share the 'chemistry' of taking risks. Since hating, and seriously hating, 'revisionism'-a pejorative term in Marxist-Leninist lexicon-Premier Dahal has evolved into a pragmatic political animal. Once the highly feared Fierce One (Prachanda) with Stalinist antecedents to becoming market variety Maoist of the post-Deng order, it has been such a long journey for the CPN (Maoist Centre) Supremo. But will he succeed in gaining the confidence of Prime Minister Modi?
Despite the media hype, perhaps the visit of the Nepalese Prime Minister has more to do with the moods of PM Modi than methods that Premier Dahal may adopt in New Delhi. It seems Modi is angry that the Nepalese establishment didn't take his overtures of friendship with the seriousness that he thinks it deserved. Perhaps the single most important agenda of Premier Dahal is to make the Indian establishment trust his intentions. That's no easy task-once lost, trust is one of the hardest things to regain.
Spurned offers
Diplomats that served at the-then Royal Nepalese Embassy at Barakhamba Road in New Delhi in the late-1990s fondly remember an unassuming Gujarati politico who would arrive early and would be one of the last to depart at its receptions. He hardly engaged in small talk and kept largely to himself. Occasionally, he would make an exception to strike a conversation with some visiting royalty from Kathmandu. Even when he became the Chief Minister of Gujarat, he would make time for Nepalese Embassy invite when he happened to be in New Delhi. Few would have guessed back then that the unpretentious functionary of the Bharatiya Janata Party would become one of the most powerful Prime Ministers in Indian history.
It's difficult to guess what had made PM Modi so attached to Nepalese Embassy programs that most Indian politicos would rather pass. Perhaps he had fond memories of having visited Kathmandu as a pilgrim. Reverence for the bastion of Hinduism can't be denied. Since the Shah rulers of Nepal are believed to have been one of the most consistent supporters of the Rashtriya Swayamsevak Sangh (RSS) and long-time contributors of first the Jan Sangh and then the BJP, a sense of loyalty to the patrons of his party can't be ruled out. That could also be one of the reasons PM Modi made Nepal one of his topmost foreign policy priority upon assumption of office.
Among a bevy of SAARC dignitaries, Premier Sushil Koirala was a guest of honour at Modi's swearing-in ceremony. Kathmandu was one of his first foreign destinations upon assuming office. Once in Nepal in August 2014, he did all the right things to humour the PEON and prove his good intentions.
Modi went to Pashupatinath Temple, donated bundles of sandalwood for the deity, hugged a child, addressed the Constituent Assembly in few lines of well-rehearsed Nepali, and stressed the unity and integrity of Nepal to the extent of refusing to pronounce the 'M-word' for Madhesh that he has perhaps been forewarned incensed the ruling elite in Kathmandu no end.
To a rapturous audience of spellbound legislatures, Modi announced that Buddha was born in Nepal, and that he wanted to HIT (Highways, Information ways and Transways of transmission lines) Nepal for development with a Rs 1000 crore line of credit. The reunification of his 'godson' Jeet Bahadur Saru Magar with his natural parents was played up again and again by the media.
The glow didn't last long. Perhaps Modi realised that the ruling elites of Nepal were tough customers at the negotiating table. When he arrived in Kathmandu in November, 2014 for the SAARC Summit, he immediately sensed that his leverage in the long-delayed Constitution-making process of Nepal was minimal. His trip became famous instead for the made-for-camera handshake with Pakistani counterpart Nawaz Sharif.
Modi, however, didn't give up trying. His messengers regularly travelled to Kathmandu even as they began to discover pitfalls of micromanaging politics of a squabbling neighbour. Perhaps the Gorkha Earthquake in 2015 was the inflection point in the relationship between PEON and PM Modi. Indian relief was the earliest to arrive but with time New Delhi somehow felt that its overtures were given short shrift as relief began to pour in from Pakistan and China among several other countries.
Constitutional quagmire
Looking for an opportunity to legitimise its recapture of the state, the PEON decided to ram through a Constitution in the middle of the confusion of Gorkha earthquake aftershocks through the 'fast track' ignoring all or most processes enshrined in the interim statute. Federalism was to be kept in abeyance. Proportionate representation was to be given a go-by. Inclusion provisions were to be diluted to maintain the status quo. Citizenship requirements were to be made more stringent. Little wonder, protests erupted in Tarai-Madhesh soon after the draft was issued. Strictures of the Supreme Court forced lawmakers to include federalism a part of the final version, but gerrymandering made the arrangement meaningless.
It's not yet clear what PM Modi really wanted incorporated in the new Constitution, but his suggestions succeeded in uniting Nepalese politicos of all hues except the Madheshis in its opposition. Some suggested that the BJP wanted at least symbolic monarchy restored. That would have delegitimised an already demoralised Maoist party. There were also rumours that restoration of Hindu Rashtra was the main agenda being pushed. The CPN (UML) wouldn't dare take the risk of dumping secularism forthwith. The Nepali Congress was unlikely to pay heed to any suggestion that sought to prioritise Indian concerns in Nepalese foreign policy.
Whatever it was-mixed signals are impossible to interpret-it's extremely unlikely that Madhesh was an agenda on the table when Foreign Secretary S Jaishankar arrived in Kathmandu as Prime Minister Narendra Modi's special envoy in September 2015. He was politely heard and then shown the door not so politely. Meanwhile, protests in Madhesh flared up, repression became more violent, and border blockages began. It wasn't clear last year whether Madheshis were helping New Delhi save face or the Indian establishment was trying to help protestors to get even with the PEON in Kathmandu. Blockages ended as abruptly as it had begun. Protests in Madhesh have continued in some or other form ever since.
Political developments since the controversial Constitution was issued, gave mixed signals to New Delhi. The first amendments in the statute have failed to mollify protesting Madheshis. The CPN (UML) cancelled the planned trip of President Bidya Bhandari and recalled its ambassador from New Delhi to express its displeasure. A change in government was said to have been scuttled by the Chinese with the second attempt succeeding in unseating KP Oli.
Apparently, Modi isn't too happy with the way things have moved in Kathmandu. However, there is little he can do with an assertive China looking for role commensurate with its weight in Nepal and the USA refusing to completely cede its diplomatic space in an important geo-strategic outpost. Premier Dahal is on Mission Impossible in New Delhi. But no one else in Kathmandu is more suited for the role of a magician at the moment.
Perhaps New Delhi would need to show some patience with the putative statesman of the neighbouring country. Agendas of the trip are secondary, what really matters during Premier Dahal's visit this time is its itinerary. He needs to assuage hurt feelings of a wide array of players in the Indian polity and society.
"Old friendships are like meats served up repeatedly, cold, comfortless, and distasteful. The stomach turns against them," writes William Hazlitt in an essay "On The Pleasures Of Hating". PM Modi is reportedly a vegetarian, so should Premier Dahal be during his Indian pilgrimage.