#PathankotAttack: change dialogue process drastically says G. Parthasarthy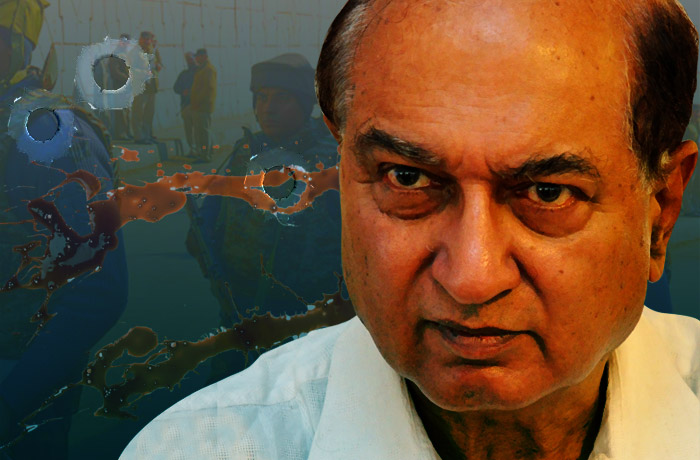 The meeting
External Affairs Minister Sushma Swaraj and MoS VK Singh held a meeting with former High Commissioners to Pakistan and foreign secretaries
The meeting was described as \'diplomatic consultations on Pakistan strategy\'
Point of view
G Parthasarthy says that there shouldn\'t be any knee-jerk responses such as calling off talks
#PathankotAttack: The framework for talks has to change drastically: G Parthasarthy
More in the story
Focus on terror is now a dialogue between the National Security Advisers with the foreign secretaries present
Must pay Pakistan back in the same manner
Pakistan has signaled it won\'t be business as usual
The terror attack on the Indian Air Force base in Pathankot, which has been going on since 2 January, presents the government with a big dilemma about its policy towards Pakistan.
What are the options before it? How should it move forward? How can it reconcile Prime Minister Narendra Modi's high-profile impromptu visit to Lahore with a terror attack a week later, that has left 7 Indian soldiers dead?
On 3 January, External Affairs Minister Sushma Swaraj and MoS VK Singh held a meeting with former High Commissioners to Pakistan and foreign secretaries, which was officially described as 'diplomatic consultations on Pakistan strategy'.
Also read: Pathankot Attack: Thumbs-up for Modi. There's no 'scrap the talks' chorus now
The meeting was attended by SK Lambah, G Parthasarathy, Shyam Saran, Shiv Shankar Menon, Satyabrata Paul, Sharad Sabharwal and TCA Raghavan.
Catch spoke to Parthasarathy to get an insight about the government's thinking, about how these attacks will impact its policy, and how it will walk the line between overtures to Pakistan, signalling a push-back on terror attacks, and the hardline positions Modi has been known to take in the past. Excerpts
SC: How do you respond to the attack in Pathankot, coming so close on the heels of PM Modi's visit to Lahore and the foreign secretary level talks?
GP: There should be no knee-jerk response like calling off the talks. A terror-focused dialogue has to continue. It is meaningless to cut off all ties and say we won't look at their faces.
We live in the neighbourhood. This relationship has to be managed. Also, there is a difference between breaking talks and breaking contact. The point is, even when you break off talks as a symbolic gesture, you have to still maintain contact with an adversary.
There should be no knee-jerk response like calling off the talks. It's meaningless to cut off ties
SC: You were part of the meeting called by Foreign Minister Sushma Swaraj yesterday. Can you give an indication of what was discussed, what is the road map going forward?
GP: I am not at liberty to disclose that.
Also read: #PathankotAttack: are Badal regime and Punjab police to blame?
SC: What is your personal opinion? There's been no accountability for the Gurdaspur attack; no positive movement on 26/11 or Hafeez Saeed; and now this attack. Given the high-profile overture by Modi and the hard stances the BJP has taken in the past on terror attacks when the UPA was in power, isn't the government in a bind on this? How should it move forward? What is it doing to put pressure on Pakistan to contain terror?
GP: One big difference from the earlier government is that the focus on terror has been escalated to a dialogue between the National Security Advisers with the foreign secretaries present.
I am very clear. The dialogue process between India and Pakistan has to change even more. It has to become more political, it cannot be left to bureaucrats visiting each other. The composite dialogue process has not yielded anything; it's not sustainable or meaningful. There's no point in all this feel-good talk about journalists and civil society meeting each other. The focus has to be on putting pressure on Pakistan to contain terror.
Also read: #PathankotAttack: 5 terrorists killed, 7 jawans martyred, still an ongoing operation
SC: To come back to that question on terror, what does the Pathankot attack show us? Does it not indicate a massive intelligence failure? And how do you read the flamboyance of Modi's impromptu visit to Lahore in the light of this?
GP: The Pakistanis must be feeling quite desperate after this attack. The Americans have been telling them off strongly. The call to rein in the Jaish-e-Mohammed is going to get even louder. Even Pakistan admits that the Jaish was involved in the attack on Parliament.
Also read: Here's how Pakistan's civil society is reacting to the Pathankot terror attack
Now there is growing evidence to show they masterminded this as well. No one can deny the evidence. The calls by the attackers have been traced to Bahawalpur, which is the base of Jaish chief Masood Azhar, who was, of course, generously released by us.
Pak must be feeling quite desperate after this attack. US has been telling them off strongly
There are also global tracking systems that will help trace the route the attackers took, and this will certainly be traced back to Pakistan. So the Americans are going to step up the pressure on Pakistan.
As for Modi's trip, it puts us in a very strong position on the international stage. We, too, have been under huge pressure to reach out to Pakistan. As Prime Minister, Modi has to address several audiences - both domestic and foreign. His gesture has been greeted with immense international approval. How it was done, whether it was too dramatic or not, is merely an incidental point of conversation. It certainly achieved its objective. And fortunately, it was done before this attack.
Also read: #Pathankot shows Pak army disapproves of peace process. Pay heed, Mr Modi
SC: The thorny question in all of this is the gap between the civilian government and the army and the ISI in Pakistan. While we certainly want peace talks, what is the point of a political conversation that can constantly be upstaged by the internal division between the army and the government in Pakistan? How does one get a buy-in from the Pakistan army?
GP: Well, I have an unabashed position on this: we must pay Pakistan back in its own coin. We have to strike and inflict as much damage as them.
SC: That would prove absolutely disastrous...
GP: I remain unabashed about this. I have never hidden this point of view. I have none of the worries bleeding-heart liberals suffer from.
In a situation like this, there will be deaths and collateral damage. We don't need to worry about that when people on our side are dying and being hit in any case.
Also read: Pathankot attacks the latest in a series of low-intensity terror incidents, what is going on?
SC: That could escalate things terribly. Let's come back to the options before Modi now. How do you assess his Pakistan policy over the last year? Several have called it incoherent, as it has veered from high-profile gestures of friendship to chest-rattling statements of aggression. Also, as opposition, the NDA often made it hard for the UPA to stay with the dialogue process.
GP: They came to power with a certain ethos and have changed track a bit, when they realised the imperatives of being in government and the diplomatic relations that need to be maintained with both Pakistan and the world. The important thing is they have signalled that it won't be business as usual.
The important thing is the Modi government has signalled that it won't be business as usual
All I can say is that the old framework has to change completely. Let's see what my friend (foreign secretary) Jaishankar comes up with.
More in Catch:
#ModiSharif: enough of conspiracy theories, now give peace a chance
Modi-Sharif meet: Lahore visit was neither a coup nor a surprise
Modi & Sharif revived Indo-Pak dialogue in 167 seconds. Here's how
Why the Modi-Sharif talks was just premature wine in old bottles
#ModiSharif: Mines, bonds & the Sajjan Jindal card in Indo-Pak relations
#ModiSharif: Enjoy the bonhomie. But don't expect anything more
I had no role in the #ModiSharif meet: Salman Bashir