Pakistan Elections 2018: Ali Zafar, Adnan Malik and other Pakistani celebrities urge people to vote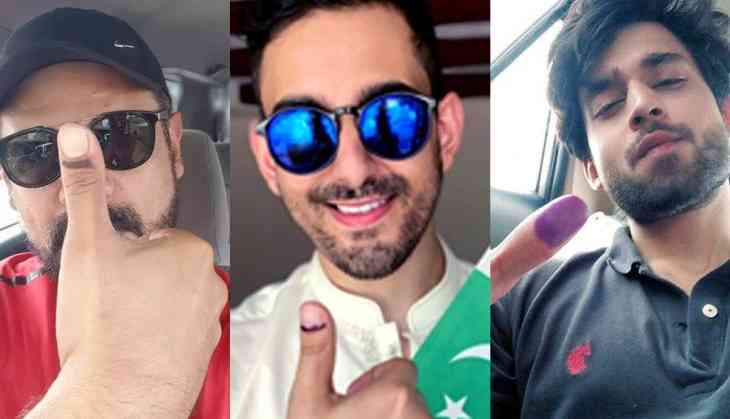 Pakistan witnesses its second consecutive democratic transfer of power. Pakistani celebrities came out of their homes to cast their votes, and urge people to participate in the General Election 2018.
More than 100 million people are exercising their right to vote, standing outside polling booths to cast their votes and elect a new prime minister. From Ali Zafar to Mawra Hocane, celebrities are posting photos and videos regarding voting on their social media accounts.
Singer-actor Ali Zafar tweeted a video, which he had shot for the 2013 elections, with the caption, "I say the same to you today!" The attempt was to ask people to go out and vote in huge numbers.
Also Read: 'Please go out and vote for the sake of Pakistan' says Pakistani model Nadia Hussain
Go Vote! And then...? pic.twitter.com/VkQknHWahJ

— Ali Zafar (@AliZafarsays) July 25, 2018
Film actor Adnan Malik posted a picture of himself on Instagram, showing his inked thumb after casting his vote.
His picture's caption read, "My polling station for NA 247 and PS 111 was Hampton Grammar School in Clifton, Karachi. I was there by 8 am, the polling started at 8:15. It was minorly chaotic (as all starts in Pakistan are) but there were polling agents, supervisors, lots of rangers and a few of us early bird voters. It all went by relatively smoothly and felt pretty decently sorted out. I was out by 8:35."
Regardless of your political inclinations this is to urge everyone to vote. Let's not tell each other who is better, We are the future & we better decide for ourselves. Can't wait to vote tomorrow . InshAllah #PakistanElections2018 🇵🇰🇵🇰🇵🇰❤️

— MAWRA HOCANE (@MawraHocane) July 24, 2018
Mawra Hocane also voted for cricketer-turned-politician Imran Khan's party. Her post-voting picture carried two hashtags for PTI, #AbsirfImranKhan and #BallaypeNishan.
Voted.#AbsirfImranKhan#BallaypeNishan#PakistanElections2018
P.s a sweet quick trip to my home town reminded me just how Beautiful Islamabad is.
looking forward to an even more beautiful Future ❤️🇵🇰🇵🇰 #NayaPakistan@ImranKhanPTI @PTIofficial pic.twitter.com/eGvZmqdBVQ

— MAWRA HOCANE (@MawraHocane) July 25, 2018
Actor Bilal Abbas also took out time to write a detailed caption, "Stood in line this morning in NA-131 polling station to cast my vote - it was extremely hot but duty fulfilled. It wouldn't be hard to guess who I voted for given "Larho Mujhey" is such a recognized anthem. Please, please, please go out VOTE. It doesn't matter if it is hot or humid or there are long lines. Take out everyone and make them vote. You only have to do this once in 5 years. Okay time for me to pack and leave for Toronto, flight is in 8 hours."
Also Read: Pakistan Elections 2018: Benazir Bhutto's daughters, Bakhtawar Bhutto Zardari and Aseefa Bhutto Zardari cast their votes in Sindh's Nawabshah