Modi's upcoming visit to Saudi Arabia could be game-changing. Here's why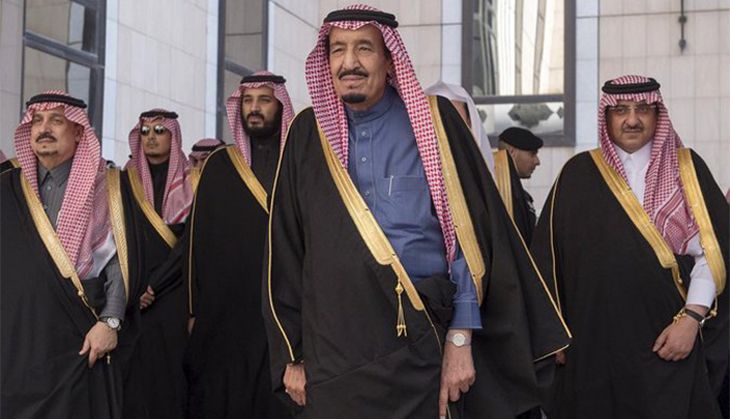 The status quo has been the default option of Indian governments when it comes to relations with West Asian countries. The only exception has been Israel, a country with which India avoided full diplomatic relations till the early 1990s. Adjustments in foreign policy have largely been reactive, occurring in response to crises breaking out in a country or on an issue like piracy as it threatens vital sea lines of communication.
India's policy makers have preferred dealing with individual countries bilaterally, a tendency reciprocated by West Asian countries. Hence the irritating annual anti-Indian resolution regarding Jammu and Kashmir, passed by the Organisation of Islamic Cooperation (OIC) at the behest of Pakistan, has not hampered ties because West Asian countries have regarded this resolution as a formality, having no effect on bilateral ties with India.
Modi's foreign policy challenges
As Prime Minister Narendra Modi prepares for his next foray abroad early next month, the first in the current year, his principal challenge will be in Saudi Arabia, his last stopover, and not in Washington or Brussels - the two cities where he is scheduled to attend the Nuclear Security Summit (NSS), and the Indo-EU Summit meeting respectively.
Also read: House of Saud on a slippery slope? A family coup might be at hand
Modi has shown that he can break out of the default mode and create a new paradigm in pursuing relations with Saudi Arabia. The search for a new template for developing relations with West Asia began with the visits of President Pranab Mukherjee and the Home and External Affairs Ministers.
The delay in scheduling the Indo-EU Summit was due to Italian obstruction on the issue of the two Italian marines under trial in India, charged with killing Indian fishermen, off the coast of Kerala.
Before he donned the mantle of Prime Minister almost two years ago, not many expected that Narendra Modi would blaze a trail in the domain of foreign policy.
The US-Pakistan connect
Step by step, Modi has built up a track record of a leader who has gradually built up an international profile through his foreign policy initiatives and engagements. Arguably, there have been some setbacks viz-a-viz Pakistan and, to some extent, the US. Modi cannot be blamed for not trying.
In Washington, the nomination race for Presidential candidates is in high gear and lame-duck-Obama has nothing much to offer. Obama is now busy justifying his legacy. His views on foreign policy have been published as a lengthy cover story in the latest issue of the Atlantic that has been revealed his worldview.
Modi has built up a track record of a leader who has gradually built up an international profile
His parting "gift" to Pakistan - 8 nuclear capable F-16 aircraft at subsidised cost, seems at odds with his private view that Pakistan is a dangerously dysfunctional state that does not qualify to be an American ally. Yet the knee-jerk momentum to keep feeding the Pakistani military with lethal weapons has become a habit with the American establishment. While the Senate has cleared the F-16 sale with a majority vote, it is yet to agree to the subsidy that the Obama government also tagged along with the sale. Pakistan's wish list includes buying 10 more of this aircraft.
The Obama-Modi meeting will be a farewell encounter but the media will more focused on the Modi-Sharif meeting, on the sidelines of the NSS. Modi's surprise visit to Lahore in December earned him Pakistan's return gift of a terrorist attack at Pathankot in January this year. Modi's trip to Washington will be his third since he took office in May 2014.
Modi's upcoming trip to Washington will be his third since he took office in May 2014
The strategy for Saudi Arabia
In Saudi Arabia, Modi will face issues related to West Asia, a region in turmoil since the rise of the anachronistic Islamic State (IS) in June 2014. Modi will have to navigate the Saudi imposed war in Yemen, the war in Syria stoked by external intervention for the purpose of regime change, the Russian military intervention in Syria, the recent drawdown of Russian military assets from Syria, the failed state situation in Libya, the growing Sunni-Shia sectarian cleavage, plummeting oil prices, a resurgent Iran freed from international sanctions and the lingering after effects of the so-called Arab Spring upheaval.
Also read: How India & Saudi Arabia can handle the diplomatic hot potato of Gurgaon rape charges
This will pose considerable challenges for India's engagement with this region, particularly the intense rivalry that has marked Iran-Saudi ties. In the fast changing scenario, even Iran and Turkey are now kissing and making up.
So where does that leave Saudi Arabia?
PM Modi has met King Salman of Saudi Arabia twice and sought the latter's help over a telephone conversation to rescue Indian nationals stranded in war-torn Yemen. Saudi help was crucial in the successful evacuation of Indians and people of other nationalities. The country remains a strong partner of India in trade, energy supplies and is host to the largest 3-million strong Indian expatriate community in the region.
West Asia in turmoil: ISIS, falling oil prices, the war in Yemen and Syria
The Saudi Foreign Minister, during his recent visit to New Delhi, expressed his country's desire to raise bilateral relations beyond the current "strategic partnership". The positive trend in bilateral ties began with the historic visit of late King Abdullah as chief guest for India's Republic Day celebrations in 2006. Former PM Manmohan Singh's visit in 2010 added further momentum to bilateral relations.
The changing tides
In the Atlantic article, Obama has been critical of Saudi Arabia for promoting sectarian hatred and burdening the US with regional problems that are no longer in America's interest. The US no longer needs Arab oil and has, therefore, downgraded its strategic ties with the Saudis. Its geo-political outlook has created more space for Iran with the nuclear deal. The USA will no longer automatically side with the Saudis and the other Gulf sheikhdoms in a crisis.
In the fast changing scenario in Asia, even Iran and Turkey are now kissing and making up
Hence, the era of automatic support to the Saudis is over.
The decisive break came over Syria when Obama refused authorise military strikes and preferred to work out a deal with Russia to remove chemical weapons from Syria.
Modi will visit Saudi Arabia at the time when the region is in geo-political flux and regional powers like Iran and Saudi Arabia are flexing their muscles and a fierce rivalry is brewing between them. Saudi Arabia feels threatened by the IS and Iran. It has sought to create a coalition against terrorism of 30-odd Sunni countries and hopes to create a "Sunni NATO". Pakistan, as the strongest military power with nuclear weapons, has been invited to play a leading role in organising this alliance.
The Saudi-Pakistan military and strategic nexus has been a strong and an enduring one with a nuclear dimension, though not bereft of strains over Pakistan's refusal to send troops to fight with the Saudis in Yemen. The Saudi Foreign Minister called Pakistan a "historical ally" in Delhi, while simultaneously expressing the desire to upgrade relations with India beyond that of a strategic partner.
How this nascent "Sunni NATO" will evolve and function is a moot question. Pakistan will try its best to make it in an anti-Indian group, similar to the OIC. Its effectiveness, however, is in doubt, just as the OIC.
Saudi has expressed the desire to upgrade relations with India beyond that of a strategic partner
Saudi Arabia's missteps
Saudi Arabia is seeking friends and allies since it now knows that the close comfort of the American embrace has slipped away. It has misjudged the Obama administration and thought that the US-Saudi alliance, which has survived many vicissitudes, including the fact that 17 of the 19 terrorists who made 9/11 happen were Saudi nationals, could be taken fro granted.
But at that time, the Americans had swallowed their ire and avoided blaming the Saudis for creating Salafi-Jihadism which essentially promotes sectarian hatred against the Shias and pure hatred, particularly against idol-worshipping non-believers.
Also read: Saudi-Iran standoff: Will sectarian violence rise as Shia-Sunni polarisation increases?
But Obama justifiably holds the Saudis responsible for promoting regressive social mores which include reducing women into servile status, by funding madrassas across the world to promote Wahabism, the Saudi version of Islam. The Saudis must re-evaluate this de-stabilising role if it wants to be a credible partner for India. PM Modi will, no doubt, keep this in mind.
India must step carefully
It appears that the four pillars of India's engagement with the region will be Iran, Israel, Saudi Arabia and UAE. The nuclear deal with Iran has broken the shackles of sanctions and paved the way for a renewed engagement with that country.
The balancing of relations with these important regional countries will be a delicate act but India is well placed to play this role. Deficit areas like defence cooperation must be rectified and defence ties need to be upgraded via more frequent contacts, joint training, seminars and frequent contacts between respective leaders of defence forces. India already has a forward posture in the maritime domain and the Indian Navy has to spearhead this initiative.
The four pillars of India's engagement with the region will be Iran, Israel, Saudi Arabia and UAE
The India-Saudi relationship has considerable potential at a time when Saudis are feeling insecure and India's interest lies in maintaining stability in the GCC countries. The Saudis are creating their own semi-pivot to Asia and PM Modi's visit can create the basis for a closer India-Saudi relationship which could be beneficial to both sides.
There are, however, pitfalls which include the role of Pakistan as a spoiler. Internal stability in the desert kingdom cannot be taken for granted with fissures within the Saudi ruling family and the pressures created by an oppressive society are ever present dangers.
Pitfalls in India-Saudi relations include the role of Pakistan
Can PM Modi and the King Salman finesse this one? Time will tell.
Edited by Aleesha Matharu
More in Catch:
#Review2015: despite Modi's epic air miles, foreign policy is on a wing & a prayer
Modi's Lahore visit on Vajpayee's b'day is a tribute to the former PM's foreign policy