Is Nepal moving closer to China?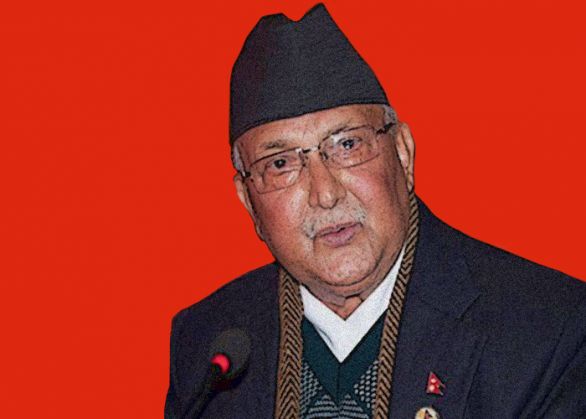 The treaty
Nepal & China have signed 10 agreements during PM Oli\'s visit to China

Nepal has now secured transit rights to the Guangzhou port for trade with other countries

This is not a feasible project, logistically or financially
More in the story
Why Kolkata port is a better option for Nepal

What explains Nepal\'s tilt towards China?
A section of the Nepalese population, including Prime Minister KP Sharma Oli claim that Nepal achieved substantially from his week-long visit to China. Of the 10 agreements signed between the two countries on this occasion, the one related to trade and transit and the other on connectivity have attracted international attention for their security implication in the South Asian region.
With regard to the agreements made between Nepal and China, Vikas Swaroop, spokesperson of India's ministry of external affairs, observed, "Our relations with Nepal have a natural logic and we are not in the comparison business".
He stated that no country in the world was in a position to compete with 'special relations' that Nepal maintains with India. However, he did not hide the reality that the agreement made by Nepal with China for the construction of a railway link between the two countries was a matter of great concern for India.
Also read - Nepal must act to resolve the Madhesi crisis. And act fast
The treaty
As per the transit treaty with China, Nepal has now secured transit rights for trade with third countries through the Chinese territory. Towards this end, Nepal has been given Chinese port of Guangzhou for such activities. The two countries also agreed to conduct joint feasibility study for free trade between them.
No less important is China's decision to supply petroleum products to Nepal, apart from building petroleum storage facilities in this country. Both Nepal Oil Corporation and Petro China have been directed to come out with details on such issues as pricing, taxation and transportation between the two countries.
To facilitate connectivity, China has agreed to provide financial and technical assistance to Nepal for the feasibility study and preparation of DPR of the Rashuwagadi-Kathmandu and Kathmandu-Pokhara-Lumbini Railway Project. The Chinese railway in Tibet has already reached Shigatse, which is likely to be linked to Gyirong on Nepal-China border by 2020.
Distance between Kathmandu & Guangzhou is 2845 km. Kolkata is just 866 km away from Nepal's capital
Chauvinists in Nepal hold India responsible for pushing the country closer to China. An impression is created as if the five-month long blockade of border that affected the supply of goods from India to Nepal was India's creation. They ignore the reality that the blockade was imposed by Madheshi people against the discriminatory clauses of the Nepalese constitution.
Also, they claim that Nepal's trade and transit agreement, apart from the country's efforts to increase connectivity with China, would counter any move from the southern neighbour to re-impose economic blockade.
In India, however, the general perception is that whatever agreements that Nepal has made with China is within its sovereign rights and that there is no reason to be panic.
A logistical nightmare
But the issue is whether the initiative that Nepal has taken to occupy greater space in China's strategic design is really useful or not. Thought from this perspective, a few issues related to the distance and logistics between Nepal and China need to be considered.
The distance between Kathmandu and Chinese port of Guangzhou is 2,845 km. On the other hand India's Kolkata Sea is 866 km away from Nepal's capital. Thus, the distance of Chinese sea port made available to Nepal for trade with other countries, is 3.28 times longer than the country's distance with Indian port.
Besides, the road that could connect Nepal with Guangzhou sea port is in abysmal condition. The transportation costs and logistical difficulties would be much more. Also, no border point between Nepal and China is fully operational.
Border point of Tatopani is yet to be operationalised as it was badly damaged during last year's earthquake. It is also difficult to import goods from China through the Rashuwagadi-Gyirong route because of its pitiable condition. Therefore, in order to avoid higher transportation costs, Nepal gets bulk of its imports from China not through the land route of Nepal-Tibet border but through India's Kolkata port.
Till now Chinese imports reach Nepal not by road but through India's Kolkata port
However, Nepal has opened flood gates for the Chinese to operate in all sensitive areas, including Kathmandu, Pokhara and down up to Lumbini, which is just 25 km from the Indian border. Nepal does not have the capacity to monitor what kind of people from outside the country would be engaged in some of these activities.
In addition, considering the difficult terrain in the mountain and hills, a colossal amount of money would be required for the investment in infrastructure sector. It is for certain that China is not going to support such projects in grants, but mostly in the form of loans. Can a poor country Nepal afford to make so much of investment in projects whose commercial returns are not promising? Will China be able to control greater cross-border movement of Tibetans and Westerners if connectivity is enhanced?
Neither the transit treaty nor the railway extension project seems to serve Nepal's national interest. Nevertheless, this does not mean that China cannot undertake such projects if it serves its strategic interest. China has both technical and financial capability to do so despite its fading economy.
But at a time China is creating insecurity all over its neighbourhood, only time will tell if Nepal benefits by getting closer to its northern neighbour.
More in Catch - Nepal constitution: Madheshi protests end but the anger remains
Nepal blockade: why India must stay the course despite criticism