Indo-Pak standoff: Be on guard, avoid chest-thumping, say experts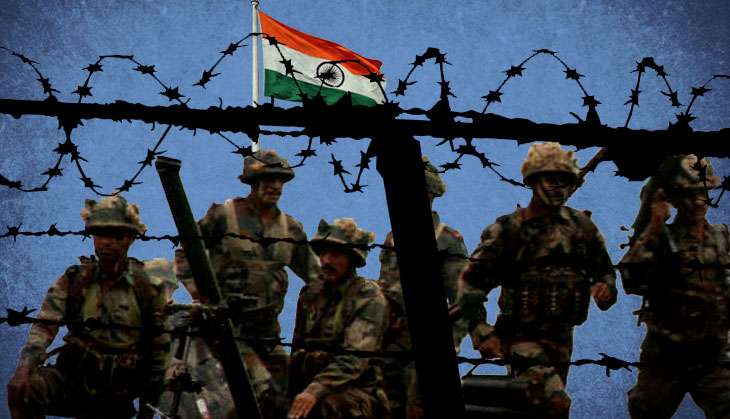 "We are in for difficult days ahead."
Those were the words used by the country's top diplomat, foreign secretary S Jaishankar, while addressing a select gathering of strategic affairs experts from think tanks on Friday.
Jaishankar and National Security Advisor Ajit Doval held separate meetings with members of the strategic affairs committee to take stock of the situation, in the aftermath of India's surgical strike across the Line of Control in the wee hours of Thursday.
India must be on guard
Pakistan has so far downplayed India's surgical strike. But, according to sources, Jaishankar warned that India should not take this too seriously.
Jaishankar also reportedly said that Pakistan had been taken by surprise, as had the infiltrators at the 'launch pads' who were targeted by the Indian Army's special forces. The strike is being seen as a counter-terror operation rather than a military response, according to government sources.
The Pakistani security establishment has been in denial, which is being seen by some in the Indian strategic community as a sign that the country wants to defuse tensions.
While the Pakistani media has launched a propaganda blitzkrieg, with even videos claiming how Indian soldiers were targeted, the public relations wing of the Pakistani army, ISPR did not give out any such statement. It neither claimed Indian casualties, nor did it accept that there was a surgical strike.
The Indian Army, too, has categorically stated that it did not lose any personnel in the operation.
Another important point of discussion was: could Pakistan be playing a different game? It may be trying to portray itself as a responsible nuclear power, after the fear that its nuclear weapons could fall in the hands of rogue elements within the army or jihadi groups.
In addition, Pakistan, while maintaining that it is ready to talk on all outstanding issues, including Kashmir, may offer to investigate the attack in Uri and ask for evidence. This is exactly what it did after the Pathankot attack, whose probe has since been put in cold storage.
The advice from the experts was that India should not get taken in by any such offer, and continue with its aggressive approach to isolate Pakistan internationally.
Less chest-thumping is advisable
NSA Doval, too, in his meeting with strategic affairs experts, asked for possible scenarios that could emerge in case of a low-level, middle-level or extreme Pakistani retaliation.
Experts said they were expecting a retaliation. At the same time, they felt, the reason Pakistan was trying to downplay the whole situation was in a bid to salvage army chief General Raheel Sharif's carefully-cultivated larger-than-life image.
With a little more than a month to go before his tenure ends, Sharif - whose term saw the Pakistani security establishment give more vigourous support to terror outfits targeting India and Afghanistan - has a lot at stake.
Another important point that came up for discussion was the possibility of Pakistan moving more forces from its western border to the eastern border with India. However, that does not look like a credible scenario, for the Pakistani army has little to gain from such a move. There are fears, in fact, that western border will again be run over by outfits like the Tehrik-i-Taliban Pakistan, which the Pakistani army has been fighting against on that front.
Experts advised Doval that while Pakistan's cautious response would work in India's favour, India could do with less noise and chest-thumping over the strike for the time being. While there was consensus that India's handling of the post-strike situation had been satisfactory, experts felt taking advantage of the current scenario, India must now look at dominating the LoC. While this may lead to a Pakistani response, India will have much less to lose in case of a localised conflict on the LoC.
Another point raised was the evacuation of villages near the international border. Experts felt it was an alarmist decision, which would not send the right signal, and should have been avoided.
It is not clear as to who ordered this move. There are some indications that the decision may have been taken by the Parkash Singh Badal government in Punjab, while others suggest that it was the Centre's initiative.
Jaishankar puts superpowers on the defensive
Jaishankar also met envoys from the P5 nations (the five permanent members of the UN Security Council - the US, the UK, Russia, France and China). At the meeting, Jaishankar reportedly asked the envoys: "How would you react if there were similar attacks on your country?" He was referring to continued attacks on India by Pakistan-backed terrorists.
The foreign secretary is said to have briefed the envoys, including the Chinese ambassador who has recently arrived in New Delhi, about the attacks - including the ones in Uri, Poonch and Pathankot, traced back to Pakistan.
An aggressive Jaishankar also briefed them about members of the Lashkar-e-Tayyeba and the Jaish-e-Mohammad in the custody of Indian investigating agencies, who have confessed to the culpability of the Pakistani security establishment. This, informed sources say, put the envoys on the defensive.
The Chinese envoy, in the meeting, is learnt to have said that while China itself is a victim of terror groups operating from Pakistan, especially in the restive Xinjiang province, the Pakistani army has no control over these groups. He added that India and Pakistan needed to resume talks.
In response, Jaishankar, reminded him of the Pakistani security establishment's policy of differentiating between 'good' and 'bad' terrorists. He added that while the Pakistani army went after those attacking it, there were other terror groups (like Lashkar and Jaish) which were being patronised and used by the Pakistani security establishment.
Support from Islamic countries
Meanwhile, the country's diplomatic establishment is spending a lot of time working on reducing support for Pakistan among Islamic countries.
While two Islamic countries, Bangladesh and Afghanistan, have decisively come out in support of India stance's on Pakistan-backed terror in the region, diplomats have been working overtime to reach out to countries like Turkey, Saudi Arabia, Bahrain and the UAE, which have seen enhanced bilateral cooperation with India lately, with many high-profile engagements.
Edited by Shreyas Sharma
More in Catch
Why Pakistan may be compelled to retaliate
Surgical strikes came as a shock to many in Kashmir
Surgical Strike: US firmly committed to the partnership with India