India sticks to stance, says 'no thanks' to Turkey on Kashmir mediation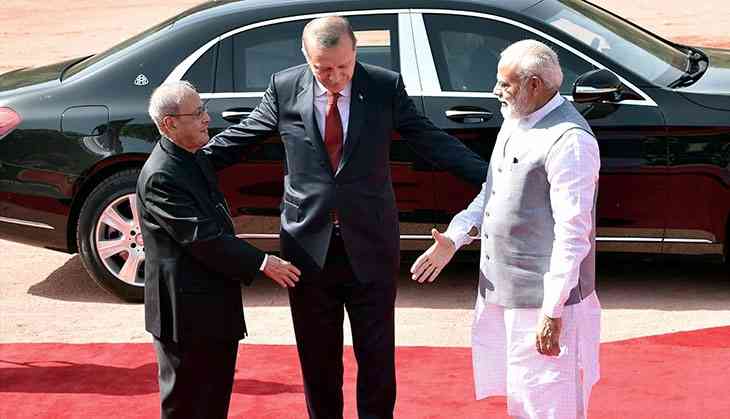 On a day when the Pakistani Army's Border Action Team, in yet another provocation, is alleged to have mutilated the bodies of two soldiers, including a junior commissioned officer, in Jammu and Kashmir, the Indian government told the Turkish leadership that the Kashmir issue has a predominant dimension of cross-border, state-sponsored terrorism. It reiterated that India had been a victim of it for the last 40 years.
Turkey, a key Pakistani ally, had recently offered to mediate on the Kashmir issue.
Visiting Turkish President Recep Tayyip Erdogan, in an interview to an Indian news channel, a day before his aircraft touched down in Delhi, had brought up the 'K' word and offered a multilateral dialogue.
"We should not allow more casualties to occur (in Kashmir). By having a multi-lateral dialogue, (in which) we can be involved, we can seek ways to settle the issue once and for all," Erdogan, who has been consolidating his position in Turkey, and in the larger Muslim world, said in the interview.
India has been against any third party mediation on the Kashmir issue, and has maintained that it needs to be solved bilaterally between India and Pakistan. In that background, Erdogan's statement right before a state visit came as a surprise.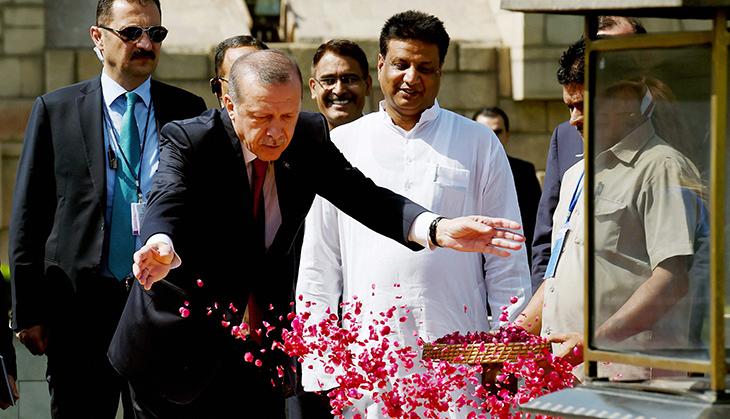 Turkish President Recep Tayyip Erdogan pays tribute to Mahatma Gandhi at Rajghat (PTI photo)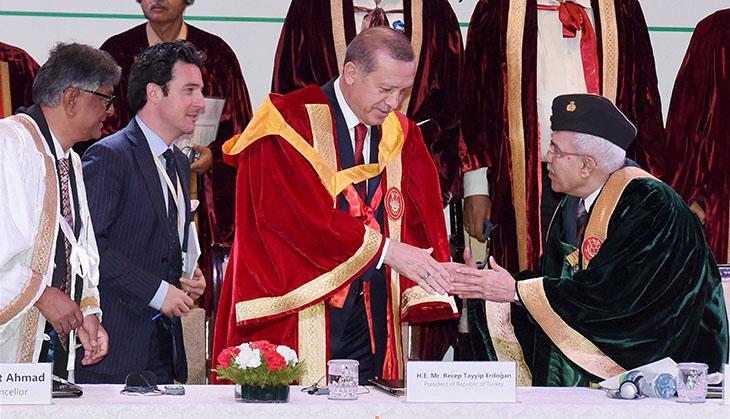 Jamia Millia Islamia chancellor MA Zaki confers an honorary doctorate on Erdogan (PTI photo)
India's message
However, former diplomats say it is the message that the government sends to the Turks that would matter the most. The offer of a multilateral solution, they say, may be a result of Erdogan's rising ambitions to consolidate his position in the Islamic world.
The Turkish leadership seems to be in a strange spot, as it tries to expand its relationship with India. While the Turks have been supportive of India's bid for a primary membership of the Nuclear Suppliers Group, they have also favoured Pakistan's entry into the elite group.
Meanwhile, India may have has sent a clear message, as Gopal Baglay, the MEA spokesperson said. "I do not want to go into what he said yesterday or earlier, but during the meeting, we have put our view across on Kashmir and on terrorism. No matter what, terrorism cannot be justified," he said.
Turkey's past statements on Kashmir
This is not the first time the Turks have spoken on Kashmir. In an earlier visit last year, the Turkish foreign minister, Mevlut Cavusoglu, had rather strong comments to make on the unrest in Kashmir, which the Indian government insists got aggravated due to Pakistan's continued support to terrorist elements.
Cavusoglu had said Turkey "fully supports Pakistan's position on Jammu and Kashmir", and that as an active member of the Organisation on Islamic Cooperation's contact group on Kashmir, Turkey would ask the Secretary General to mobilise the contact group and send an observer mission.
The comments had found no takers in India then, and the government is reported have raised objections.
Although Indian diplomats do not usually take the OIC, an organisation which came up as a repsonse to the secular Arab League, too seriously, India has lately been working on some of the important member countries to take them on board on the issue of terror emanating from Pakistan.
After the attack in Uri, which was traced back to terror outfits based in Pakistan, Qatar called it a 'criminal act'. Saudi Arabia, which had long been a key ally of Pakistan, too condemned the attack as an 'act of terror'. The UAE and Bahrain even supported the Indian action against terrorism without naming Pakistan.
Turkish condemnation was, however, meek.
The Modi-Erdogan meet
Meanwhile, when Prime Minister Narendra Modi met Erdogan in New Delhi, there was some convergence on the issue of terrorism.
"We agreed that no reason or rationale can validate terrorism," PM Modi tweeted after the talks.
The MEA also pointed out that India and Turkey agreed to counter terrorism multilaterally and bilaterally. PM Modi, in his press statement, had also firmly put across the message to stop cross-border movement of terrorists.
Strongly condemning double standards on terror, "both sides urged all countries and entities to work sincerely to disrupt terrorist networks and their financing, and stop cross-border movement of terrorists," according to the joint statement released late on Monday evening.
Erdogan, meanwhile, refrained from bringing up Kashmir or continued provocations by Pakistan, even though he condemned the recent attack on CRPF jawans by Maoists in Sukma in Chhattisgarh.
India, on its part, has continued to ignore Turkey's demands for actions against the Hizmet Movement, which runs schools and hosts cultural and business events. Once a close ally of Erdogan, the leader of the movement, Fetullah Gulen, who lives in exile in the US, has emerged as his biggest enemy, as the Turkish President blames him for the failed coup attempt last year.
While the Turks continue to prod India to act against the Gulenists, India has maintained a safe distance. The matter was brought up again by President Erdogan during his press statement, where he said that he India will take necessary measures to expel Gulenists from its territory.
Ruchi Ghanshyam, secretary in the MEA, said before Erdogan's visit that "India has noted Turkish concerns". Baglay reiterated on Monday: "Turkish concerns on FETO (as Gulen's Hizmet movement is now called in Turkey), were mentioned to us. Any organisation working in India has to work according to the country's laws and norms."
Agreement on trade
While Erdogan's definition of terrorism may not resonate with those of the Indian leadership — with allegations of support to movement of ISIS fighters to Syria — both countries seem to be on the same page when it comes to expanding trade ties.
The Turkish President has come with an almost 200-strong business delegation. India and Turkey have resolved to take the bilateral trade to the $10 billion mark by 2020.